Last updated on January 22nd, 2019 at 02:56 pm
A Life Planned
I had my life all planned out. When I was six-years-old I knew what I wanted to be when I grew up. I wanted to be a teacher. Twenty years later, that dream came true. I married at nineteen, and began having children at 21.
We moved into our first home when our children were five and one (a third was born five years later). Life was crazy, and hectic and chaotic. It was also filled with joy, happiness, and lots of teachable moments. I spent my days teaching special education, and my evenings corralling the kids and running from dance lessons to soccer practice.
Our youngest child had Attention Deficit Hyperactivity Disorder (ADHD) from before birth (but that's for a later post). But you know what they say about making plans? If you want to hear God laugh, tell Him your plans. Well, He must have been rolling on the floor over what happened next.
A Life Unraveled
I was diagnosed with Multiple Sclerosis in 2000. So, while my youngest had an extreme excess of energy, I ran out of it by 10am. If there'd been a way to transfuse his energy into mine, I would have strapped that boy to a chair and stuck a needle in his arm. But alas, that technology does not exist and the medical community doesn't want to support my thesis that such a thing could work.
As my health deteriorated, I was soon unable to work a full day. So, I cut down to half-days. It was a relief and worked very well for a time. It was during this time, that one day I learned of my husband's affair. Just 24-hours after that devastating blow, I ruptured a disc in my lower back. I wish I could say I was para-sailing, or skiing, but truth is, I was talking on the phone.
Yes, I'm probably the only person on the planet who slipped a disk while standing perfectly still, chatting on the phone.
The pain was excruciating, and when a few weeks of conservative treatment didn't work, I went under the knife. But the surgery didn't work, and a year later, I was having surgery again – this time at the University of Washington, in Seattle.
That one didn't work either.
Mind numbing fatigue, pain, weakness and numbness are not conducive to teaching a classroom of special needs students, and I soon had to give up my job altogether. It was devastating. I'm a list-maker, a goal-setter. But I not only didn't have a Plan B – I didn't have a plan to have a Plan B. My plan had been to teach until I was in my 90's. At my retirement party, I would enjoy the white cake with raspberry filling. And then I would go home, lie down, and die. That was the plan.
I loved my job and I couldn't imagine a life without it. I couldn't see much in those first days and months after I lost my job, but I could see one thing clearly–my life was over.
Those who know me would agree, I'm a positive person, an optimist. So, I got out my super-powered telescope, and tried to see the silver lining in all this. But all I saw was one dark cloud over another, and another. That autumn, I watched out my front window as school children in new outfits, with stiff backpacks strapped to their backs- walked to school.
It was the first day of school. I shut the blinds and sobbed. I'd lost it all. Those kids were going to school–something I'd done all my life, first as a student and then as a teacher.
That would never be a part of my life again. I sunk into the pit of despair.
Writing as Therapy
A year later, I began journaling. As my feelings spilled onto the page, the depression began to lift. Emotionally strong enough to begin my climb out of the pit, I started freelance writing, and I even had a few things accepted for publication. It was thrilling to see my name and photographs in print. I didn't make much money, but it gave me a new focus. I was a freelance writer for two years, having articles published in regional and teen magazines.
I had essays published in anthologies such as Chicken Soup for the Soul. But a new dream was brewing; I wanted to be a published author.
There was a story right in front of me, but it was so close I couldn't see it at the time. You see, shortly before losing my job, my 81-year-old father had begun talking about his wartime experiences. Sadly, he was also suffering flashbacks and nightmares.
He had developed Post-traumatic Stress Disorder.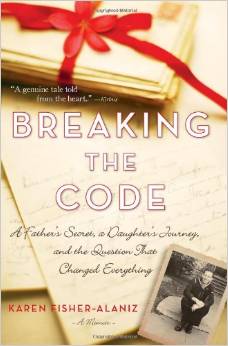 In an attempt to help him, we met for breakfast every Wednesday. I asked him questions, and wrote down his answers. Eventually, he gave me more than 400 pages of letters he'd written to his folks during the war, but it was still several more years before I learned what he really did during the war.
That story – became my first book, Breaking the Code: a Father's Secret, a Daughter's Journey, and the Question That Changed Everything (Sourcebooks, 2011).
The Price of Secrets
So, that's the crib-notes version of my life. But wait…did you notice that I glossed over one major life trauma…the affair? Well, that's exactly what I did in life as well. In fact, I actually told myself things like, "I'll cry on Monday."
It's not that I didn't try to deal with it. I did. I went to counseling. I read books and articles, secretly.
My days and nights were consumed with keeping his secret, all the while I was developing Post-traumatic Stress of my own (that too is for another blog post). My weight skyrocketed like those fireworks that are shot up in the air, only mine never came back down. I developed high blood pressure, high cholesterol, and heart palpitations. I started taking anti-depressants, which in itself was depressing.
When I finally realized that living this way was killing me, emotionally, spiritually, and maybe even physically, I made the most difficult decision of my life.
After 31-years of marriage, I was done. My secret pain was too great. The wound scabbed over, but it never really healed. It was just an ugly mess that kept breaking open again and again – pain upon pain. And as long as I stayed, it would never heal.
Starting Over by Creating a Life I Love
I am divorced. I am a divorced woman, a divorcee. It sounds so strange. And it is strange – to be starting a new life at the age of 50 when you've been married for 31 of those years, is like being picked up and dropped on an alien planet. That's what figuring out this new life feels like to me.
My blog day on 8 Women Dream is Sunday.
I'll be sharing more about my life, hopes, and dreams. And I promise it won't all be a bummer. In fact, I'm rebuilding my life and that's pretty damned spectacular! Don't you think?
As I recreate my personal life and my writing life, I am also creating a home in my "new" 104-year old house. I'm learning to stand on my own in every area of my life – in tiny ways and gigantic ones. Join me on this grand and scary adventure.
If anything in my crib-notes life resonated with you, please share in the comments below.
Let's start a conversation around the kitchen table. It's always good to know we're not alone.
Karen Fisher-Alaniz
Starting Over is Such Fun!
[fbcomments]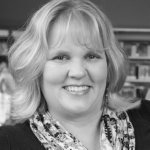 Karen Alaniz is a writer, published author, and a home renovation expert now that she's remodeled an old farmhouse by herself. She strives to help women who are scared it may be too late to start over after a certain age and she encourages empty-nest women to invent a new, prosperous and full life–just like she has done. You can read more about Karen on her Amazon Author page.
Note: Articles by Karen may contain affiliate links and may be compensated if you make a purchase after clicking on an affiliate link.