Last updated on January 22nd, 2019 at 02:08 pm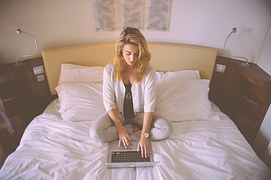 I'm certain of one thing; I will not be in the dating game for a long time. But I'm a single woman, for the first time in 30-years. I'm entering mid-life as a single unit. So, many of my friends are cautiously broaching the subject with me, and it is on my radar. What was not on my radar however, was the fact that the dating game has changed in a way that is both scary and exciting. Namely – online dating. Would someone like me really use the internet to find someone special? The question is as nebulous as the answer.
The last time I dated, Ronald Reagan was president, Aquanet was familiar and internet wasn't; Post-it Notes had just been born and sat on corporate desks next to ashtrays, and boom boxes were playing Dolly Parton's, Nine-to-Five on the radio. And hair styles…oh, that great, big hair just kept getting bigger! And as for dating; it was done the old fashioned way – boy meets girl, boy asks girl out on date, girl says yes. That was it. It's the one thing that would forever remain constant.
Or would it?
Thirty years later, my marriage ending, I was separated and living alone for the first time in my life. One night, a young friend came over and the subject of dating came up. She used online dating sites and encouraged me to do the same. I was well-aware that I didn't want to date; I wasn't ready. I couldn't even imagine being ready. Still, I was curious. Were there really men my age, who were out there looking for love too? My friend insisted there were.
"Naw," I said. "Online dating is for the younger generation."
I wasn't even sure it should be OK for them. I'd heard the scary stories. Meeting someone online was a cliche' that had been the theme of many-a-Lifetime movie. It was a hangout for predators and unsuspecting lonely women. But I did know a few people who had met their boyfriend or even husband online. So, maybe things were changing. Heck, maybe the dating world had tipped off it's axis; how would I know?
My friend opened her laptop and started typing a dating profile for me on a popular dating site. We joked about what to include in my profile. I resisted the temptation to check all the extreme boxes; I was 8'11", bald, and had a boa constrictor for a pet.  In the end, I decided, in this mock-profile that I would just be me; somewhat overweight, 5'6″ with blonde hair (it didn't ask whether you highlighted it or not). After clicking all the boxes, it was time to actually write some stuff. I took the laptop from her and wrote a few things, being ever-so-careful not to reveal anything that would allow him to figure out who I was or where I lived – and then I uploaded one photo (a requirement). The "submit" button loomed. I hesitated – my finger stubbornly held above the key. My "friend" reached over and hit "submit." I've always had that hesitation to hit the send button, whether it's to transfer money in my bank account, send an article to a magazine publisher, or order a pizza. What is that all about? I'm telling you – I need therapy. I mean, what's the worst that could happen if I hit the send button to order a pepperoni pizza from Pizza Hut? Enough about that.
That done, we looked at the men's profiles and chatted about them. They all seemed so nice. And good looking. And accomplished. I just couldn't believe that I didn't know this. Is this the secret place that awesome people find each other? The Lifetime Movie images dissolved into images of me riding off into the sunset with JimmyBlaze73, or maybe RodAarrow62. When I spent a little too much time on a page, my so-called friend cajoled me, "Send him a flirt." Um…no. Not going to happen.
I reminded her, as I had when we first started this mock-profile writing thing, that I was not interested in dating or flirting or winking or whatever was happening here.
Our glasses of wine empty, I shut the computer and went for refills.
The next day, I opened my email and saw a bunch of messages from men on the site. I was mortified. Images of men tracking me down, waiting outside my house, even knocking on my door, filled my thoughts. No, this internet dating thing would never work for me. I was so freaked out that I didn't go to the site. My email messages were piling up. So, after several days, I got on the site and clicked on "mail." But I didn't click on any individual message. Afraid that the guy on the other end would get an alert telling him I'd opened it, I left it sitting there. At the top of the page was a tantalizing flashing light. It beckoned me to look at the "new" matches that had been chosen just for me. I clicked on it and a row of men appeared. I froze.
And then.
I hesitantly clicked on one of the matches chosen especially for me.
I read his profile. He seemed like a nice person. He was cute too. Images of him boating and with his mother were next to quotes from him. He was interesting. But I still didn't know what to make of it all. So, I moved on to the next one.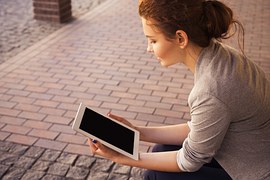 Over the next months and through the finalization of my divorce, I occasionally looked at my matches. I didn't even know why I was spending time on the site – especially since I knew that dating wasn't something even on my radar. I guess it was nice to know that when the time came, there were indeed men out there who were living their lives as I was and who hoped to have a second chance at a life shared with someone special.
And that's where I am still. Not ready, but hopeful that when I am, someone will be there.
But as hopeful as that was, there was something strange about all these profiles. The site tells you that the more you rate your matches, the better their algorighm gets at predicting who you would like. Well, from that first guy's profile until now, it went downhill … and fast! Just their looks alone and the pictures they chose to display were disturbing. I'm 51. But I feel younger and I've been told I look younger. I'm not looking for a guy with no wrinkles, perfect clothes, and bleached teeth. But I do want someone who looks like they're my husband or boyfriend, and not that I'm their caregiver. Most of these guys looked so old. I mean, long scraggly gray beard old. Gray hair is one thing, gray hair that hasn't been washed or cut this millennium is another. And the photos; can there really be that many men who think a profile pic of them with a dead animal is attractive. I suppose there's someone for everyone. But that's not the first thing I'd want someone to see; first impressions and all that. There were other things too.
According to nearly all of the dating profiles, the following are true;
1. Men don't watch T.V.
2. All men work out regularly. They spend a lot of time at the gym. (though it may not show)
3. All men like to cook.
4. All men have learned from their mistakes.
5. All men are looking, not for someone who is "perfect" but for someone who is perfect for them.
6. All men read a lot of books.
7. All men are "physically fit" or are "about average" in build. (despite what their photo reveals)
8. All men know how to treat a woman.
As you can imagine, I'm getting pretty leery of these profiles. But in case you think I'm exaggerating, let me just tell you one more thing. This dating site had a feature where if both people are on the site at the same time, they can "chat." Every time I opened the site up, there were "Do you want to chat?" messages that would pop up. I ignored them. Remember those Lifetime Movies! Finally, one day, I thought, "What the heck?" So I clicked on "Chat now." But the guy didn't have a photo and I don't like that. If I have to post a photo, so do you! So, I innocently asked him. Turns out, he was on a top secret mission in Iraq. He can't post his picture for security reasons. It could put him in danger! Of course, I wouldn't want to be responsible for his demise.
What I really thought was this; this guy thinks I'm an idiot.
Over the next several months, I responded to chat requests five times. Of those five times, four of them were on similar top secret missions (aka: married). This really got my blood boiling. My father, a WWII veteran, is the real deal. He was a top secret code breaker and kept that to himself for more than 50-years. It tore at his soul until Post-traumatic Stress reared it's ugly head. That someone would pretend to be a soldier is unforgivable to me. I put a disclaimer on my profile; "If you claim to be on a top secret mission, I won't believe you. If you say you're best friends with the secretary of defense, I won't believe that either. And if you don't have a profile pic, don't contact me."
There. Mission accomplished.
I rest my case.
I'm certain that when I'm ready, and when I want it, that love will find me – in the conventional way. Until then, I'll be living my life; enjoying my home, my family, and my writing career. I'll be planting a garden, walking my dog, and sitting in coffee shops talking to the locals. I'll be listening to live music at little bistros, and trying new recipes in my 100-year old kitchen. Wait…that sounds a lot like a dating profile. Maybe if we could all just be honest about who we are, whether online or in-person, the universe would just open up and we'd find the one we were created for.
Or maybe not. What do I know?
Karen Fisher-Alaniz
Starting Over at Mid-life
[fbcomments]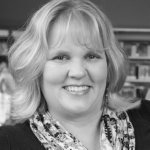 Karen Alaniz is a writer, published author, and a home renovation expert now that she's remodeled an old farmhouse by herself. She strives to help women who are scared it may be too late to start over after a certain age and she encourages empty-nest women to invent a new, prosperous and full life–just like she has done. You can read more about Karen on her Amazon Author page.
Note: Articles by Karen may contain affiliate links and may be compensated if you make a purchase after clicking on an affiliate link.