Last updated on February 26th, 2023 at 02:21 am
You may think I'm crazy for saying so, but I have always thought that the world of politics was sexy. Election Day for me is full of adrenaline, excitement,  and butterflies, and is a time when I stand in that space where I know that anything is possible.
Maybe this is because  I grew up volunteering on campaigns, which meant I got to stay up late, eat pizza, and hang out with cute boys, who were the sons of other election volunteers.
Election Day for me has always been synonymous with big dreams because I've worked hard for all kinds of candidates over the years, watched in a state of breathless anticipation as election results poured in, and celebrated when the dream is realized.
I know how much work it takes to get elected. I know how much energy it takes to campaign!
I toyed with the idea of studying politics in college but passed it up in favor of being an English major. I couldn't seem to avoid getting involved in local urban revitalization efforts in my little city of Troy, New York, once I moved there, however, and soon was asked to run for office.
I considered it very seriously. Mayor Lisa. City Councillor Lisa. County Executive Lisa. Senator Lisa???
Really the only one that interested me was the mayor. I headed to Harvard's Kennedy School of Government in 2004 to earn my Master's in Public Administration degree, focusing on political leadership and best practices in local government.
I asked the question: Did I want to be mayor?
The answer was, and still is: maybe someday. Not now. For now, I am content with volunteering for other candidates.
Election Day in the U.S.!
Presidential elections, of course, are at a whole 'nother level. I have volunteered for some presidential campaigns and intended one inauguration. It's exciting when your candidate wins, yet so different from a local race, since you feel like you have so much less control over how it goes.
Locally, you can walk door to door throughout a city and drop off literature at every household. In a presidential election, you feel like a pebble dropping into the ocean.
Yet every little bit of action, every volunteer, and every vote does count. It does matter.
Today, on Election Day, one candidate's dream will come true, and another will give a concession speech. Volunteers and campaign staff around the country will be gathered in campaign offices, bars, and living rooms, waiting for the final results to be tallied.
It's always wild and exciting if you are a political junkie like me! Now, 8womendream is nonpartisan so my view doesn't necessarily reflect those of the other dreamers or our readers, yet just because it illustrates my passion for politics, I'll share the Website I created for today's election (which includes an "Obama Girl 2012: The Redhead" video and which kept me up into the wee hours of the night!).
Why It's Important To Vote 
I know our international readers and dreamers can't take part in this election, but since many of you have the chance to vote for candidates in your countries, at various levels, you understand.
Voting is a privilege. Voting is a right. I think about the women who fought for my right to vote…
The civil rights leaders who fought for the rights of Black citizens to vote…
The founders of our country who fought for freedom from the British…
It's been a long journey to earn our right to vote. I cherish it!
Big Dreamers: Remember That It's Possible to Do the Impossible!
For me, the path of those who fought for our rights to vote reminds me that even when something seems impossible, and perhaps especially then sometimes, we need to take it on.
I've always loved the Lewis Carroll quote from Alice in Wonderland about doing the impossible.
"Alice laughed. 'There's no use trying,' she said. 'One can't believe impossible things.'
'I daresay you haven't had much practice,' said the Queen. 'Why, sometimes I've believed as many as six impossible things before breakfast!'"
Election Day reminds me that anything is possible.
Here in the United States, we elected the first person of color, President Barack Obama, in 2008. Someday we will elect a female president.
Less than half a century ago, Black men and women couldn't vote! 45 years before that, women were still fighting for their right to vote.
The suffragettes and civil rights workers courageously "did the impossible." Working hard, and standing for what they believe in, they made a huge difference in the world. Their legacy is an important part of our country's history, and it is why all U.S. citizens have the right to vote today.
What Will Your Legacy Be? 
Election cycles remind me to ask myself: What will my legacy be?
What can I do in this world with my gifts that will truly make a difference?
How can I stand up against injustice? How can I change the world?
I hope that my books, workshops, and talks will help provide healing for women who have suffered trauma and help people, in general, to live with more joy, peace, and happiness.
That seems like a happy and fulfilling legacy to me.
Sometimes it still feels like "doing the impossible," and yet I know it will all unfold in magical ways as I just keep walking this path with heart, step by step.
For those who live in the U.S., please do VOTE on November 6th!
And please remind yourself that YOU can do the impossible. You can change the world. Let's all be the change!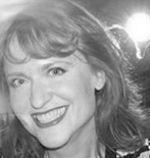 Lisa P. Graham is an inspirational writer, life coach, TED motivational speaker, and globe-trotter whose passion is to help others to find happiness and meaning in their daily lives. A political activist at heart, Lisa would like to empower more women to run for political office as a way to create positive change in the world. You can find her on her website or watch her TEDx speech on YouTube.
Note: Articles by Lisa may contain affiliate links and may be compensated if you make a purchase after clicking on an affiliate link.