Last updated on July 5th, 2022 at 01:54 pm
The moment had arrived, and the energy and excitement in the hall were palpable. His entrance was imminent, and the crowd of 20,000+ followers from around the world rose and swelled and pushed forward to be closer to the front of the hall.
This was no normal hall, but a spacious meditation hall accommodating 30,000 people, men on one side, and women on the other. The ceilings were twenty-five feet high. I counted 300 crystal chandeliers and more than 54 marble pillars. The hall was decorated in pastel pinks, yellows, blues, and gold.
Gold elephants marched around the border of the ceiling. The space was ornate, and the crowd was breathless with anticipation for his arrival.
Me, along with thousands of other visitors from everywhere, the men dressed mostly in white linen and the women in every color, in saris and suits, and wrapped in bright silky, embroidered, wool or sheer scarves.
He was coming. He was coming! I had waited more than 15 years for this moment.
Meeting Guruji
My journey to meet the highly revered Indian guru, Sathya Sai Baba, began while I was in college. My brother Shanti was on a peace pilgrimage with the Nippozan Myohoji Buddhist order, traveling from Auschwitz to Hiroshima over the course of eight months.
Along the way, he met a woman in Croatia, and they fell in love. Shanti and Diana kept in touch as he continued on his journey through India, Cambodia, and Korea. I never met Diana, and they fell out of touch not long after the pilgrimage ended. Yet during their brief time together, Diana would reach out to me with a letter I still treasure, all these years later.
One day out of the blue, this woman from across the ocean who I had never met mailed me a letter. I opened the delicate envelope with its lovely handwritten script and pulled out a folded sheet of handmade paper with elegant handwriting. A photograph fell out of the letter.
It was a photo of a man dressed in orange, with a giant afro, and a peaceful glowing countenance, raising his palms in greeting. A sticker on the back of the photo said "Sathya Sai Baba."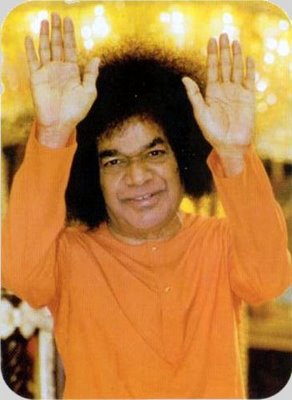 Diana had written, "He [Sathya Sai Baba] wanted me to send you this. You deserve to be happy. You deserve to have peace in your heart. I hope this image and his great love for you will bring you great peace."
Diana didn't know me, and she had no idea that the past year or so of my life had been full of turmoil. My college years were marked by traumatic events and loss, and I wasn't coping well.
I was not happy, although I put on a smiling face for the world every day.
Returning Again, Many Years Later
I tucked the letter away in a box of memorabilia and forgot about it until years later when I moved to San Francisco after graduate school.
I was living at the time in Pacific Heights, and I had befriended a lovely woman from India named Gity who ran a shop on Union Street, selling spiritual books, imported clothing, and small statues of the Buddha and various gods, goddesses, and prophets.
Gity had a meditation room along one side of the shop, and I'd often go there for 10 minutes of peace and quiet. There were several portraits on the wall of a man dressed in orange with a giant afro.
I recognized him. Sathya Sai Baba!
A Disciple of the Guru
It turns out that Gity had studied under Sai Baba for years, and had traveled to his ashram in India several times to meet him. She had many pamphlets and newsletters in the meditation room that were by or about Sai Baba.
I started to read more about this guru I'd first been exposed to years ago. "Love all, serve all, help ever, hurt never," was Sai Baba's mantra. I could live with that.
Gity was such a warm, wise, and loving soul, and I often turned to her for advice. I asked her about Sai Baba and told her about the letter I'd received years ago.
"Then you should visit him," she said. "And when it is meant to happen, it will happen."
It took another five years or so, but it did!
Meeting More Students of the Guru
I would continue to meet others who had studied with Sathya Sai Baba.
Two years after I moved to San Francisco, I started dating a man I met online and quickly fell head-over-heels for him.
Yet almost as quickly as the sizzling relationship began, it fizzled, and I was left with an empty bed and an aching heart. I was looking for healing and peace of mind, anywhere I could find it.
One day, I was enjoying a solitary lunch of Indian food in the Mission District of San Francisco, when a tall tan man with dreadlocks, carrying a signboard announcing "Free Healing Sessions," lumbered by. Needing healing desperately, I invited him to join me and offered him half my lunch. This touring freelance healer, who was traveling around the country, turned out to also be a student of Sathya Sai Baba's, as we found out over veggie korma and naan.
My new vagabond healer friend shared soothing words with me that day, and we kept in touch over email and later Facebook as he continued his travels. One day he texted me to tell me that Sathya Sai Baba had appeared to him in a dream, and asked him to say hello to Lisa.
I told my friend Gity about this and she said, "That means you are already his student. He's calling you."
This she said is how he reaches his devotees – through others who have studied with him. And someday, she said, surely I would go see him myself when the time was right.
India Called To Me!
I spent the past month of January in India. I traveled there to teach with my spiritual mentor, Nithya Shanti, and spent time touring around the country as well. It was a dream come true.
While in India, it seemed like simply the right thing to do to go see Sathya Sai Baba. After all, he'd been "calling to me" for years. I figured the least I could do was show up at his ashram!
A Week Full of Gurus!
It was a week full of visiting gurus while staying in Bangalore during the last week of my trip. Bangalore, also known as Bengaluru, was my favorite city in India, green and lush and cosmopolitan, decidedly reminiscent of my favorite U.S. city, San Francisco.
Bengaluru is known as the IT capital of India, home to companies like Yahoo!, and like SF is also a foodie capital, featuring some of India's great restaurants and chefs. I would soon find out it was also home to many gurus.
I first traveled to see my friends Guruji, Nithyananda, based just outside Bangalore. We got up at sunrise and traveled for more than an hour to catch his dharma talk, and darshan, when he offers his personal blessing to all.
After the talk, we walked throughout the campus, including stopping by a 600-year-old banyan tree on the grounds. Nithyananda had had powerful meditations and visions here.
Like so many before me, I sat and meditated beneath the banyan tree, and I asked this powerful tree, a dozen branches sprouting back into the ground to reroot if it had any messages for me.
It's All About Connection
"Spirituality is all about connection," is the answer I got.
Connection with the divine source. Connection with one another.
In my own life experience, I can say that the times when I have felt despair were generally when I felt "cut off" from God, other people, and from all the light in the world. It doesn't mean that the darkness I experienced was real, or that I was truly alone in my suffering ~ I have always been so loved ~ but that I simply felt alone at that moment.
What a powerful message!
It's all about connection.
Isn't this true of living our dreams, as well?
Guru Number Two
My friends and I would also go visit another guru, Sri Sri Ravi Shankar, on his campus outside Bangalore. We arrived just in came to catch him leading an evening meditation.
And then it was time for Guru Number Three.
Meeting The Guru
I had traveled to spend 24 hours at the campus of Sai Baba in Puttaparthi, a few hours from Bangalore.
When the time came to meet Sai Baba at long last, he passed through the hall in just ten minutes, spreading love and blessings as he went. I'd thought he might give a talk, and that didn't happen, but you could feel the love radiating throughout the room.
Yet the most memorable thing about my visit to the ashram, in the end, was the experience of being in a roomful of thousands of other devotees from around the world, sharing meals with them in silence and still feeling connected, and the shy giggles and smiles I got from small beautiful brown-skinned girls of six or ten who sat near me, checking out this strange creature from far away with the red hair and blue eyes.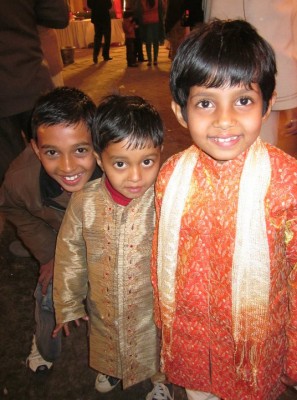 Connecting with others there at the ashram, all of us gathered there with loving and peaceful intentions, was what was ultimately most powerful for me.
Back in New York…
Back in New York now, I am still processing my dazzling array of experiences in jewel-like India, that colorful, spicy, chaotic and noisy, spiritual, and beautiful country.
I haven't quite made sense of them yet and yet I also feel like simply being there changed me.
My India trip was all about connection ~ teaching with my mentor, meeting people live who I'd befriended on Facebook months ago, going to see my guru, and sharing the meditation hall with 20,000 devoted fans.
Yet aren't all dreams about connection in the end, really? Is it even possible to achieve a dream in isolation? A book needs an editor, an agent, a publisher, and readers. A blog needs readers. A musician needs an audience!
We all achieve our dreams in connection with the world.
And I'm happy to be back, with a regular Internet connection (it was spotty at times in India), and get reconnected to my community. Nothing happens in isolation, and that includes our dreams. We are all interdependent.
Lisa Powell Graham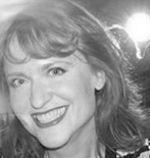 Lisa P. Graham is an inspirational writer, life coach, TED motivational speaker, and globe-trotter whose passion is to help others to find happiness and meaning in their daily lives. A political activist at heart, Lisa would like to empower more women to run for political office as a way to create positive change in the world. You can find her on her website or watch her TEDx speech on YouTube.
Note: Articles by Lisa may contain affiliate links and may be compensated if you make a purchase after clicking on an affiliate link.