Last updated on January 30th, 2012 at 12:42 pm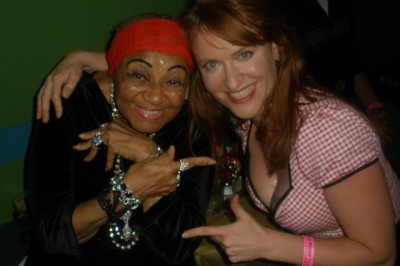 Dripping with bling – a glittering cross around her neck, large glittery rings adorning her fingers, multiple bejeweled bracelets, a bindi – my friend Dawn was shining. This is a woman who has reason to celebrate.
At her birthday party this past Saturday night, I asked Dawn what her goals are for the coming year.
"I want to find a publisher for my books," she said. "Did you know I write romances?"
No, Dawn, I didn't know. She has apparently written 12 novels.
"I write music too," she said.
This from the woman who was the star of the show, celebrating her 82nd birthday with a few hundred friends and adoring fans.
A Living Legend
I was at Dawn Hampton's birthday party at Club 412 in NYC last weekend, because as a longtime lindy hopper and a friend of Dawn, there was no way I was going to miss it. The party featured live music from legendary trombonist Wycliffe Gordon, a buffet of soul food, birthday cake with strawberries and whipped cream, and hundreds of dancers who admire Dawn, including other dance legends like Norma Miller and Chazz Young.
This woman at 82 could pass for 60. She's a light bulb, lit by her passions and still full of spunk and energy. Every Tuesday night, Dawn still heads to Swing 46 to dance to George Gee and his 10-piece Jump, Jivin' Wailers live. She is still dancing. She is doing what she loves to do, and shouldn't we all be doing that every day?
A Lifetime of Music
Dawn began performing at age three. Her father, Clark Deacon Hampton Sr., had a family band and vaudeville act, Deacon Hampton's Pickaninny's, that performed with a traveling carnival. Dawn was one of 12 children, and many of the siblings, including Dawn, still perform today.
Dawn played alto and tenor sax. The family band in 1950 achieved their longtime dream of playing at Carnegie Hall. They were featured at the Apollo Theater and the Savoy Ballroom, the venue where our dance, the lindy hop, was launched.
Dawn sings. Dawn plays the sax. Dawn writes. And Dawn dances. And when she dances, watch out. Dawn is fierce.
Hot, hot, hot…
There really are no words to describe what it is like to watch Dawn dancing. It is watching the music come to life, it is seeing her sense of humor, it is watching her soul in motion. On the dance floor, all her years of performing, her spitfire nature and sassy attitude all come out. This is a woman who has no fear of saying what's on her mind. She is who she is with no apologies.
She is "Lady Dawn," and that means class, glitter, glamor, soul, and attitude on the dance floor. Her musicality is legendary. She embodies the music, with humor, passion, and the total body confidence that comes with a lifetime – 79 years now, since age three – of performing live. Lady Dawn can express more with her baby toe, or just by lifting one eyebrow, than most people can with their whole bodies. There are so many reasons that I want to be like Dawn Hampton when I grow up.
1. Live your passions
Dancer, writer, singer, musician, Dawn Hampton still pursues her creative passions with fierce energy. This makes her inspiring, and timeless.
2. Stop caring what anybody else thinks
If all of us could live our lives according to our soul's calling and not worry about what others were thinking, it would be a happier world. The world needs you to be you, not to do what anybody else thinks you should do.
3. Always be happy to see your friends
Dawn is always overjoyed to see her friends, no matter how much time has passed. She makes you feel special.
4. Dance to live music
Why sit out when the band is playing? Yes, sometimes it's good just to sit back and appreciate the musicians. But life is short, so when the band is playing, don't forget to dance! (And, remember to go out, see bands and support live musicians. This keeps the music alive for the next generation).
5. Wear bling
When all else fails, look fabulous, and you can't help but lift your own spirits – and usually those of others as well.
Thanks for the inspiration, Dawn!
Which of your passions can you live this week? And can you give up any excuses you may have about being "too old" (or too young, or fill-in-the-blanks here with your favorite go-to excuse) to do anything?
Because Dawn Hampton makes clear, dreams have no age limit.
Lisa
And my book? Â Urgh! Completely stuck when it comes to editing!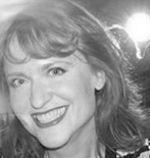 Lisa P. Graham is an inspirational writer, life coach, TED motivational speaker, and globe-trotter whose passion is to help others to find happiness and meaning in their daily lives. A political activist at heart, Lisa would like to empower more women to run for political office as a way to create positive change in the world. You can find her on her website or watch her TEDx speech on YouTube.
Note: Articles by Lisa may contain affiliate links and may be compensated if you make a purchase after clicking on an affiliate link.