Last updated on October 31st, 2011 at 03:57 pm
The day my grandfather died, all the appliances in the house went on the fritz.
The doorknob with a push-button lock on the back door broke. The toaster went kaput. The microwave kept beeping, but wouldn't allow you to actually heat anything up.
Nothing worked. And the handyman who usually could be counted on to fix everything, my grandfather Lou Powell, was gone.
It was as if the appliances temporarily went on strike, saying, "Okay, without our champion around, we are just going to break down."
The crazy thing is, one day later, they all spontaneously started working again.
How Can You Explain It?
The day my grandfather died was also my brother Shanti's birthday. My parents asked him what he'd like to do to celebrate that occasion, since it also was a sad time for all of us.
Shanti elected to go for a walk through Forest Park, which is an 800-acre park in the city where I grew up, Springfield, MA.
As we walked by the duck ponds, we saw a great blue heron swoop overhead. I inherited my light blue eyes from my grandfather, and this bird flying over us in that same hue seemed to be a messenger from his spirit: "All is well."
Over the next few days, we would see blue herons flying all over Longmeadow, MA where my parents live, although I'd never seen one there before that.
As we hiked through the park, Shanti wanted to walk up the hill to where there was a scenic overlook. We walked to the crest of the hill, Barney's Hill, and at the top there was a large stone monument.
I had never before read the inscription. It read: "To live in hearts we leave behind is not to die."
I got chills. I was sure he was there with us.
There was a clear sense that he was reaching out to us, from beyond the stars. And I knew he would live on in our hearts, watch over us and guide us. We missed him already, but knew that in the sense of spirit he was not "gone." He had simply moved on.
Carrying Your Light In Our Hearts
That was a few years ago. This past weekend, I got sad news. A dear friend of mine had also left this world.
Nadia Trinkala was an artist, a bright and gorgeous spirit, beautiful inside and out. Her many nicknames included Moon Beam, Sistar Moon, Mother Moon, Butterfly, Princess Star Shine, and Trink.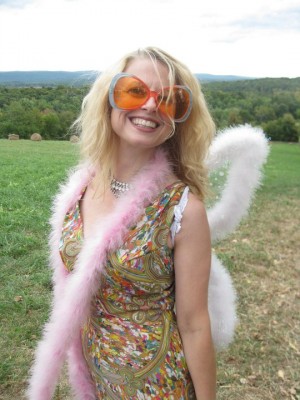 She had a smile that lit up a room, and a kind and loving heart. Trink was generous and kind to everyone, such a gentle and loving spirit, creative and bright, funny and fabulously stylish, sprinkling starlight everywhere she went.
Nadia was also ethereally beautiful. I was often stunned by her beauty, struck by the green eyes that changed color sometimes, the cheekbones and smile, and by how she always radiated light, lit from within. She was one of the most beautiful women I have ever met.
She was and is so beloved in the community where I live. I knew Nadia for more than 10 years, since first moving to Troy.
It was heartbreaking to hear that she was gone.
Your Light Shines On
What do you do when such a bright light goes out in this world? I think that as artists and writers, we can continue to celebrate the spirit and beauty of who the person was to us, and Trink's friends will be doing just that, through organizing memorial services and events in her honor.
Friends are planning an art auction, and the money raised will be donated to an organization that Trink cares about. She loved working with children with autism, and had recently earned her degree in creative arts therapy. And, she had launched a new art project based around the question, "What does it mean to be a human citizen?"
So very thoughtful. So very Trink.
Soul Sisters
I was grateful that the day after I found out the sad news, a group of Trink's girlfriends were already scheduled to gather at my house to work on art projects together. Of course, she was supposed to be there too and it was heartbreaking not to have her energy and light in the room with us, or to hear her hearty laughter, although I felt as if I could see her face everywhere I went.
We did a meditation together to send Trink love and light, feeling sure that wherever she is, she can feel it and receive it. We pray that her heart is at peace.
Remembering to Live and Love Now!
Somehow losing someone so precious serves as a reminder how important it is to live and love those in our lives now, to live every day as if it could be our last. I had tentative plans to go visit Trink in NYC, in Dumbo, the neighborhood she had lived in, and those plans never came together, although we corresponded about it on Facebook for a while. The dates never lined up.
It felt as if we had all the time in the world to make it happen.
And now I won't have the chance to visit her there, and see the neighborhood through her eyes, and enjoy her beauty and laughter one more time. We had planned to go to the circus performance venue near her apartment for a silly, fun Saturday night of hilarity, aerialists, and dressing up  in crazy costumes.
Instead, I have lost my chance to share more time with Nadia on this planet.
Now, I am reminded to carve out the time for those I love while I can. Now, I am reminded to make the time to live the dreams that are most important to me, vs. letting things take priority that seem "urgent" but aren't in alignment with my highest goals.
Live The Life You Dream of Now
At times like these, I am reminded that every day is precious, and that we never know when we could lose someone we love. We act sometimes as if we have all the time in the world to tell people that we love them, or to take action on the dreams that matter to us most.
Yet it's easy to procrastinate. It's easy to let the "urgent" details of everyday life that seem so pressing in the moment take priority over what is truly important to us.
Losing Nadia reminds me to reprioritize spending time with friends and those I love. It reminds me to get dressed up, go out and play, and be silly and have fun, because Nadia was brilliant at doing that, and at bringing the party and joy to wherever she was.
It reminds me that maybe we don't have all the time in the world to accomplish all the goals we have on our list of hearts' desires, and maybe we truly need to be in action on them NOW.
One of my fellow artists/dreamers, whose lifelong dream is to illustrate a children's book, and who has a book contract now to illustrate  a story featuring a cardinal, said that the cardinals have been singing to her more than ever in the past week. She feels like it is Nadia, reminding her to finish the book.
I believe it! Those beyond the stars have the power to remind us of what matters most.
Reach Out And Be in Action
Are there people you have been thinking of, but that you haven't reached out to lately? Are there projects that you've been "meaning" to start, for yourself or someone you love, that you keep putting off?
Please remember that we do not always have forever to get it all done, and that truly all we ever have is this moment now.
Who can you reach out to now to share your love? What steps can you take, today, on a dream project that matters to you?
Speaking of, I need to finish editing my book. I'll be working on it on the plane ride today to San Francisco, where I will spend my birthday week and see my fellow dreamers of 8womendream.
What am I waiting for? I know that my story can help and inspire others. It's time to get this book out there in the world.
For Trink's sake, and for the sake of all the lives who can be touched and changed by this book, I promise to finish it this year. I know I will have some help from beyond the stars. And, it's time.
Please be in action on your dreams now while you can. Please love those around you while you have the chance.
Lisa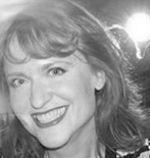 Lisa P. Graham is an inspirational writer, life coach, TED motivational speaker, and globe-trotter whose passion is to help others to find happiness and meaning in their daily lives. A political activist at heart, Lisa would like to empower more women to run for political office as a way to create positive change in the world. You can find her on her website or watch her TEDx speech on YouTube.
Note: Articles by Lisa may contain affiliate links and may be compensated if you make a purchase after clicking on an affiliate link.