Last updated on April 1st, 2012 at 02:36 pm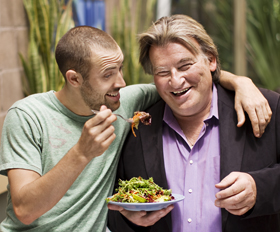 Imagine if you took Alec Baldwin, added 40 pounds, and crossed him with Ray Liotta in Goodfellas.
Imagine this tough Brooklyn-raised Italian-American man – a former drug addict, funny and foul-mouthed, edgy and not afraid to speak prickly truths out loud – and now imagine him downing a shot of wheat grass, then looking in the mirror, and repeating New Agey affirmations to his reflection about his beauty and divinity.
Imagine all of this, and you have a sense of Frank Ferrante at the beginning of the movie, May I Be Frank.
The Frank I met, four years after the filming of the movie, was a totally different Frank. He is also witty, charming, wise and humble, and virtually unrecognizable, having transformed himself in and out.
But I'm leaping ahead of myself . . .
A Random Sunday in Santa Rosa…
I spent much of last weekend in wine country with friends. Saturday was a party for two of my fellow dreamers at 8womendream.com.
On Sunday I met up with friends from Sonoma, California. They had asked me to meet them at the Berkeley Psychic Institute for a screening of a documentary.
It turned out to be a showing of May I Be Frank, which is the story of a 287-pound, former drug addict who went on a raw food diet for 42 days. It's basically the opposite of Super Size Me (which chronicles the saga and health struggles of an independent film-maker who ate only McDonald's food for 30 days straight).
It's a powerful story about a man who decided he'd had enough — enough of his own bad health, his own suffering, and the folly of his former ways. When the Englehart boys, sons of the founders and owners of Café Gratitude, decided to take Frank on as a transformational "project," he signed on the dotted line, agreeing to 42 days of wheat grass, affirmations, self-examination and reflection, and a totally raw diet.
What happened in the subsequent weeks was amazing.
Watch Me Shed Another Layer of the Onion . . .
Frank transformed himself from the inside out. It wasn't just the pounds he lost, or the results at the doctor's office on all kinds of health indicators, which were so astonishing.
It was watching him shed the layers and dig deep into his own soul, making amends for mistakes in his past, owning up to the hurt he had caused others, and making changes at the heart and soul level.
It was definitely not easy, and the movie didn't mask Frank's struggle. He sobbed, raged, broke down on camera.
But he kept the pledge, and he made it through the 42 days, emerging a changed man.
Today Frank is 125 pounds lighter, and he travels around the country sharing the movie and his story. This is man who suffered through a difficult childhood and years of drug addiction, who nearly overdosed a few times, and who feels like he is now finally living his purpose in the world.
Not The Easy Path . . .
I was lucky enough to talk to Frank briefly after the screening, and then again today on the phone. We talked about some of my challenges on this path of writing my story, and how painful it can be sometimes to reveal to the world all of who I am, and the most difficult episodes from my past.
We talked about the questions that we tend to we ask ourselves when we're feeling inadequate to the task at hand. I said sometimes if I am writing, speaking or coaching others, I will ask myself, "Who do I think I am to do this?"
He said the question to ask is not who do I think I am, but "Who can I help?"
Questions and Answers . . .
Our discussion about questions was inspired by Frank's recent blog post about "Questions and Answers." He talks about how we often ask ourselves the "wrong" questions, and learning the value of asking the "right" questions.
Frank writes:
What I have discovered is the value of the right question. Ironically, the answer to the right question is often anticlimactic. I have also seen that I avoid or resist asking the real question because I fear the answer. Fear has ruled my life. Consequently, I asked the wrong questions. I may not have received the answer I needed, but I got the answer I was comfortable with.
I think about the importance of the questions I ask myself in my own life, about myself, about my book as I write it. For example, what if I asked myself these questions about my book, now that I'm 200 pages into it:
Will I ever finish writing this?
Will it be any good?
Will I be a success?
Those questions just cause me anxiety. It feels much more empowering to ask myself:
How can I be of service to the world by writing this book?
How can I make it the best it can be?
What will help me bring this book into the world in a way that enables me to touch as many lives as possible?
Etc. There is also an empowering and a dis-empowering way to ask ourselves broader questions about our lives.
What Matters Most . . .
For me, the most central questions of my life aren't about the book, or about any one project. Rather the most important questions are: "How can I serve? What can I give? What will make me happy now? What does this moment call for? And how can I have the most possible fun?"
That said the book is my biggest dream of the moment, so I'm putting in the time in regularly to write my story. I feel that in the act of telling my story, I'm gaining courage. I'm transforming.
I hope to be able to help others by revealing my truth. But it's a painful disrobing at times, since I lived so many years of my life with the facade intact, hiding my pain deep inside.
Here is Frank again, writing about finding the right questions, and living them:
Do I have the courage to look at who I am and live that truth? Can I find the strength to expose myself to the woman I love irrespective of the consequences? Finding the answer to these questions will generate extremely high anxiety. I've done it and felt like my heart was injected with adrenalin.

The road to self discovery and transformation is not for the faint of heart. Once you start, there is no turning back. Sometimes I procrastinate, but in my gut, I know that I'm compromising myself if I avoid the truth. I used to run all the time. It doesn't work for me anymore.

In the meantime, I'll keep fumbling for the right questions.
What questions can you ask yourself this week to support you in living your dreams? I'll ask myself:
What can I do today that will make the biggest difference in living my dreams?
What can I do to be of service in the world today?
What can I do to have the most fun today?
And my favorite, from the Jason Mraz song in the movie, with a variation on the WWJD bracelets that were all the rage for a while: What would love do now?
What are your questions for yourself today? Why not "be frank"? Own your truth? Live by following your heart and what moves you?
Lisa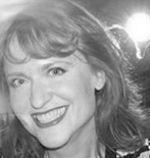 Lisa P. Graham is an inspirational writer, life coach, TED motivational speaker, and globe-trotter whose passion is to help others to find happiness and meaning in their daily lives. A political activist at heart, Lisa would like to empower more women to run for political office as a way to create positive change in the world. You can find her on her website or watch her TEDx speech on YouTube.
Note: Articles by Lisa may contain affiliate links and may be compensated if you make a purchase after clicking on an affiliate link.