Last updated on April 30th, 2012 at 08:44 am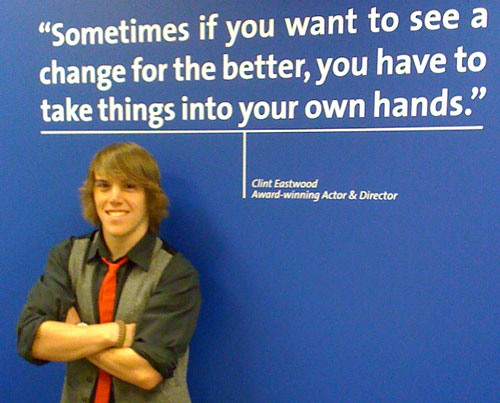 What's the most important product launch dream I have? It's not necessarily my dream, but that of my son Jake.
April's topic for my Friday post's this month is growth – financial, personal, and dreaming. I'm jumping in with both feet this week by quickly gaining some personal growth as I learn the importance of being prepared to launch the next generation of dreamers.
Figuring out that dream
The path to determine if Jake was serious about the direction of fashion and design was important. I will always remember this advice I got from my Dad at 18:
How will you know if you like it if you don't try?
My father was lucky to find his passion for flight early and get on the path of a commercial pilot for over 35 years. We have had long conversations about the concept of company loyalty and career longevity with when we was working and the job climate these days. I took his advice to heart, and wanted to pass that on to Jake.
The first test? Visit one of the top fashion design schools and see what it's all about. Jake's Dad set up the initial meeting and away we went.
Shock and awe
Reality can be overwhelming at times, and on our first visit that Jake, his Dad and I attended had an impact. FIDM – Fashion Institute of Design and Merchandising had several big draws.
They have a San Francisco campus. Close enough to check out easily.
The curriculum is all inclusive. Design degrees are integrated with business and marketing. This was missing from my own design certification experience.
The degrees they offer are expansive and support what's happening in the current fashion marketplace.
After our first hour in the office with Jake's very friendly Admissions Advisor, we were all reeling for different reasons. I had a lightening bolt of reality "My son is heading to college in a year!", Jake had an avalanche of information that he was trying to process, and both his Dad and I were struggling with the financial reality that the time is upon us to pay for Jake's education.
Reality check
Our first shock was that the degree he wants Apparel Industry Management — the one that sets him up for tons of industry jobs AND running his own international fashion company — is only available at the Los Angeles campus.
Oh.
He is still in California, but I had not mentally prepared myself that he was going to move away for school. We are in the Bay Area for goodness sake, surrounded by design schools left and right, why would he go anywhere else?
Since this initial reality, I have spent time picturing Jake on his own, living in an unfamiliar city (to me, as of yet), too far away to just run over and check up on him. I pictured a total disaster and quickly wiped that imagery out of my mind.
Next time around, I pictured Jake thriving in the fast paces academic environment. The excitement of learning a new city, people, and places. Much better. I'm not doing jumping jacks yet, but I'm no longer holding back tears at the idea.
By the end of that first 3 hour meeting and tour of the San Francisco FIDM campus we were all glazed over. Thoughts of curriculum choices, housing questions, financing options and packing Jake off to college swirled endlessly.
Let it sink in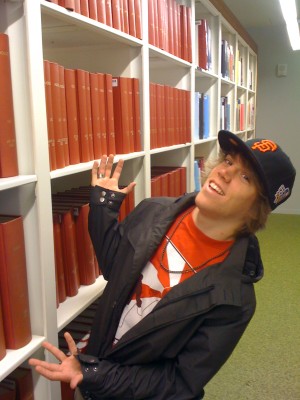 We all let the paperwork and information sit for awhile and the next week Jake got a call directly from the Advisor. Now that was an adjustment in itself. Someone wants to talk to Jake about his future, and I don't need to be involved in every second of conversation? Damn.
We got more information and read through all the options over the next few weeks while planning on attending their Spring open house. This turned out to be a great opportunity as Jake had already toured and checked out the campus.
We chatted with a working designer who graduated a few years ago and runs his own line, in addition to designing for 2 others. Another student was a recent graduate from the SF campus and was heading down to LA for her advanced degree.
Great stories to hear and portfolios to show just how much work goes into this degree.
One more check in to say hello  to his Advisor had us officially taking the next step and applying. It still didn't quite feel real, but the admission project she sent home with Jake definitely screamed "He's going to college!".
Officially official… he's a college student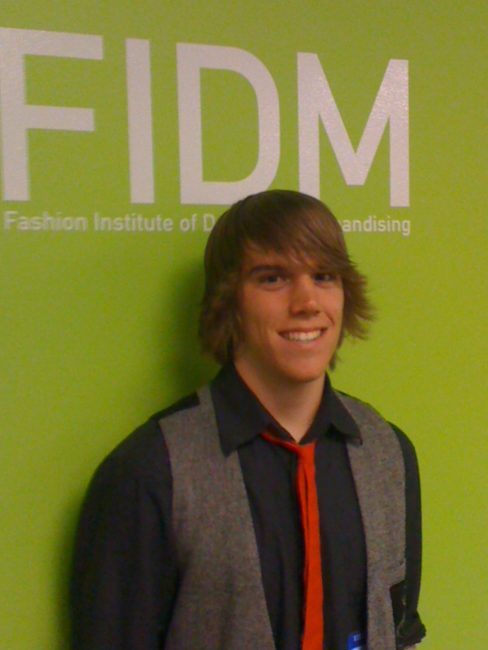 Yesterday was the "BIG" meeting at FIDM. Jake's admission project, paperwork and references all ready — or mostly ready. A quick call to his Dad who thankfully was at the house to fax over a forgotten stack of paper and we were ready.
I waited while Jake was in his interview. I could see down the hall and watched him gesture as he spoke to a woman I hadn't met yet.
He was on his own. It felt like taking off training wheels, except I was the one wobbling at the new feeling of starting to let my little boy grow up.
Before I knew it I was ushered in to smiling faces and congratulations of having such an articulate, mature son who was accepted to FIDM starting in Summer 2013.
The excitement felt like take off on a really small jet — lots of engine roar, just before we speed down the runway. Just experiencing the momentum and potential Jake has in front of him was an inspiration to keep pushing on my product launch dreams.
Support their dream
Jake has had this focus for years now. Granted it came from a general idea in his early teens to rule the world in general, but what teenager doesn't share that mindset?
Did his initial ideas work from the beginning? Nope — but my support was there with the skills I knew I could help him with. Registering domain names and setting up blogs to name a few. And his Dad was there to help him take his artwork from concept to his first few runs of custom t-shirts.
Not every kid is going to jump up and down at the thought of business courses, or thrill at the idea of taking statistics, but they will get excited about something.
What's our role? My opinion has always been to support my son in whatever he wants to do. I plan on setting him up for his own launch success by giving him the tools he needs, and preparing him for the reality of using those tools. Fingers crossed he takes off in a year ready for all this.
What dreams are you helping your kids launch?
~ Heather

Heather Montgomery is a fitness writer, triathlete, and serial entrepreneur who is devoted to sharing what she has learned about becoming a triathlete after age 40. She uses her Metabolic Training Certification to help other women struggling to get fit in mid-life. She lives and trains in Santa Rosa, California, the new home of the Ironman triathlon. You can find her biking the Sonoma County wine trails.
Note: Articles by Heather may contain affiliate links and will be compensated if you make a purchase after clicking on an affiliate link.