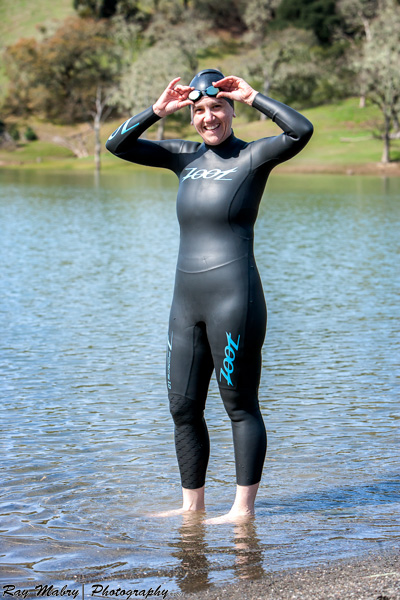 The number one deterrent to competing in a triathlon is open water swimming. If you have any issues with not seeing the bottom of the water you are swimming in, or retaining feeling in your extremities, this may not be for you.
I am in the process of conquering this fear myself.
A few weeks back the Saturday morning weather was clear and warm as my supportive husband/photographer Ray and I headed up to Lake Sonoma. We were hunting down a recommended spot to practice open water swimming before my very first triathlon in just a few short weeks. Spring days can be fickle here in wine country, but this gorgeous Saturday at Lake Sonoma was a warm one.
Thank god since the water was only 55 degrees.
As I waded into the lapping waves on the shore, ready to test my rented triathlon wetsuit and embark on my first open water swim, the cold hit me.
Pain radiated from my ankles, and I turned around and walked back out of the water, my fists clenched.
Oh my god that hurts!
To which my scuba diving husband helpfully replied, "At least it's not the ocean at 42 degrees!"
Coming to the conclusion that the only way to get past the cold was to wait for the numbness to set in, I forced myself to wade deeper into the water. Another great tip offered by my helpful husband was to sit in the water and pull the suit away from your neck letting some of the freezing water in.
Apparently this layer of water will help keep you warm. Unfortunately this is only after it leeches out every ounce of your body heat.
My feet were finally numb, and my hands were quickly following. It must be time to start actually swimming. I let myself push off parallel to the shore and started my freestyle stroke.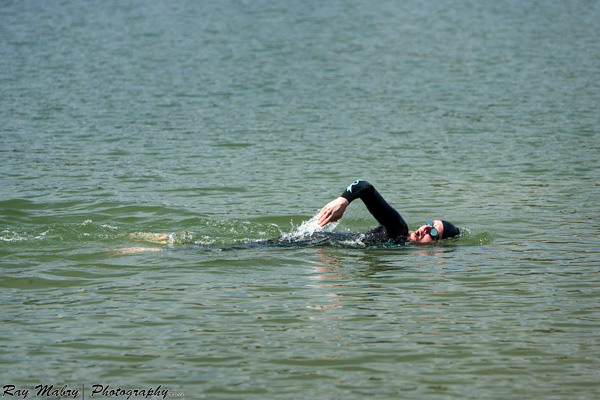 Have you ever stuck your head into a bucket filled with ice water?
I stood up quickly and pressed my frozen hands to my forehead. It was like the most intense ice cream headache I've ever had. Never mind how distracting the cold water was to trying to swim.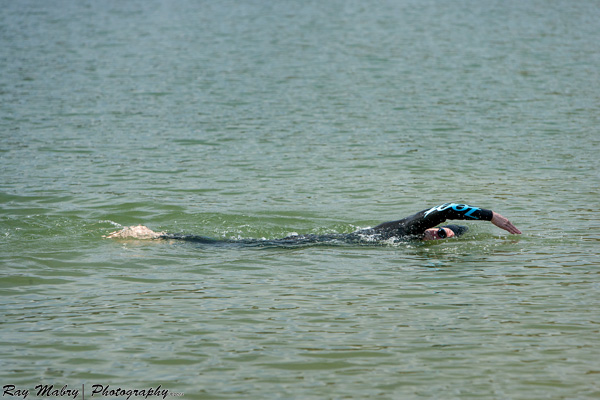 I forced myself back in the water, and every stroke felt awful. The cold was disorienting, and staring underwater into the murky view was making me start to panic. I forced myself to at least finish getting to the end of the predetermined "lap" and tried to stand so I could catch my breath.
Ewww.
Slimy rocks and spiky roots from nearby bushes were hiding underwater for my bare feet to slip on. I gave up trying to find a foot hold, told myself to relax and started swimming back.
Panic during open water swimming is a scary thing.
My breathing was short, and the smooth swim stroke I was so proud to have improving over the last several months was reduced to all the bad habits I thought were gone for good.
Stopping mid-lap I stood up and oriented myself. I could feel the sand along with a little Lake Sonoma slime under my feet. I was safe and could stand up, so I tried to accept that there was no way I could drown.
Waving at Ray I reminded myself that I had the skills for this and dove under the surface again. I pretended it was my performance swimming class and we were in the middle of drills. Strong stroke, timed kick, breath easy.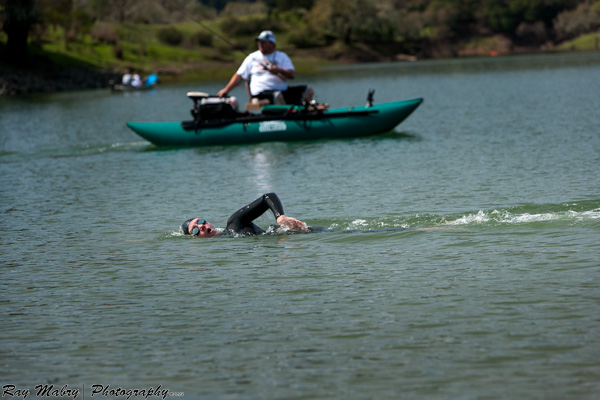 I managed a few laps back and forth along the shore without having to stop and even avoided being run over my the fishing boats trolling from the nearby launch as the were heading to deeper water.
There was never that sense of security or relaxation that can come after a good warm up in the pool. Constant reminders to focus on my form, and to practice sighting kept popping in my head.
Sighting is an important skill in an open water swimming. It's the practice of lifting your head every 5-7 strokes to pinpoint a landmark and confirm you are still going in the direction you want to go. In a triathlon there will be bright orange buoys to keep your eye on. At the lake, I used a couple different rock groups to keep track of where I was.
Extra stress can make you tire out faster than you may think. Toward the end of my swim I found little things bugging me that I typically ignore in the pool.
Here's a tip: When you get lake water in your ears, try not to think about what else may be swimming in there with you.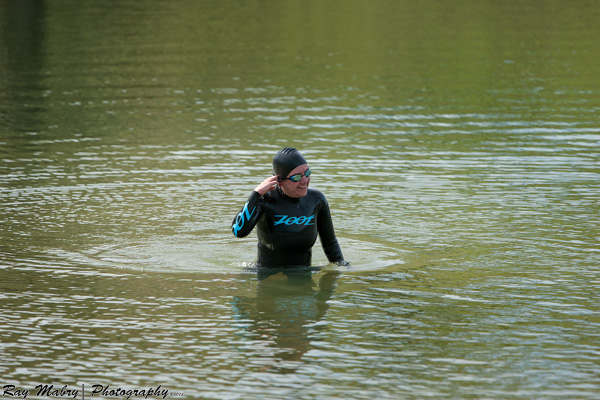 The first plan for the day was to get in open water swimming and see what that felt like. The second plan was to practice my triathlon transition.
In triathlon, the times between each leg of the race is called a transition. There are two transitions – the first to get you out of your swim gear and into your bike gear, and the second to get you out of your bike gear and ready to run.
I treated this open water swim as a practice run for testing out my transition set up. I'd read some great advice on what to bring and how to arrange it for an easy quick change so I could get back in the race.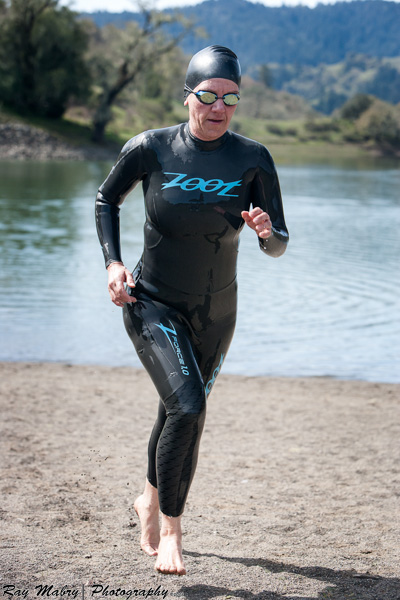 Running out of the water, I experienced an interesting sensation. I was really dizzy.
Testing my transition plan was interesting. It was tough trying to stay on my towel to keep sand off my feet, peeling the really sticky wet suit off, and talking to Ray about how I thought I was going to fall over. All the years he taught scuba diving he hadn't heard of anyone being dizzy. Perfect.
I finally got out of the wetsuit and into my socks and running shoes to jump on the bike. I didn't invest in clip in pedals and shoes yet so there's one less thing I have to change once the bike part of the race is over.
The water from my triathlon suit was dripping down my legs and into my shoes.
I really like my new running shoes, and with them being new, really didn't want lake water dripping into them. I honestly don't know what I was expecting after stripping my wetsuit. Soaked hair and suit come with getting in the water.
I did make it on the bike and made a couple laps in the parking lot. Today wasn't about a workout on the bike or running, just practicing the shift from one to the other.
Just in case you are wondering, riding a bike while wet is very cold.
Pedaling back to my transition spot, I stripped the helmet and realized I hadn't set out my glasses or water bottle. Grabbing those items quickly from my bag, I ran back out to the parking area for another couple test laps.
By now, the front of my hair was dry and although my suit was cold and clammy, there weren't rivers of water running down my legs anymore. The official test was complete and I had learned a lot about being ready and what the change in the plan.
Open water swimming tips and resources
If just the thought of getting in murky water makes you stop breathing, you are not alone. This is a common fear among those who would like to jump into the sport of triathlon. Most of us are swimming in clear, heated pools with handy little lines along the bottom of the pool to keep us on the straight and narrow.
I don't know too many people who thoroughly enjoy wading into freezing water while stepping on slimy stuff. This is where practice and safety come into play.
Go as often as you can. There is no substitute to practicing and getting used to water that is not heated and crystal clear.
Take a friend. NEVER swim in open water alone. If there is a lifeguard on duty, be sure to let them know where you plan on swimming.
Play it safe. There are no helpful walls to grab when you get tired in open water. Keeping close to shore keeps you in shallow water and out of the path of boats that may not be able to see you. If you are planning an ocean swim and the water is choppy, call it a day. Bad conditions won't make you a better swimmer and odds are your race day conditions will never be that dangerous.
RELAX. Breathing and training are easy to forget when you are in uncomfortable surroundings. Let yourself adjust and do your best to relax and let your training take over.
There are some wonderful resources for how to prepare for a triathlon open water swimming on trinewbies.com and Active.com. I've used both sites regularly while researching what it takes to complete a triathlon.
Where's your fear?
Conquering fear happens every day for dreamers. Are you brave enough to share your fear?
Go get your fit on – Heather

Heather Montgomery is a fitness writer, triathlete, and serial entrepreneur who is devoted to sharing what she has learned about becoming a triathlete after age 40. She uses her Metabolic Training Certification to help other women struggling to get fit in mid-life. She lives and trains in Santa Rosa, California, the new home of the Ironman triathlon. You can find her biking the Sonoma County wine trails.
Note: Articles by Heather may contain affiliate links and will be compensated if you make a purchase after clicking on an affiliate link.