Last updated on April 30th, 2012 at 08:44 am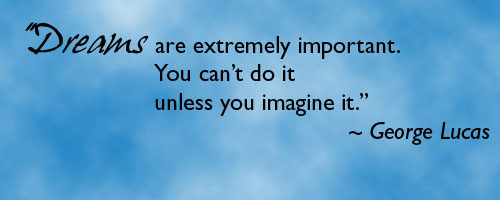 Big news for my product launch dream this week. News that is too big to wait – I got a job!
The fact that this happened, that the market is improving, that my skill set is a great fit — it's all still sinking in. Looking back on my product launch dream list for 2012 you will see that this dream was #1.
Put it out there… again
Big dreams are not easy to put out there. The dream of getting full-time work was a tough one to admit to myself because of the circumstances that brought it about. If you've kept up with my journey here on 8 Women Dream, you have a good idea of how hard it was to watch my business get hit by too many bullets all at once to survive.
I know this is an all too familiar story for some of you readers to rehash here, so I'll bring us back to the reality that, yes, I am employed.
Here is the quote from my dream plan that I published at the first of this year:
Landing my dream job. Sooner than later. I've got to finance all these ventures until they take off.
The whole process of landing this job came together quickly, which was a nice shift for my job search experience. I was all ready for the multiple interview scenario and red-tape, hoop-jumping that typically comes with large corporations. This was a nice change of pace, a wonderful opportunity, and fun team to be working with Monday through Friday.
Adjust, then re-adjust
As of this post, I will have officially worked for my first week. There have been several adjustments to the schedule, and changes in expectations to everyone else in my home. For those who regularly work from home (a.k.a. handle all the household details in between clients calling) you understand what I'm talking about.
It sounds ridiculous, but being around people full-time is a huge adjustment. It's not like I was a hermit day-in, day-out, but without the need to put on makeup and leave the house at the same time everyday, let's just admit that if my cats were the only ones seeing my hair up in a clip one more day, they didn't seem to mind.
To prove I've survived doing the responsible adult thing for a whole week, I have my Product Launch Status video for April to share:
Landing on my feet
I feel lucky that this job is a perfect fit for me. I will be using all my skill-sets from graphics, social media, email marketing, and website management. If I had to write up all the tasks that I would want to do on a daily basis, this would cover it all.
There were many times when I sent a resume into the ether where I hoped for a quick response  — any response. Even if it was simply a note saying "Hey there, got your resume." So many things in the market have changed, but this one is painful to deal with. A quick note to hiring managers: please confirm the receipt of the resume. A canned letter or email is perfectly fine. Even welcomed.
Remember that we are customers too and how you treat us we share with all of our family, friends and strangers.  Think of job applicants as part of your marketing plan and leave us with a good feeling about your company, even if we don't land an interview.
As with many of my fellow dreamers, I have a big thank you to send to our fearless leader Catherine. She is the queen of keeping her eye on the market, and not only pointed out this position to me, but helped me customize my resume. Have I mentioned yet that she rocks?  Because she does.
What does this mean for my dream launch plans? Less time, more opportunity. Sounds strange, but I'm already adjusting to having this dream goal come true. It always seems to work that way — opening one dream goal door tends to lead to more.
~ Heather

Heather Montgomery is a fitness writer, triathlete, and serial entrepreneur who is devoted to sharing what she has learned about becoming a triathlete after age 40. She uses her Metabolic Training Certification to help other women struggling to get fit in mid-life. She lives and trains in Santa Rosa, California, the new home of the Ironman triathlon. You can find her biking the Sonoma County wine trails.
Note: Articles by Heather may contain affiliate links and will be compensated if you make a purchase after clicking on an affiliate link.