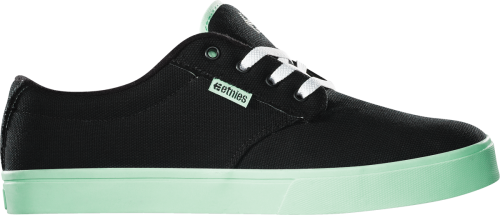 A little fashion can go a long way
Looking for work a little less carbon footprint into your fashion statements this summer?
Over the last 500 years, Brazil's Atlantic Rainforest has been destroyed dramatically leaving only seven percent of its original cover today. Through agricultural production and urban development, millions of acres of trees have been tragically damaged, burned or cut down. etnies is stepping in by expanding its Buy a Shoe, Plant a Tree project to help reverse Brazil's deforestation. Through its partnership with Trees for the Future, a leading nonprofit organization planting trees worldwide through seed distribution, agroforestry training and in-country technical assistance, etnies will bring people together to make a difference in this area, one shoe and tree at a time.

etnies will support planting 100,000 trees within the Atlantic Rainforest's state of São Paulo throughout  2012. The one-for-one program plants a tree for every purchase of etnies Jameson 2 and Jameson 2 Eco men's and kid's shoes as well as girl's Caprice Eco and Circe Eco shoes.

Through its 2012 partnership with Trees for the Future, etnies' Buy a Shoe, Plant a Tree project will empower and educate students and indigenous groups of Brazil on how to restore their lands with the tree cover that once filled their country. Local students and native groups of São Paulo will be taught about environmental issues, how to produce tree seedlings and transplant trees. Together, these groups will plant 100,000 trees as part of the Buy a Shoe, Plant a Tree project. The planting begins in March 2012.
Total trees to be planted in 2012: 100,000
My skateboarding son is a fan of the etnies brand and with this recent promotion, it makes the constant shoe purchases that come with being the mother of a skateboarder that much easier.
Keep your launch green this week ~ Heather

Heather Montgomery is a fitness writer, triathlete, and serial entrepreneur who is devoted to sharing what she has learned about becoming a triathlete after age 40. She uses her Metabolic Training Certification to help other women struggling to get fit in mid-life. She lives and trains in Santa Rosa, California, the new home of the Ironman triathlon. You can find her biking the Sonoma County wine trails.
Note: Articles by Heather may contain affiliate links and will be compensated if you make a purchase after clicking on an affiliate link.