Last updated on April 2nd, 2012 at 01:30 pm

When I am looking for products for review, the last thing I want to hear is that I missed out on a great deal. The holiday shopping season has shifted into high gear. If you are one of those shoppers who skipped the Black Friday rush, and neglected to take advantage of Cyber Monday, you didn't completely miss out.
Kendal Perez of FreeShipping.org shared a little history and some important online shopping deadlines so you can keep on top of your holiday shopping list.
As the 2011 holiday shopping season gets underway, three popular sales events will once again face off for the ultimate prize. In 2010, veteran Black Friday was eclipsed by the rookie Free Shipping Day in total online sales, while Cyber Monday barely surpassed them both with consumer spending topping $1 billion. Patrons and retailers alike are gearing up for what experts predict will be another record-breaking season, and Free Shipping Day is already well-positioned for the win.

Scheduled for Friday, Dec.16, Free Shipping Day represents one of the last opportunities for online shoppers to receive free shipping from popular merchants, with delivery by Christmas Eve. Last year's event generated $942 million in sales, representing the third-largest online shopping day in U.S. history and exceeding Black Friday's earnings by nearly $300 million. After only three years in existence, Free Shipping Day 2010 saw over 1,750 merchants participate, a 700-percent increase from the 250 retailers in 2008.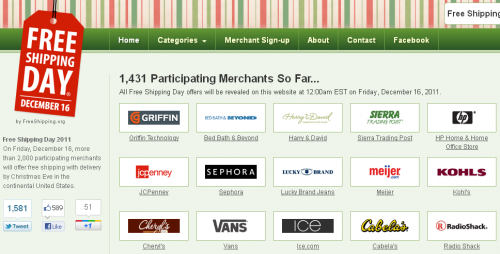 "Given the record-breaking success of 2010's event, we fully expect to meet or exceed 2,000 merchants this year," said event founder Luke Knowles. "With over 300 merchants already signed up, including big names like Kohl's, Bed Bath and Beyond and Cabela's, Free Shipping Day 2011 is well on its way to reaching that goal."
Knowles, who also co-founded FreeShipping.org (a year-round site), developed the idea for Free Shipping Day in just two short weeks in 2008. He realized merchants and shoppers would relish the opportunity to extend online holiday shopping — the preferred method of buying for those who dread the hustle and bustle of crowded malls.
Watch those deadlines
I know I'm not the only one who is up against budgeting and may have to wait for the last moment to fill those stockings. Keep these ordering deadlines in mind and get free shipping AND receive your purchases before the holiday.
Naturally, consumers can always depend on Free Shipping Day, the one-day event on Dec. 16 when they can shop from more than 2,000 merchants with delivery by Christmas Eve. Other stores offer extended deadlines, however. FreeShipping.org put together a comprehensive list of 170 merchant holiday deadlines, including dates for standard and express shipping as well as the date offering the fastest shipping with delivery by Christmas.


Best Buy
Standard: Dec. 20, 11 a.m. EST
Express: Dec. 21, 11 a.m. EST
Fastest: Dec. 22, 11 a.m. EST
Cabela's
Standard: Dec. 16
Express: Dec. 20, 9 p.m. CST
Fastest: Dec. 22, 11:30 a.m. CST
Standard: Dec. 14
Express: Dec. 19
Fastest: Dec. 21
DSW
Standard: Dec. 17, midnight EST
Express: Dec. 21, midnight EST
Fastest: Dec. 22, midnight EST
JCPenney
Ship-to-store: Dec. 19
Standard: Dec. 20
Fastest: Dec. 22, noon CST
Kmart
Standard: Dec. 16
Express: Dec. 21
Fastest: Dec. 22
Joann
Standard: Dec. 13, 11 a.m.
Express: Dec. 15, 11 a.m.
Express Plus: Dec. 20, 11 a.m.
Standard: Dec. 18 11 p.m. CST
Fastest: Dec. 21, 11 p.m. CST
Nordstrom
Standard: Nov. 30, 3 p.m. EST
Express: Dec. 6, 3 p.m. EST
Fastest: Dec. 7, 3 p.m. EST
Sierra Trading Post
Standard: Dec. 15
Express: Dec. 21, 3 p.m. MST
Fastest: Dec. 22, 3 p.m. MST
Sears
Standard: Dec. 16
Express: Dec. 21
Fastest: Dec. 22
Zappos
What's on your list?
The list of the 1400+ retailers that will participate is pretty extensive on FreeShippingDay.com.  Personally I will be on the Skullcandy and Kohl's to check a few things off the Budding Fashion Designer's list.
This time of year can be completely crazy-making, or it can be a lovely afternoon with your laptop and a cup of coffee. You know where I'll be… beating the online shopping deadlines and looking at new products to explore and review.
What about you?
Happy Holiday Savings – Heather

Heather Montgomery is a fitness writer, triathlete, and serial entrepreneur who is devoted to sharing what she has learned about becoming a triathlete after age 40. She uses her Metabolic Training Certification to help other women struggling to get fit in mid-life. She lives and trains in Santa Rosa, California, the new home of the Ironman triathlon. You can find her biking the Sonoma County wine trails.
Note: Articles by Heather may contain affiliate links and will be compensated if you make a purchase after clicking on an affiliate link.