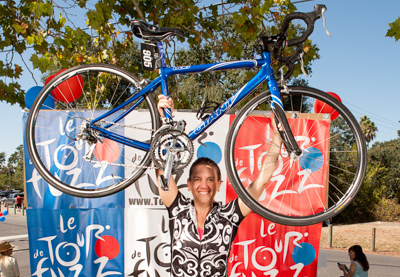 After 3 years of watching cyclists of all levels take off at our local Le Tour de Fuzz bike ride, I had to join in on the fun. Every year in September, the very organized and well received ride takes place in our Sonoma wine country.
I have attended the race as an assistant photographer/tag along for the past couple years with my husband Ray. He's coordinated an amazing group of photographers for this event through the Sonoma County Photography Group that donate their time and expertise to give the riders amazing shots of their day.
Watching cyclist, many that are friend and avid cyclists, kick butt on the ride made me challenge myself last year that I would ride with them in 2013.
Looking back, this was a tall order. At the time I had just picked up my first bike in years. A rusty older 10 speed that got me through the first 4 months of training before my first triathlon, and has since been upgraded slightly to my current used bike.
What makes this fitness challenge different are all the cops.
No really. When you ride Le Tour de Fuzz you ride with and supported on the entire course by Sonoma County's finest. This ride offers several benefits both in the ride itself, and the non-profit organizations the ride supports, the Law Enforcement Chaplaincy Foundation and the Law Enforcement Chaplaincy of Sonoma County.
Our mission is to respond to requests from law enforcement and provide immediate emotional support and follow up care to them and to the members of our community who have suffered tragedy and loss. We are an interfaith community of compassionate volunteers without religious, political, or legal agendas.
The event has grown to a sold out crowd of 1,200 riders as of this year. Having the law enforcement groups involved makes for a very well thought out ride.
There's nothing like riding through the wine country with cops on your tail.
This may not sound like the perfect start of any weekend, but in this case it makes the event fun. The ride is truly that – a ride, not a race. There are no timing chips, no official start times for the distance you would like to go, and no issues with just turning around if you've had enough of the beautiful countryside for one day.
The ride offers 2 distances to all experiences to participate.
50k ride (about 32 miles) which is the one I tackled as my first bicycle only event
100k (64 miles) a popular distance in bike racing and I had several friends in this group
100 mile is all known as a century ride and in this case, takes you over some incredible climbs that are difficult to drive, let alone pedal up
My ride day started pretty relaxed when you compare it to the rush and excitment of my triathlon only 6 days previous. I felt recovered from the tri and confident that I'd get a decent time on the bike that day.
Arriving around 8:00 am I checked in with all my photography friends and husband. Ray had been there since before 6 am to set up. The morning was still crisp, and with any event, my goal was to stay warm enough to feel my fingers until the start time.
The support at the race was wonderful. A maintenance section to check your tires and pump up if needed, the amazing BBQ already fired up and kicking out the delicious food we would all be enjoying after the ride.
I even managed to get the all important photo with McGruff the crime dog!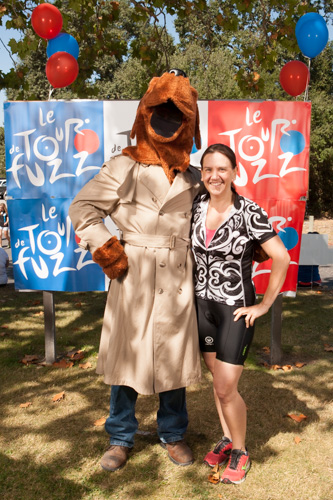 I took a last second tire pressure check and tire pump-up and was on the road, ready to start with my group. I was wearing my GPS watch to give me feedback on my speed, because it may not be a race, but if someone is in front of me, I have the urgent need to pass them.
We headed out and took our time thinning out through the first few turns onto the main road. Lots of traffic on the roads for the first few miles and then we turned onto the vineyard lined, cow pasture green wine country side roads.
For anyone in this area, you already know that our less traveled country roads are not in the best shape. If you can feel a bumpy road in your car, just imagine how that feels on your butt against a hard bike seat. At one point, my foot was bounced off the pedal.
A quick sidebar here. I learned a really important lesson on this ride.
Never ride over 30 miles without having cycling shoes and clipless pedals.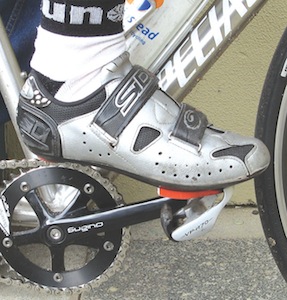 For those not familiar with the sport of cycling, serious riders will always ride with this setup. Cycling shoes with a clip-less pedal system, like in photo here. There is a bracket attached to the bottom of your shoe that clips into the pedal.
This lets you manage your pedal stroke and power by eliminating the concern that your foot will fall off the pedal. This really hit at about mile 15 when I muscled up the toughest hill so far in the ride, heading down to the rest area and feeling good.
I hesitate to stop during a ride. I have a tendency to cramp up so keeping in motion was the plan. I had everything I needed to keep riding, plenty of liquid and my trusty energy in my back pocket.
Heading back up the route I came back to the three way stop I had just been through. I thought all the arrows were pointing back the way I came, and I headed out at full speed, back down the hill I had just barely survived about 15 minutes before.
I had seen riders pass me on the way up, so I knew this was part of the route, but after a mile I started to doubt my direction and stopped to check my map. That three way stop that was back up that hill? I should have turned right.
I checked my distance and time and headed back up the climb. This time it was more grueling and my gear changes threatened to make my feet jump off the pedals again. I was almost to the top and watched a fellow rider stop to get off and walk to the top of the ride.
I was determined in my own self-competitive way to never get off the bike and walk. I stood up in the pedals, and with every muscle in my thighs screaming, made it to the top of the hill and headed in the right direction.
I was thankful at the slight slow sloping of the course after that hill. It let my legs recover from the attack. Until the reality sank in that with every slope down, there was a slope up just around the corner.
The ride was winding up almost to Windsor, out across the 101 to Eastside Road and around the Sonoma County Airport. It was around the 22 mile mark when my legs and body asked "Are you sure you can do this?"
I really hate it when your body decides to rebel against you by making your brain question your ability.
I knew that with my detour I wouldn't finish in the time I had set for myself. My goal at this point became to focus on my form, keep a steady pace, suck my stomach in for support and whatever you do, don't stop.
The trip around the airport seemed to take forever. I am familiar with the area, have driven on those backroads for years. they never seemed this long or stretched out before.
The cooler morning that kept the ride a nice comfortable temperature, was due to the fog overcast that broke apart just as I was rounding the airport onto much more familiar roads. The 101 was in sight, I knew where I was, and I was starting to be surrounded by other riders as we all came to the last few miles of the ride.
Sun was super bright overhead now and I felt the sweat dripping down my back. I knew I could finish this strong so I picked a pack of faster riders in front of me and attempted to keep them in range as we pedaled back to the start/finish line.
Rounding the final corner I was so glad to see Ray capturing the finish line photos! I raised a hand and really forced out a smile as I rode the last 50 feet or so.
As I braked at the line for the bike valet and free bike wash – another fun benefit of this ride – I swung my leg over and tried to remember what it felt like to walk. I smiled to myself knowing that I didn't have anything else to do after this. No run, no swim, but a wonderful ride and the official longest ride I've ever had at 38 miles, once you add in the detour.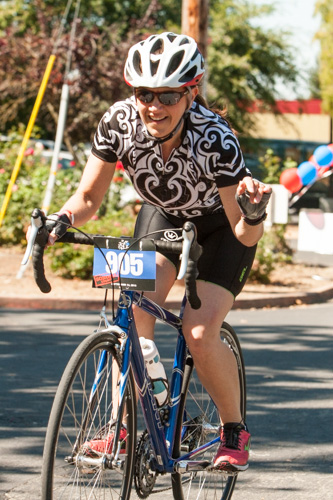 Fitness challenges met and challenges kept
When I was at the event last year and voiced my challenge to participate this year, there were words of encouragement from my avid cyclist friends and photography pals alike. I knew that putting this out there would require a bit of commitment and planning if I wanted to pull this off.
No one would have known if I just didn't ride. I would have known that I had missed an opportunity.
I guess that is what dreaming feels like. You see the opportunity, and by taking that fitness challenge, the win is all yours.
What's the next challenge in your dream?
Go get your fit on – Heather
Sources:
If you want a beautiful ride and a fun atmosphere in the fall next year, put Le Tour de Fuzz ride on your calendar. You can check it out here: http://tourdefuzz.org/

Heather Montgomery is a fitness writer, triathlete, and serial entrepreneur who is devoted to sharing what she has learned about becoming a triathlete after age 40. She uses her Metabolic Training Certification to help other women struggling to get fit in mid-life. She lives and trains in Santa Rosa, California, the new home of the Ironman triathlon. You can find her biking the Sonoma County wine trails.
Note: Articles by Heather may contain affiliate links and will be compensated if you make a purchase after clicking on an affiliate link.