Last updated on April 2nd, 2012 at 01:11 pm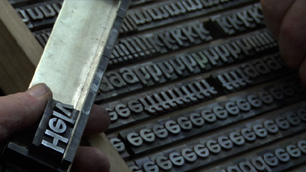 There are a lot of things I love about design.
I am struggling about how design fits in my entrepreneurial dream pursuits, but I do love the process of design. Color, space, typography and my blatant addiction to paper makes me a total design geek.
As a designer, inspiration about design and the world of design are rare. Designers like to create, not TALK about how that creation takes place. At least it seems rare when I talk to other designers who haven't seen the documentary on "Helvetica".
We use it every day on our computers, we see it on street signs — and we take it for granted. Now, Gary Hustwit's unique documentary introduces us to Helvetica, a font whose readability has made it the most popular in the world. Interviews with designers and artists offer insight into the development, use and universal acceptance of Helvetica as the typeface of choice for everything from writing letters to creating corporate logos.
Hell, just glancing around my desk, I found it on 4 different products. Many designers say its boring, overused, ubiquitous.
Why mess with what's proven?
The documentary film trailer takes you through metro, media and mundane examples of the use of Helvetica in things we see everyday. And if you weren't sure by watching, the film is now available on iTunes.
The first 3 minutes of the film show typesetting in action – the manual typesetting shown in the photo at the beginning of this post – and gives you a taste of the interviews with some of the most influential designers working today. I love hearing about the history and impact of the typeface.
So why is this typeface so important? Timing. Wim Crouwel offers a great overview of why this was an important transition from earlier detail-oriented type to something a more machine friendly and neutral. Gotta love those Dutch!
Jonathan Hoefler & Tobias Frere-Jones are modern typeface designers – yes, there are people who play with letters for a living – and their take on what Helvetica means for design and the how describing type takes some creative leaps. Most design geeks will get it.
These types of documentaries help me reflect on what drives me. I've indulged in a lot of reflection this past few months on what the next step for my world will look like. Finding what you are still passionate about can be tough when the constant need for income tends to kill the passion.
What do you do to remind yourself you still have passion? Comment and share some ideas with the rest of us.

– Heather
Heather's dream is to have multiple streams of income, starting with launching an e-commerce website that showcases her couture jewelry, which are crafted by her. You can find Heather online at For Your Adornment; Etsy.com; and Twitter And Beyond Dot Com. She also teaches Social Media tactics for business, besides being CEO of her own web design company. Heather's post day is Friday.

Heather Montgomery is a fitness writer, triathlete, and serial entrepreneur who is devoted to sharing what she has learned about becoming a triathlete after age 40. She uses her Metabolic Training Certification to help other women struggling to get fit in mid-life. She lives and trains in Santa Rosa, California, the new home of the Ironman triathlon. You can find her biking the Sonoma County wine trails.
Note: Articles by Heather may contain affiliate links and will be compensated if you make a purchase after clicking on an affiliate link.