Last updated on December 7th, 2012 at 12:52 am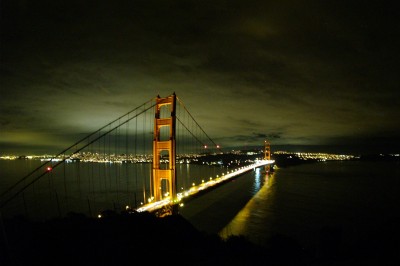 A local Northern California photography group is planning to set the world record for the most photographers assembled in one place, all shooting the same subject.
The Organizer's record breaking plan? Find over 1000 people willing to spend a few hours in San Francisco on the Golden Gate Bridge.
In our brief chat about it, he feels more like 3000 will actually show up, which will more than set the record and make it into the official Guinness books.
If you want to be a part of this record breaking event, find your way to San Francisco on August 13th, 2011, around 11am. Find a spot anywhere along the walking path on the Golden Gate Bridge.  Expect the official image taking to happen between 12-1pm.  (You can find the most updated details on their website – www.meetup.com/north-bay-smug
To the organizer's knowledge, nothing like this has ever been attempted before.  It should be a very exciting opportunity to say you were there and a part of history in the making.
In doing a little digging on the Guinness World Record site I came across some other interesting records – some of which would have been very interesting to witness – and to photograph:
Largest Photograph ever printed – In December of 2010, a photographer in Japan used a handmade panoramic camera to take and image that printed out at 475 feet long and 14 inches wide.
Largest sushi 'mosaic' created – In October of 2010, at the Shanghai World Expo.  It contained 8734 pieces of sushi, measuring 216 square feet.
Largest group of Elvis impersonators assembled – In November of 2010 in Las Vegas at the Aria Hotel.  645 Elvis's assembled and then afterwards, ran a 5k run for charity.
Largest group of people dressed as leprechauns in one place – On March 17th, 2011 – on the Tonight Show with Jay Leno. The record was broken with 224 leprechauns, all dressed in black pants, green jackets and full beards.
Largest gathering of people with natural red hair – On July 17th, 2010 – A total of 890 redheads participated in a special event organized by Anne Lindsay Photography in Sammamish, Washington.
Do you want to be a part of a photography record breaking event yourself?  If so, we'll see you on the Golden Gate Bridge on August 13th.
Until next photo,
Rem
Remy's dream is creating opportunities for photography showings and public displays of her work


Enjoy this special 8WomenDream Guest Contributor story submitted by new and experienced big dreamers throughout the world, edited and published to capture a dream perspective from different points of view. Do you have a personal dream story to share with 8WomenDream readers? Click here to learn how to submit dream big articles for consideration.
Note: Articles by Guest Post Contributors may contain affiliate links and may be compensated if you make a purchase after clicking on an affiliate link.