Last updated on July 9th, 2012 at 02:49 pm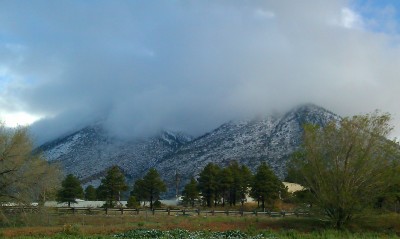 Snow on the mountains in late May.
Last week, northern Arizona experienced hail and snow almost every day, so I am more than ready for steady summer sunshine to be the blanket I curl up to and read with this summer.
So enough about crummy weather already, let's bring on the books.
What having you been wanting and waiting to read this summer?
I don't know about you, but I usually try to go with a theme for summer reading. Sometimes it's Oprah's book club picks, sometimes it's fiction, sometimes it's subject based, like health and wellness book.
This summer, however, will be different. This summer, I will read books that are intended to induce soul searching.
Not exactly a self-help book festival, but rather a chance to read the wisdom of others who can help guide me towards my dream–or help me define/redefine it in the first place.
In addition to the reading, I am also looking forward to taking my books with me on the open road. Now that I live in Arizona and the southwestern part of the country, I am so enthralled by this place–and I want to share it with you.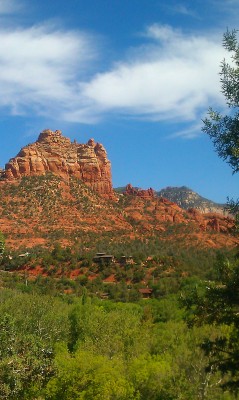 Sedona, AZ, this last weekend.
I'll be updating you on southwestern travels and hitting the open road and mother road, Route 66, as much as I can.
So what books will be accompanying my travels and soul searching this summer?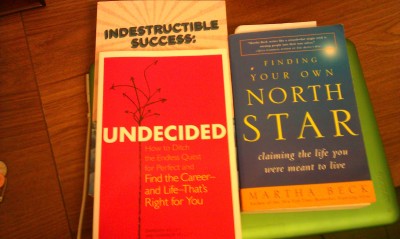 1. Finding Your Own North Star: Claiming the Life You Were Meant to Live
Martha is one of Oprah Magazine's life coaches. This uber-accomplished, yet easy-to-digest author teaches you step-by-step how to live up to your life's potential with lots of exercises, examples and inspiration.
2. Undecided: How to Ditch the Endless Quest for Perfect and Find the Career-and Life-That's Right for You
This mother-daughter duo have probably penned the book most women have been seeking. They discuss the unsurmountable pressures today's women face in having to find the perfect career path and how to breakthrough it.
3. Find Your Dream (Find Your Dream, Set Your Path, Change Your Life)
The incredible woman who started this blog also found time to write down her best dream wisdom. When I told her I was stuck with my own dream, she so kindly suggested I read this book. You should, too.
4. Indestructible Success: Creativity, Leadership and The Art of Small Business
Seth is my former health coach. His new book is all about how to execute a purposeful, productive and fulfilling vocation in your life.
Now it's your turn–What summer reading books will you be taking to the pool, beach or backyard patio with you?
Katie

Enjoy this special 8WomenDream Guest Contributor story submitted by new and experienced big dreamers throughout the world, edited and published to capture a dream perspective from different points of view. Do you have a personal dream story to share with 8WomenDream readers? Click here to learn how to submit dream big articles for consideration.
Note: Articles by Guest Post Contributors may contain affiliate links and may be compensated if you make a purchase after clicking on an affiliate link.