Last updated on February 26th, 2023 at 02:29 pm
I've been told over and over that I should be proud of how much I've accomplished toward my big dreams, but what do I have to show for it?
It felt this week like not a f-king thing.
I am living in an apartment complex and treading water through the slow season of my culinary business. Yet, again.
I have a degree in radiology. I once worked in the medical field, but I really just wanted to cook. I used to work 8 and sometimes 12-hour shifts at the hospital, then go home and cook for hours. I'd give my neighbors my creations.
Cooking was my bliss.
I'd bring lunch for everyone at the hospital.  It turned into a catering job. My co-workers pooled their money and I'd shop and provide lunch for everyone during the week. I still had the security of my radiology job while cooking for people — it was wonderful.
Or so I thought. But, it wasn't enough.
I wanted to cook full-time. I wanted to rock the world with my cooking. I decided to pursue my culinary dream.
One day, a friend called me and said, "Someone is taping a 'for rent' sign in the window of a former seafood market. It's not very big and it has a kitchen." He gave me the phone number. It was an awesome location. I met the landlord the next morning and I immediately gave him a deposit on the building.
On February 13, 1997, Ash Wednesday, I opened my culinary business with my partner–my business partner and my life partner. She had a degree in the medical field too. We decided she would continue to work in the medical field and work part-time at the business, and I would leave the medical field to run the business full-time.  It was the perfect arrangement — security with a certain amount of risk.
In New Orleans, Ash Wednesday always falls the day after Mardi Gras.
There are always many hung-over people in the Catholic Church waiting to receive their ashes on their foreheads. It denotes the beginning of sacrificing something you love for a period of time and giving up meat on that day and every Friday. This is not particularly hard for New Orleanians.
They just have crawfish boils and drink more beer.
My partner and I decided to start our business by selling boiled seafood (since the former business in that location was a fairly successful seafood store). My partner's brother was the "boiler" — the one outside in the back of the building boiling tons of crawfish, shrimp with corn, and potatoes.
I was living my bliss.
Since I had a culinary background, I took the lead in slowly changing the business model. What began as a shop selling good boiled seafood and a few cold take-out items from the cooler, turned into an upscale takeout business with a mailing list of 3000, a full-service catering business, 5 store employees, and 42 on the catering staff.
Our place was like the television show "Cheers." The business started roughly around 4 p.m. when people started to leave work.
They'd pile into our small place for take-out entries, like osso buco, shrimp creole, matzoh ball soup, and braciole and lobster dinner for two. Nothing sat in a display cooler. It was all made fresh and served hot. I would stand in front of the store with a slab of fresh fish on ice, a line-up of ingredients, and a portable skillet.
People would say what they wanted with their fish and I would cook it in front of them. Our customers got to know each other and bonded over my food preparations.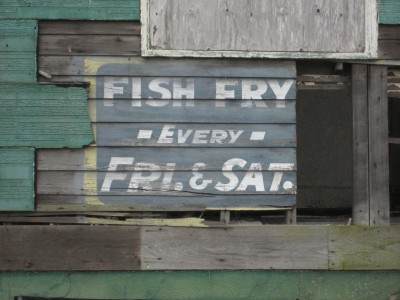 On Fridays, customers liked to stop by the convenience store next to our business and purchase 6-packs of Red Stripe beer (they knew we loved Red Stripe) while others brought us bottles of wine.  They'd put it all on the counter for us.
We'd whip out the corkscrew and the bottle opener to share drinks with the customers who were waiting for their dinner. It was one of the most awesome things I've ever experienced. It was hard work, yes, but there was the two of us surrounded by customers who loved us.
Business was good. It was really good. Life was perfection.
In rolled 1998. It would be the year that turned my life upside down.
It all started when my life partner found out that she had an adopted brother who was seeking his biological family. We ended up meeting him with her brother who worked at the business and we threw a huge party in celebration.
At the party, her adopted brother and I were sitting next to each other around the pool, drinking rum and listening to the Allman Brothers' song, "Jessica." We were discussing adoption. (I am adopted so I could relate to him). He told me it was the best feeling to be welcomed by his biological brothers and sisters. He felt complete. We decided to go back to his hotel and order expensive champagne, sit in the hot tub, and continue to celebrate.
He stood up to get his things and he fell down right in front of me. His wife and I jumped up immediately and started to call his name.
He was unconscious.
My partner ran to us. She and I both performed CPR on him until the paramedics arrived. We knew he was dead, but we couldn't stop. It was Memorial Day, 1998.
But the year wasn't done with me yet.
My mother and my Aunt Bee used to come help at my business, well really, more like they came to eat everything in sight.
It was now June and on this one particular day, my mom complained of a headache. I told her to rest before they left my business, but she was a hard-headed Italian woman who did what she wanted. She and Aunt Bee left for her house. It was busy at work and I didn't have a chance to kiss her goodbye. She stood on the other side of the huge picture window and waved to me, blowing kisses.
I waved and blew kisses back.
I went to deliver a catering order to a tennis club, but I didn't feel well. When I walked back into my business, my partner screamed,
"Get home! Aunt Bee is on the phone. Your mother is in her chair and isn't moving!"
By the time I got to the house, my mother was dead. I performed CPR on her until the paramedics came. She was on life support for 48 hours until I made the decision to let her go. In the deepest part of me, I knew she was already gone when I walked into her house.
My partner and I closed the business for a week because we just couldn't bring ourselves to work after these two deaths. We ultimately returned to mounds of flowers, candles, and cards at the front door of our business.
And so we began again.
In September of 1998, my partner's brother, who worked with us, went to the hospital for arthroscopic knee surgery. Someone screwed up and didn't give him Coumadin. He passed a clot and died. At age 42. My partner told me, "I'm not going to make it." I said, "I understand completely and it seems that way for both of us … but we will."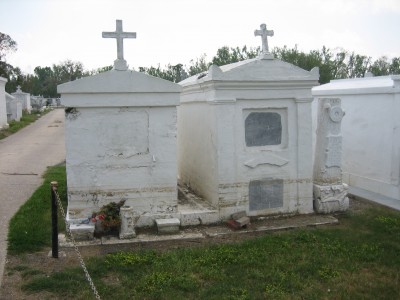 It was not to be.
In 1999, I committed my partner to a psychiatric hospital. She was right. She didn't make it. We were trying everything to get her the help that she needed, but she just couldn't "cut the mustard" in the real world. I used to go see her every day. She'd color me pictures and give me cards signed by all six of her new personalities. I was forced to buy her out of the business and carry on.
I have never been the same.
This week I pondered the dreamer's journey. I thought about everything that has happened to me. I thought about my dreams and I asked, "Why?" I have every right to ask God and the universe, "Why?" I know that this has all happened for a reason, but what reason?
To make me stronger?
Give me a break here, OK? I WAS following my bliss.
I am now in California after losing that business in New Orleans, which I ran solo after the death of four of my loved ones. Then along came Hurricane Katrina. I smile and shake my head when I think of my dream journey.
A few things my dreamer's journey through hell has taught me
Live your dreams and pursue them for YOU.
Reach out, but with caution.
Trust only when the other has earned it.
Follow your intuition at all times.
If it doesn't feel right, turn around and walk away.
Say no. But make sure you are not saying no out of fear.
Stay away from people who don't support your bliss. They are toxic.
Find healthy, unconditional love where you can — even if it's just from your pets while you are on your dream journey.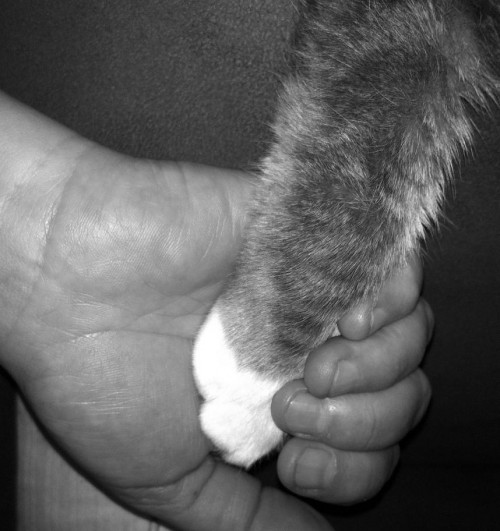 I'm afraid I don't have blistering words of how hard you should work at fulfilling your dream and pretend that everything will go perfectly while you are on the dreamer's journey. I can only speak the truth.
Your dreams are inside of you and they will always stay inside of you until you do something about them. It's never too late. And sometimes life will throw you to the curb and take you through hell right in the middle of your dream journey.
You've got to get back up and keep going.  Decide before you start that no matter what happens you will never give up.
Never.
I've seen the alternative and I'm not going there.
What about you?
Maria Vieages
Spicy Sesame Noodles For When the Dreamer's Journey Takes You Through Hell
4-6 servings
1 tablespoon peanut oil
2 tablespoons minced peeled fresh ginger
2 garlic cloves, minced
3 tablespoons Asian sesame oil
2 tablespoons soy sauce
2 tablespoons balsamic vinegar
1 1/2 tablespoons sugar
1 tablespoon (or more) hot chili oil*
1 1/2 teaspoons salt
1 pound fresh Chinese egg noodles or fresh angel hair pasta
12 green onions (white and pale green parts only), thinly sliced
1/2 cup coarsely chopped roasted peanuts
1/4 cup thinly sliced fresh Thai basil leaves
Heat peanut oil in a small skillet over medium heat. Add ginger and garlic; sauté 1 minute. Transfer to a large bowl. Add the next 6 ingredients; whisk to blend.
Place noodles in a sieve over the sink. Separate noodles with fingers and shake to remove excess starch. Cook in a large pot of boiling salted water until just tender, stirring occasionally. Drain and rinse under cold water until cool. Drain thoroughly and transfer to bowl with sauce. Add sliced green onions and toss to coat noodles.
Let stand at room temperature until noodles have absorbed dressing, tossing occasionally, about 1 hour. Stir in peanuts and Thai basil; toss again. Season to taste with salt and pepper.
Serve at room temperature.

Enjoy this special 8WomenDream Guest Contributor story submitted by new and experienced big dreamers throughout the world, edited and published to capture a dream perspective from different points of view. Do you have a personal dream story to share with 8WomenDream readers? Click here to learn how to submit dream big articles for consideration.
Note: Articles by Guest Post Contributors may contain affiliate links and may be compensated if you make a purchase after clicking on an affiliate link.