Last updated on October 25th, 2012 at 09:24 pm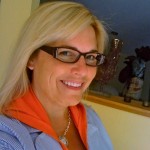 In the Wine Country where I live the grass on the rolling hills is so green it hurts your eyes right now.
Not too long ago we moved our clocks ahead to move away from winter, but winter had a trick up its sleeve. Just a week after the local front page declared bud break on our region's grape vines, a deep chill in the air returned.
If it's cold here in California, how cold is it in Iowa?I thought. Would I freeze in a hotel room or slide off an icy road where I need to go; I need to get to, to finish my book; to complete my dream here at 8WomenDream?
Although I still have laborious re-writing, editing and writing to do on "Confessions of an Undutiful Daughter" I feel that I have but one major task left on my dream of writing my book.
Yes, I need to build a website for my book, which will also mean creating a safe venue to address the toxic mom topic and welcome fellow undutiful daughters to the discussion. This topic really needs a venue, a forum, and I want to provide it.
But besides the web stuff and writing stuff and waving at all of my readers – hey – over here now – I also need to go to Iowa to see the town in which my birth mother grew up. I can't explain why exactly, I just know I have to.
And as soon as it warms up, I'll go.
During this past year as an 8WomenDream.com blogger I learned to trust my beloved husband as well as myself. After all, I quit my job and have been home while he worked. Yeah, I know writing is work, but you know what I mean. During this period, I've learned that fear is a time waster. I discovered that there are more women with lousy mom relationships than great ones.
That telling what happened is better than acting like nothing happened. And a big lesson — that dreams matter.
In the coming weeks I'll be building a website to continue this journey. I hope you'll visit me there and bookmark and share the destination. I hope you will be my Face Book friend and order my book via on-demand printing at Amazon.com (if I can figure out how to do that!) Actually, I'm hoping for a lot of things — mostly energy to do all this.
And I'm hoping that as the weather warms up my plans to visit Iowa will firm up. And that you'll follow me on my Midwest journey, which should help to put the final touches on "Confessions of an Undutiful Daughter."
Rayne


Enjoy this special 8WomenDream Guest Contributor story submitted by new and experienced big dreamers throughout the world, edited and published to capture a dream perspective from different points of view. Do you have a personal dream story to share with 8WomenDream readers? Click here to learn how to submit dream big articles for consideration.
Note: Articles by Guest Post Contributors may contain affiliate links and may be compensated if you make a purchase after clicking on an affiliate link.