Last updated on June 20th, 2012 at 03:29 pm
This past weekend, I was livin' the dream in Las Vegas. It was one of those last-minute trips you decide to do because at least it sounds better than drinking a bottle of Two-Buck Chuck by yourself and watching "Before Sunrise" on your roommate's broken futon. (I did that last weekend; no need to sulk two Fridays in a row.)
Up until this past weekend, I've been in a bit of a funk.
Blame it on Mercury being in retrograde the past few weeks. Blame it on the crazy natural disasters plaguing the world. Or blame it on the current economic situation. Sometimes you just a need a change of scenery to forget about your current world.
So I got my boyfriend and we left. Heading out from Grand Canyon country and into the mountainous desert, we didn't stop until we saw the Strip – the glimmering giants standing in front of the brown mountains. New York. Paris. Venice. Egypt. You could travel the world in an entire night.
We couldn't wait to get lost in it.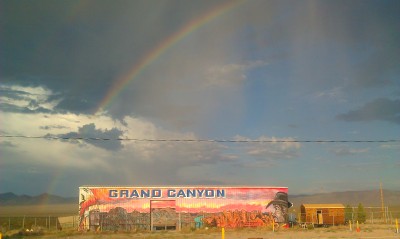 Double Down, Double Rainbow on the Road to Vegas
I've never been a big Vegas person. I don't gamble. I don't like overstuffed clubs that play songs with no words. And I don't like vacation pictures of me sweating in triple-digit weather.
Even though Vegas hit record highs, I spent 60% of my weekend in crowded nightclubs and I was sweating even next to the pool, I had the time of my life.
Here's why:
1. Room with a View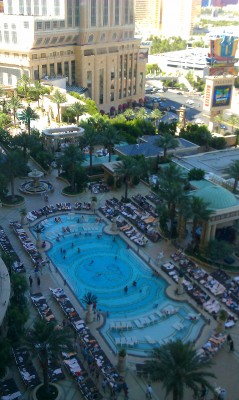 Our suite view at The Palazzo
If you book now, you can snag a room at $149/night!
2.  Dinner with a View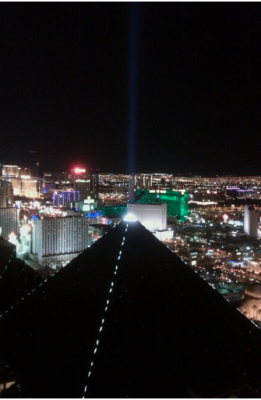 The view from the terrace at Mix at the top of The Hotel
If you go, you MUST sit on the terrace at night time. I imagine it's a stellar place to watch the sunset, too. I'll have to check the directions, though.
3.  Daydreaming on a Daybed
After a fabulous lunch, head to one of the many pool parties on the Strip. We choose Liquid at Aria because it was free for the ladies. Sit back and just watch the famous people stroll by.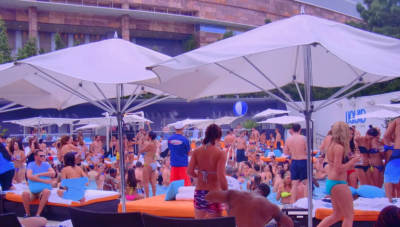 4.  Champagne Showers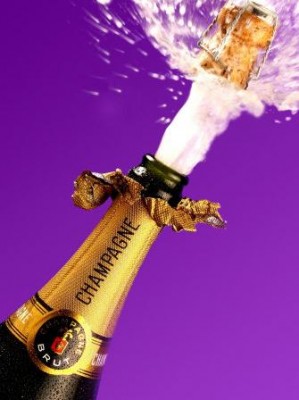 Every so often at the pool parties, the waitresses bring out bottles of champagne. They spray the crowd and then generously pour some in your mouth. You feel like you're in a movie–everyone is beautiful, the lighting is just right and a world-famous DJ is spinning the soundtrack to your life in the background.
5. Shop 'Til You Drop … a Few G's
Like I said, I don't gamble, but my friends do. They got super lucky at the blackjack tables and shared the wealth. (I love nice people!) We went shopping to stores I can only dream about setting foot in —Fendi, Barney's, places I can't even pronounce. Me and my friends rolled up into these uber-fancy shops after the pool party.
Wearing dirty flip flops and mojito-spilled-on-cover ups, we proclaimed to the sales associates that we needed outfits for the evening. I felt like a tipsy-Tomboy version of "Pretty Woman." They waited on me hand and foot. I tried on every dress and ended up wearing two-month's rent on my body that evening.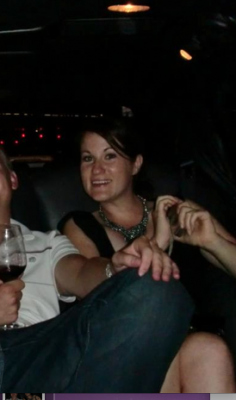 Check out my new neck bling!
6.  Ride in Style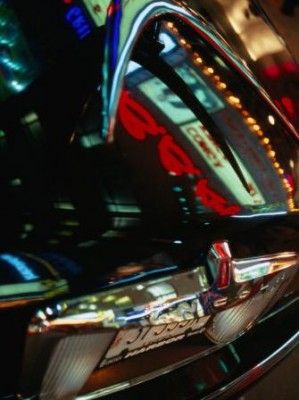 Take a limo everywhere. Why not? If you have enough people to split it, it's not that bad. About $49 for a ride.
7. Glow Sticks and Glitter
Marquee Nightclub is the place to be, especially watching the dance floor come alive from a VIP table with a steady stream of Belvedere vodka bottles and bouncers who escort you back and forth from the bathroom.
Get a big group together and spring for the table and bottles. Drinks are pricey anyway, might as well have a plush lounge area to call your own and where you can safely take off your stiletto heels.

8. On Your Way Out
Nothing cures the night before like a "double double animal style." Only bad thing is everyone else is thinking the same thing you are–stop at In-n-Out Burger on the way to the airport.
Luckily, I have a trick. There is an In-n-Out on Tropicana. It's the one everyone goes to. BUT, there is another one down the road next to UNLV. Go there. You'll be happily fed and still have plenty of time to catch your flight.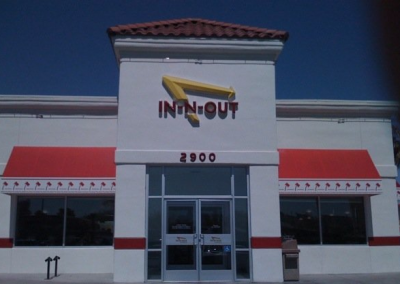 I realize I was very lucky to live it up like I did. Honestly, though, the best part about it was being with my incredible friends. It's never a dull moment when you are with fun-loving people who can be flexible with travel plans and go with the flow.
Although I am forever in love with Vegas from now on, I owe it to my friends for bringing me out of my funk. I didn't need a change of scenery as much as I needed good company. I drove four hours to feel like I was on top of the world.
Why?
Because if you play your cards right, your biggest dreams really can come true.
Now that I told you how to live the dream in Las Vegas, what was the best spontaneous trip you ever took? (Best answer gets a Marquee Club foam glowstick!)
Katie

Enjoy this special 8WomenDream Guest Contributor story submitted by new and experienced big dreamers throughout the world, edited and published to capture a dream perspective from different points of view. Do you have a personal dream story to share with 8WomenDream readers? Click here to learn how to submit dream big articles for consideration.
Note: Articles by Guest Post Contributors may contain affiliate links and may be compensated if you make a purchase after clicking on an affiliate link.