Last updated on May 27th, 2012 at 09:49 am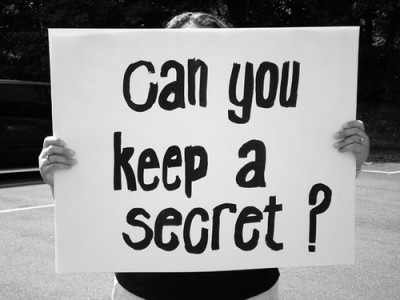 Photo: gdicecca's Flickr
True or false: people who keep their dreams a secret are less likely to achieve them.
If you are like me, then your first instinct was,
"Absolutely true! If you want to achieve something in life, you have to verbalize it, put it out there and tell people so they hold you accountable.
At least that's what I was always told from wise folks, research and books. It seems that the second you conjure up a dream, the next logical step is to figure out your "dream pr plan" or decide how you can best inform the masses. No secrets involved.
I've done the "spread-the-dream-like-wildfire approach" before. Has it worked? Yes, but you can surely pinpoint a time you told the world how great you were going to be and it never happened.
(I still don't own wash-board abs or a roller derby contract.)
Begin somewhere; you cannot build a reputation on what you intend to do.
-American Journalist, Liz Smith
Letting the Cat Out of the Bag
If you are puzzled about why you should keep your dream a secret, let me open your mind to this video.
Derek Sivers did his TED talk last year on why we should keep our goals a secret. His idea, which is backed up by research going back to the 1920s, is that when we tell people about our aspirations, we instantly feel a sense of accomplishment when they validate our plans.
Oh, wow! That's great!

You're amazing!

I admire you so much!
(Feels good, right?)
Well, that heightened feeling from initial praise is what we want to feel when we complete the goal. But, if we feel that before going through the hard work, then we are more likely to not finish our dream.
Repeated psychological research explains that:
Telling someone your goal makes it less likely to happen.
After watching this, I realized that I do have a few secret dreams in my life that I obviously can't spill.
Journaling. When it comes to certain goals, it's just me and "Dear Diary" who know about the action plan and progress towards it.
Dream Board. I make a lofty collage of all the things I want in life. I mesh quotes with photos and super nice editorial pictures from glossy magazines.
8 Women Dream is dedicated to sharing dreams. I think the main takeaway here is to make sure you are staying on track while you share your goals. We don't want you to trick yourself into thinking the hard work is not a part of it.
After being introduced to this goal-setting (or mouth-shutting) technique, will you keep a secret about some of your dreams?
Katie

Enjoy this special 8WomenDream Guest Contributor story submitted by new and experienced big dreamers throughout the world, edited and published to capture a dream perspective from different points-of-view. Do you have a personal dream story to share with 8WomenDream readers? Click here to learn how to submit dream big articles for consideration.
Note: Articles by Guest Post Contributors may contain affiliate links and 8WD will be compensated if you make a purchase after clicking on an affiliate link.