Last updated on April 1st, 2012 at 02:35 pm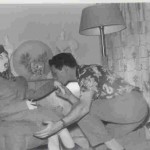 As 2010 comes to a close, I have just four months of hard writing ahead of me before my time at EightWomenDream.com draws to a close. This last massive push to convert all the questionnaires into stories will be intense.
Funny enough — as I work I find my mind wondering to thoughts of Santa Claus. Or rather, my childhood dreams of Santa.
I grew up in San Francisco in the sixties. And when I say "sixties" I mean 1960, 61, 62. You know, the years before The Beatles, before hippies and Bill Graham and marijuana.
At Christmastime we posed for photos in front of trees with bubbler lights and too much tinsel. And usually, because my family was small, we banded together with the other young families on the block and had some sort of Holiday party during which one dad disappeared right before Santa Claus showed up with a shaving cream beard.
We believed in Santa passionately and would argue with older kids when they tried to fill us in — or rather, ruin Christmas for us. Our parents we poor enough to carry paper bag lunches out the door each morning but we always believed that wonderful things would await us Christmas morning.
By the time I was five or six my mother had managed to completely erase any family connections on her side. We were told we came from a very small family. Just us, in fact. So don't expect too much at Christmas.
And you buy that as a kid. It takes decades before you realize that it's a gyp when a parent climbs up the family tree and saws off all the strongest limbs. (Note to self: NOBODY comes from a small family. The human family is huge until one person runs away from their family and then lies to their children about it.)
On my father's side there were my grandparents who didn't approve of adopting kids and my dad's twin brother, our uncle who had two sons, our cousins, who were about our age. I can only remember one Christmas at our house when a long table was set and the doorbell rang and friends and relatives came and went bearing gifts and good wishes.
For most of my childhood Christmas was my dad's department. He believed in tall trees, lots of lights and tinsel and as many $2 presents he could wrap and stuff under the tree.
I look at old photos now and I can tell you which bin or shelve each toy came off of at our local Geary Blvd. toy store. The Lincoln Logs were by the door. Airplane models were on the back wall. Pick-Up-Stix and decks of cards closer to the cash register. We never got a puppy or a toy car or anything big and flamboyant, but we were kids and we enjoyed ripping the paper and lifting the doll or harmonica out of its perfect box.
Our Christmas Eve tradition was pure sixties. My father, who never liked to wear, or do whatever the next guy chose, crafted together a life-sized stuffed woman named Mabel using one of my grandmother's WWII suits, a pair of thick hose, gloves and a wig made from unspun reel-to-reel recording tape.
Forget cookies and milk my dad would crow. We want Santa to come to our house first and stay so long he has to leave us other kids' presents. So, up would go Mabel on a comfy chair with one knee crossed over the other. On a t.v. tray nearby my dad would pour a shot of whiskey and lay out a couple of cigarettes.
For a long time, we thought this was normal.
I didn't think every kid had a Mabel to put out. But I supposed they had a Sally or Gracie. I had to be 25 years old before the thought of my dad putting out Mabel made me laugh.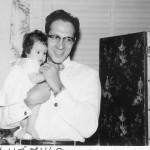 The past year I've been writing a bunch of tough stories about a not too nice childhood dominated negatively mainly by my toxic mother. This weekend it's nice to remember the effort my dad made to thrill us during the holidays and to create so many happy memories.
May your Holiday Season be Merry and Bright. And may you choose to remember only the dream memories.
Rayne Wolfe's dream is to write her first book Confessions of an Undutiful Daughter by the end of 2011. She completed her dream journey May of 2011 on 8WD after a year living her dream. You can find her at Toxic Mom Toolkit on Facebook.

Enjoy this special 8WomenDream Guest Contributor story submitted by new and experienced big dreamers throughout the world, edited and published to capture a dream perspective from different points of view. Do you have a personal dream story to share with 8WomenDream readers? Click here to learn how to submit dream big articles for consideration.
Note: Articles by Guest Post Contributors may contain affiliate links and may be compensated if you make a purchase after clicking on an affiliate link.