Last updated on March 7th, 2010 at 11:11 am
Another week has flown by and I definitely did not get enough time to paint. I did manage to paint my  picket fence yesterday afternoon after teaching, but it was a poor substitute.  Friday was spent judging a local art show.  I received a call in February asking if I would be one of two judges for the Apple Blossom Festival Art Show. It was my first time to be a judge and I really enjoyed it.  It also gave me some insight to why shows can have such random selections.   They are the result of compromise by multiple judges.
I am trying to remain calm as I am about to enter my "crunch" month.  May is the month of deadlines.  I have my Art at the Source show to prepare for, all my students final projects to get finished and grades are do for my 120 students. I always begin the month with lofty goals of painting daily small paintings and painting larger works every spare second.  Though lately, I have discovered, my spare seconds to paint are dwindling.  This weeks homework will be to carve out more time to paint. As for those lofty goals that are never quite reached, I remind myself that it is those goals that keep me moving forward.
On a side note, away from the art world, I have been thinking a lot about health since I spent the last month being sick. In March, I joined a gym and being part of this group gave me an idea.  Why not find a support system for exercise?  I usually avoid exercise like the plague.  So I found a person on Craigslist who is in similar shape as me and we began to work out together.  It lasted about two weeks before my new partner got hurt and drifted away.  I did not give up.  I went to my neighbor who is a big exercise fan and asked her if she would be my workout buddy to keep me on a schedule.  I bribed her with art and she agreed.  Last week we met twice.  It's a beginning.  I am hoping with persistence it will become routine.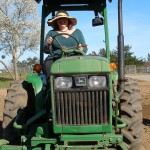 Wendy
(Wendy's dream is still to become a influential international artist, but she left 8 Women Dream in March of 2010 to complete grad school.  She is still a strong supporter of 8 Women Dream and you will see her in the comments on the blog.)

Enjoy this special 8WomenDream Guest Contributor story submitted by new and experienced big dreamers throughout the world, edited and published to capture a dream perspective from different points-of-view. Do you have a personal dream story to share with 8WomenDream readers? Click here to learn how to submit dream big articles for consideration.
Note: Articles by Guest Post Contributors may contain affiliate links and 8WD will be compensated if you make a purchase after clicking on an affiliate link.