Last updated on April 1st, 2012 at 02:35 pm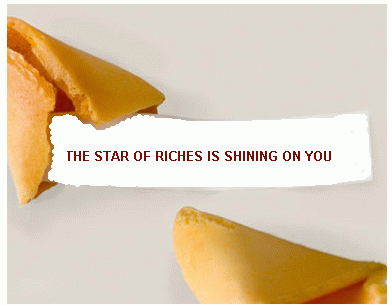 Recently, I was dining with two of my sons at a local Chinese restaurant. I'd just finished my last bite of walnut prawns (a sweet slice of heaven) and reached for the customary fortune cookie. As I broke it in half, it crumbled all over the place.
I could only imagine what my fortune was going to be, but I was wrong.
That little rectangular piece of paper said it all –
"THE STAR OF RICHES IS SHINING ON YOU."
This past week I attended a writer's workshop, high with anticipation of all the possibilities that could come my way.
I carried the message from the fortune cookie as my mantra all weekend at the Northern California Screenwriter's Expo held at the Silverado Resort in Napa, California. May I say, I hit the jackpot with the accommodations – scored a suite for $149!
I arrived at the resort on the eve of the first ever Expo of any kind for screenwriters in the Northern (did I say better – hell yes I did) part of the state. This extravaganza was founded by my mentor, a screenwriting teacher, Anne Jordan.
Sporting a VIP lanyard and feeling totally legit, I was oblivious to the fact that I might just be walking into my dreams. Funny how we don't always see it coming.
Michael D. Jones, founder and producer of Silver Heart Productions knocked us over with his genuine, unassuming vibe and reminded me to NEVER GIVE UP.  If your dreams mean that much to you, then you must make them happen.
Jones thrives on producing strong female lead movies that are against the norm – uh hello! I felt flushed. Not hot-flash flushed. But red-hot with excitement and hope.
My friend Laurie regaled Michael Jones and the audience with the tale of our caper in getting this script to Goldie Hawn in how creative one has to be to get a script read.  I asked him what was behind the name of his production company. He told us, his mother is Indian and silver is indigenous to the culture.
Great sign when someone loves their mommy that much.
Here's some of the panel from the event –
People were receptive to our ideas and I realized I have some more work ahead of me, but the expo reinforced the fact that I am doing something I love.  It is important to attend events closely related to your dreams so you can check in and see if you are on the right dream path.
However, I do think I'm buying some stock in fortune cookies.
Did you attend any events recently that confirmed you are on the right dream path?
Toni
Toni has written the screenplay Divine Intervention and left 8 Women Dream in November of 2011 to work on Club B.  She is still working on getting her screenplay published.

Enjoy this special 8WomenDream Guest Contributor story submitted by new and experienced big dreamers throughout the world, edited and published to capture a dream perspective from different points of view. Do you have a personal dream story to share with 8WomenDream readers? Click here to learn how to submit dream big articles for consideration.
Note: Articles by Guest Post Contributors may contain affiliate links and may be compensated if you make a purchase after clicking on an affiliate link.