Last updated on July 27th, 2014 at 09:55 pm
A couple of weeks ago I mentioned a book I have been reading for the past 7 years.
This week I finally finished it.  The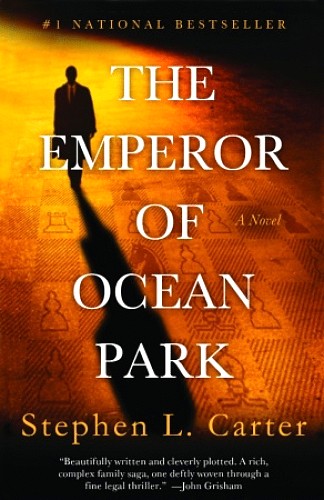 book, The Emperor of Ocean Park by Stephen L Carter is a murder mystery with a very good story.  The delay in completing it was due to the reader (that's me).
The discovery I made was that how good or bad a book is to the reader, may depend on where the reader is in their life.
In hind-site this makes perfect sense.  A children' s book is delightful to a child; girls in their late teens are into romance novels; women of any age are into romance novels (we just don't like to admit it); and guys get into sci-fi, and probably some porn, around their mid teens.
Of course how well you like a book is affected by your age, your life experiences, the people in your life and your own personal beliefs. But what do you do if you really like the story but have a difficult time finishing the book?
Below are my suggestions based on my own experience.
Pick the book up at least once a day. Make that commitment.
Since you will now have it in your hand at least once daily, read a page.  You may read more than one but make it one at a minimum.
Don't think you have time to read every day? That's just hooey.  Ten minutes just before you turn out the light, sure you can.  What about lunch?  Go outside and sit on a bench for a few minutes?  No bench in site or bad weather?  Sit on the grass or in your car.
You would be surprised how relaxing it can be to break out of your world and into the imaginary world of the book for just a few minutes every day.
Believe in the story.  You know you like the story even though you don't know where it is going.  Trust that the author will take you on a journey worth while.
Remember there aren't any rules about how many books you can read at one time. I personally enjoy reading two to four books for pleasure within the same time period.  It works for my brain to jump from story to story.
I no longer try to figure out why I just enjoy it.  My husband reads one book at a time; that is what works for him.  Find out what works for you it may affect how well you enjoy all of your reading.
Most importantly, don't give up.  Again, you know you like the story and you want to know what happens next but something is getting in the way of your reading time.  That's okay just pick it up again when you have the chance.  You will remember more than you think and what you don't, you can go back in the book to find.
I really did enjoy the book I read even if it did take me a long time to read the entire thing.  Why did it take me so long?  I can only surmise that between work, family including a teen age daughter, and various commitments that I allowed "my time" to be interrupted.
Make a commitment to yourself to take time for you everyday.  Ten minutes may be all it take to rejuvenate and recenter yourself within your life.
Until next week.
Dawnda
(Dawnda's dream was to get some piece of writing published in 2009.  She left the 8 Women Dream group in 2009 to focus on finding full-time employment.  We consider her an accomplished dreamer as she published her thoughts here and began her own scary stories blog at www.killeryarns.com)
https://8womendream.com

Enjoy this special 8WomenDream Guest Contributor story submitted by new and experienced big dreamers throughout the world, edited and published to capture a dream perspective from different points of view. Do you have a personal dream story to share with 8WomenDream readers? Click here to learn how to submit dream big articles for consideration.
Note: Articles by Guest Post Contributors may contain affiliate links and may be compensated if you make a purchase after clicking on an affiliate link.