Last updated on May 23rd, 2012 at 11:14 am
Readers of my Sunday blog, which focuses on surviving toxic moms, may include a few who wonder if their mothers are really that bad.
Adult daughters of toxic moms are struggling with boundaries, contact issues, grandchild access and other challenges that come with having a parent that just isn't fit for the role.
But what if your mother just annoys the *%$# outta you?
What if your mother is a gloriously happy narcissist? What if she just relishes bullying her grown children? What if the world really does revolve around her? And what do you do when your mom comes from a long line of maternal manipulators and other than an occasional weird flair up; she's fun to be with; someone you'd trust with your kids?
In that case, maybe you should meet Mother Whisperer, Val Boyko.
I had the good fortune to have a nice long conversation with the east coast-based Scottish-accented life coach whose specialty is helping women better understand and enrich their relationships with their moms. She helps her clients learn to focus on honest, authentic communication, to develop listening and empathy skills and if needed, establish necessary boundaries to nurture the mother/daughter bond.

Boyko's website is www.motherwhisperers.com and her mission is to "help daughters master their relationships with the mothers and find peace."  I like that last bit: finding peace.
We chatted about interviewing each other for our blogs but after a long, interesting, copacetic and laughter-filled conversation we decided to mutually guest at each other's websites next Sunday, April 3.
So next Sunday Val will be writing about what to do once you realize there is a serious problem with your mom on my site. I'll be offering an overview of my life story and why I've become a voice for the taboo topic of dealing with toxic moms on her site.
Although we found agreed on a lot of overlapping points, one thing Val was very concerned about was the initial harsh tone of my topic. Toxic is such a tough word. But as a seasoned reporter I explained that I felt the best way to capture my readers was to put out two very different words that when linked are sort of irresistible: Toxic Moms.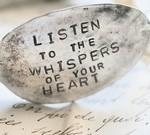 Because Val's readers love their moms so much they would study this topic and pay for personal coaching I'm going to be very careful how I introduce my area of expertise: how to navigate your choices about contact and boundaries when dealing with a toxic mom.
Not all of her readers will be intrigued by my slant and that's fine. I'm pretty sure, though, that there will be a few that will put their hands over their mouths to capture a little gasp. Could there really be someone who gets how destructive a bad mother/daughter relationship can be?
And on the flip side, I'm really hoping some of my readers will realize that Val's methods might work with their mother and try them out.
We've both got a lot of valuable, sane and practical information to share and we hope good things will happen with the website cross-pollination.  When you check in next Sunday and meet Val, please take a minute to click over to her website to read my weekly  column — and please leave comments. I want her to know that we appreciate what she's doing to address creating healthy mother/daughter relationships.
Rayne Wolfe's dream is to write her first book Confessions of an Undutiful Daughter by the end of 2011. She completed her dream journey May of 2011 on 8WD after a year living her dream. You can find her at Toxic Mom Toolkit on Facebook.

Enjoy this special 8WomenDream Guest Contributor story submitted by new and experienced big dreamers throughout the world, edited and published to capture a dream perspective from different points of view. Do you have a personal dream story to share with 8WomenDream readers? Click here to learn how to submit dream big articles for consideration.
Note: Articles by Guest Post Contributors may contain affiliate links and may be compensated if you make a purchase after clicking on an affiliate link.