Last updated on June 23rd, 2011 at 11:08 am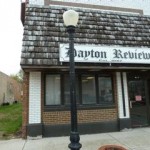 My rental car is backed into the parking lot of one of many Lutheran churches that guard this town and opposite my front bumper sits the rusty green steel one story shed construction City Hall of Dayton, Iowa. My Mac in my lap.
I'm visiting the town where my birth mother graduated from high school. I want to keep good notes.
This place has held a lot of power over me for most of my life. Try as I might on the Internet, or just squinting as hard as I could at maps, I never felt satisfied that I knew enough about this town. So I hopped a plane to do some research about the teenager who found herself pregnant with me.
My birth mother conceived me in the summer of 55 and married in November. I was born in February and adopted in May of 1956. She married her sailor boyfriend while they were in San Francisco and then came back to Iowa to start their family. That's the simple version.
And I'm trying to keep it simple — and not too serious — as I study the landscape and its inhabitants.
This part of Iowa is as flat as a tabletop with farms long miles from each other. The fields have just been turned creating huge tablets of black soil as far as the eye can see; each massive field framed by strips of new green grass.
The skies have been dominated by enormous dark rolling clouds. They seem to press down on the horizon off in the distance. I find myself driving hunched over, as if I'm racing a clown car across a tabletop with a big wet tablecloth flapping above me about to descend over me.
I've always wanted to see where my birth mother grew up. In talking to her and extended members of her family I knew it was small. Main Street is two blocks.
My first impression driving past the Frontier Bar was, "This would be a perfect set for a Sam Shepherd play." Lots of square brick buildings with retail space empty. Covered up windows. A couple of bars; an insurance office; a pharmacy. I expect Matt Dillon from Drugstore Cowboy to turn a corner.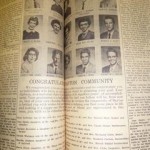 But then I saw a vision: The Dayton Review newspaper office, founded in 1887. And inside I found an angel who dragged dusty bound copies of weekly editions from 1955 out of a broom closet because, she said, each year the paper prints the photos of the graduation high school class. Maybe there could be some leads there.
My heart started to race. I heard my friend Mary Fricker say, "Isn't this exciting?" like she used to It's what I've learned to tell myself whenever reporting feels scary.
There were just 14 graduates in 1955 and I wondered if any of them still lived in town. Perhaps one could give me his or her impressions of what my birth mother's life and reputation were at that time.
The newspaper staffer took me next door to the insurance lady, who sent me to the man at the lumberyard whose sister recently moved back here because their mother died. He sent me over with such vague instructions –
"What you wanna do is head outta town and go past the golf course and take a right at the first driveway. You can't miss it. She just put up new siding…"
— and yet there she was waiting for me in her open garage with a couple of chairs set up.
I gave her the Cliff Notes and watched her eyes widen a bit. Was I shocking her? No, not really.
What would it have been like to find yourself pregnant in this town in 1955? I asked.
"This is a town where people don't forgive and forget. There was constant criticism. You couldn't do anything that you could beat home to your own driveway. You'd walk in and see your parents knew all about it already," she said.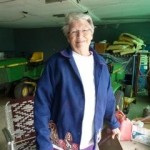 This lady didn't grow up here. Her family moved to Dayton when it was time for her to go to high school. She grew up  Catholic in a Lutheran town. It's why she still lives out of town, even if it's only a mile.
"I remember a girl started a rumor that I was a slut. I was devastated. Then boys started calling the house like mad. I was so upset my parents would hear," she said.
A week later she went out with a new boy who drove her down a dark road.
"I didn't even know where we were. I jumped out of the car and I walked home in the dark. Then they started calling me Virgin Mary. From slut to Virgin Mary in a few weeks," she said, shaking her head.
We talked about my journey, my adoption and where I grew up. I told her that it took me a long time to wise up and realize that I wasn't my mother's secret.
"I had to own the idea that a person is not a secret. You can keep an infant a secret, sure. A mystery toddler, maybe. But who wants to be grown up and be the subject of a bunch of secrets?" I said.
That's when she went back into her house to find something for me. It was her 1955 year book. She wanted me to have it.
"Maybe it might give you more clues," she said.
"You know, I only had one good friend, another cheerleader in school and I can't remember your mother being friends with anyone. I do remember she rode horses. Maybe her horse was her best friend," she said.
About then I realized why she seemed so familiar to me even though we had just met. Way back when I only had photos of the graduating class without names, I spent several days convinced that this woman would most likely be my birth mother. We really looked related.
"You know, there was a time when I suspected you were my mother," I said, joking. "You were the prettiest girl in that class, so of course, it had to be you."
We giggled.
We were walking towards my car and she was saying she thought maybe my birth mother had a hard time when she was younger. Of course, that thought has occurred to me. We had a little girl talk. We were on the same wavelength. When I mentioned in passing that my mother had a brother that was killed in Korea it reminded her that her father donated the land for the memorial park that honored that lost veteran and told me how to get there.
"It's just two driveways back towards town. Between the golf course and the rodeo grounds. It says road closed but that's just because the bridge is out and you won't have to drive that far and anyone can see the bridge is out," she said.
After paying my respects at my birth mother's brothers' memorial I drove over to the high school. Not the original one. That's an elementary school now. But over to another town. Maybe they kept older yearbooks.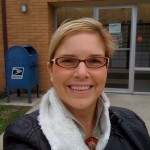 Shoe leather reporting is funny — it hardly ever fails. People just want to help. The secretaries at the school didn't have yearbooks, but they knew exactly where the family farm was, who bought it and when. Bells were ringing like mad. Teachers where shoo-ing kids out of the building, yet these gals were bent over a phone book for me.
"What you want to do is drive out of our driveway and when you hit blacktop that's zero. Then drive two miles south and two miles west," one of the told me. "You can't miss it, he has all those horses."
Who gives directions like that? Never any addresses. No street names even.
But sure enough, four miles later after traversing a raised dirt wall that separated two huge black fields I was in the driveway of my grandfather's farm with the solid brick barn and the 2,400 square foot farmhouse built in 1914.
Farmer Green was pulling out with a trailer full of horses to put away before the storm got there. Remember The Wizard of Oz? Like that.
Sure, sure, I could take pictures. And there I stood on the front porch of the house that knew me even before I was as a secret inside my mother. Here was the driveway my mother traversed when she took a bus to the Bay Area. There was the brick barn where she kept her horse. Click. Click-Click.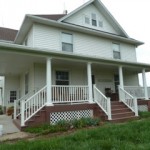 I drove away exhilarated and a tiny bit weepy that so much information had been given to me by so many people in this community in a single day. I was immensely grateful despite feeling a bit like a bank robber.
The next morning Mrs. Green called back to say come over to the house Monday evening.
"We just got married eight weeks ago so I'm still trying to blend my stuff with his stuff, so it's a mess, but you can't come all this way and not see the inside of the house your mother grew up in," she said.
All these people proved what I should know by now that when you have a dream — even if it takes you to a place like teeny-tiny, no stop lights Dayton, Iowa, it's yours and you can claim it.
Who's going to stop you?
Rayne Wolfe's dream is to write her first book Confessions of an Undutiful Daughter by the end of 2011. She completed her dream journey May of 2011 on 8WD after a year living her dream. You can find her at Toxic Mom Toolkit on Facebook.

Enjoy this special 8WomenDream Guest Contributor story submitted by new and experienced big dreamers throughout the world, edited and published to capture a dream perspective from different points of view. Do you have a personal dream story to share with 8WomenDream readers? Click here to learn how to submit dream big articles for consideration.
Note: Articles by Guest Post Contributors may contain affiliate links and may be compensated if you make a purchase after clicking on an affiliate link.