Last updated on July 12th, 2022 at 12:18 pm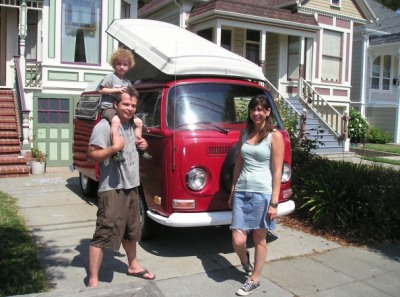 One year, 9 months, and 29 days ago, I moved to San Francisco and bought an IKEA bed set from the Rehm Family–Angela, Jason, and Bode. As I settled into San Francisco, they headed out of the Bay area to live the dream–traveling the world in their 1971 red Volkswagen bus.
Little did I know my transaction would help finance one of the most epic travel dreams ever.
Good thing for the rest of us, we can live the dream vicariously on their well-documented and well-photographed blog, Bodes Well.
The start of the journey around the world in a VW bus. Aug. 2009 Alameda, California.
"We spent our first year driving across North and Central America. We're almost finished with our second year and we're in the middle of South America. We have good days. We have bad days. We have amazing days. Join us as we look for inspiration along the way." – Bodes Well
Most travel dreams or travel journeys that people live out seem impossible to achieve, and it seems as though the dreamers are people you would never encounter in real life. (The stuff fancy travel magazines are made of.)
That's why I'm infatuated with this one–it's real people who I know, who left real jobs to seek out a real adventure in a really awesome car.
The difference between dreaming and reality is doing.
Bodes Well is just that.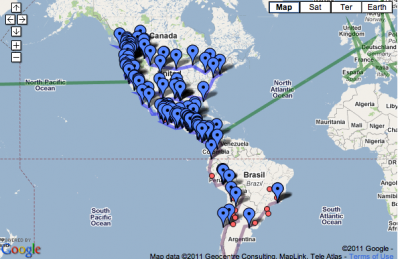 As they traverse the world's wonders, repair their VW bus, and follow the locals' best recommendations, Angela, Jason and 6-year-old Bode challenge me to be a better citizen of the world and consumer of cultures. They inspire me to discover what's possible in life.
To find out how they make their fantasy travelogue of life possible, I asked Angela, now living in Bolivia for the moment, some questions.
What sparked the idea of your journey?
My husband, Jason, definitely initiated the idea. He had been wanting to spend more time with the family and was considering some major career changes. When he had a health scare, it was a catalyst to take action and live more deliberately.
We were pretty avid travelers, and Jason had always loved tinkering with vintage Volkswagens. I guess he combined the two and spent a good few months convincing me what a great idea it would be.
How were you able to leave work/house? What did that transition involve?
We sold, donated, or gave away almost everything we owned, including 2 other cars. Getting rid of our belongings was actually one of the most time-consuming tasks. It is amazing the things you can accumulate over the years. We don't miss any of it.
We've always been good savers, so we had a head-start. We continued to save every penny we could and made no extraneous purchases for a year. Taking our time to sell our belongings on the internet to maximize our return also helped. We became very familiar with the staff at the post office.
How long did you plan for your trip? And how do you currently plan your travels from the road?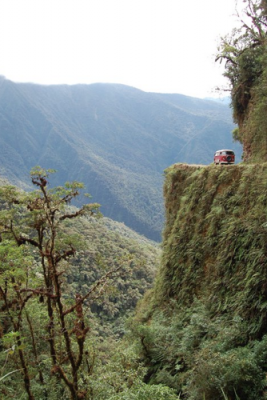 We took about a year to refurbish our '71 VW bus, get rid of our stuff, and consider the trip logistics. We actually didn't plan very much of the trip itself. We think it's better to be flexible and figure it out as you go. Locals like to tell you about the next great spot, and it's often not in any guidebook.
How is it traveling with your son–what's his take on the Bodes Well journey?
It's great! He's always been a good traveler and explorer. We have a new adventure every day, so we always have interesting things to talk about.
He is very social and plays with kids that speak all different languages. Families are welcomed and celebrated in Latin countries, so Bode has opened up doors to us that we would have never experienced if we didn't have a kid.
Right now, seeing the world is Bode's version of normal. He has a say in every decision and helps plan our destinations and activities. He's already making plans for future trips when he's older.
How long do you plan to travel the world?
We are 22 months into a 1-year trip. The lack of planning mentioned above tends to do this. It's also more fun. We just don't know when it will be over.
What's a typical day in your life?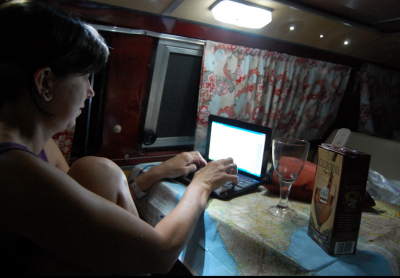 There is no typical day. We still do typical things we would do at home. We eat every meal together, we read books, and we play board games. Except, the location changes daily. Some days are really exciting, like swimming with pink dolphins or visiting Machu Picchu. Other days we spend looking for gasoline or doing laundry.
But even trying to do laundry in some places can be pretty adventurous.
How do you keep up with your website?
It can be pretty difficult to find internet service, especially with enough bandwidth to upload photos. And, writing and editing photos takes quite a bit of time.
But, we love the idea of giving Bode something to look back on and read when he's older. It also allows his grandparents to check on him.
What has been unexpected is that so many other people have found us and are traveling vicariously along with us. We've even been featured in magazines in Africa and Europe.
The more readers we get, the more obligated we are to keep writing. People send us worried emails if we haven't updated our blog recently!
What's been the hardest obstacle you encountered?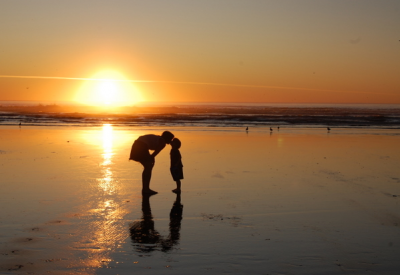 Any problems we encounter all seem to have the same relevance. None of us can go anywhere until they are resolved. We're all in the same boat(bus).
Mechanical problems with an old vehicle are par for the course. We've broken down in just about every country, but it's part of the trip.
If someone gets sick, it's always trying. Our whole family living in a 50-square-foot space doesn't make it any easier.
What advice would you give to people who want to travel the world?
Just do it! If you don't do it this year, you'll just be another year older when you finally do.
—————
I sincerely hope the Rehm family travels as far and as long as their imaginations can stretch. As they remain my real-life travel dreaming, scratch that, travel doing role models, I know nada es impossible in life. For a continuous stream of "oohs and ahhs" and adventure tales, you can follow their VW bus travels at BodesWell.org.
Katie Eigel
Katie Eigel is a big dreamer and self-proclaimed Wine-Geek-In-Training who spends her days writing for various publications about wine and travel.

Enjoy this special 8WomenDream Guest Contributor story submitted by new and experienced big dreamers throughout the world, edited and published to capture a dream perspective from different points of view. Do you have a personal dream story to share with 8WomenDream readers? Click here to learn how to submit dream big articles for consideration.
Note: Articles by Guest Post Contributors may contain affiliate links and may be compensated if you make a purchase after clicking on an affiliate link.