Last updated on April 27th, 2014 at 12:48 pm
I have a group of friends from New Orleans, Louisiana. Some of us have been friends since the age of five, but none of us have been friends for less than 35 years.
Since Hurricane Katrina, we've been spread all over the USA. We keep in touch regularly via email, Facebook, and all of the modern forms of communication but it's not the same as being together in the same room.
One of the survivors lives in San Diego, California, another in New Orleans, and I live in the San Francisco Bay Area in Northern California. My friend in San Diego and I have discussed the idea of me visiting her for some time.
Recently, my friend from New Orleans called me to say that she was going to San Diego on business and wanted me to meet her there. She offered to fly me there with her frequent flyer miles and this week, the 3 of us reunited in San Diego.
We've all changed a bit as people, but our bond is still the same. We still revert to our adolescent selves when telling stories about the trouble we used to get into, the pranks we pulled, along with other funny stories.
We become serious when we share our regrets, our less fortunate times, and thoughts about friends who have passed. We ride a roller coaster of laughter and tears.  Most of the deep talk and laughter is done while sharing delicious food and drink.
We've been through arguments, menstrual cramps, drinking too much, cheating on tests in class, and now menopause.
But you know what the best part is?
There is no judgement about each other. We may not like some things about each other, or may not agree with each other's decisions, but we still love one another.  We are all for one and one for all.
Being with these friends is like cooking something simple that is familiar and comforting. They are friends who are part of your soul.
Food bonds people.
Food reinforces the connections between people, especially those with friends and family.  The feeling of sharing a meal with your loved ones is something that cannot be translated into words. The best feelings in the world are ones that cannot be described.
Think back to your favorite comfort food — the food you used to share with childhood friends (if you are from America) like Icees drinks and M&M candies.  Some of my best food memories with my friends are eating greasy bowling alley hamburgers, sharing popcorn at the movies while overdosing on candy and junk food.
However, food can be associated with more than just good memories.  I also have memories of cooking for the guests at my friend's house after her mother's funeral. It's like a great marriage/partnership; we are there for each other in good times and in bad times.  'Till death do us part, so to speak.
On this recent trip, I stayed at my friend's house in San Diego. She has a schedule that doesn't allow her to cook very often. One day when she wasn't feeling well and still asleep in her room I got in her car and drove to Trader Joe's grocery to get her some herbal tea. I also knew that she was excited about having me cook.
I looked in her pantry and she had purchased some of the items on the pantry list I posted last week on my blog post, Remedial Entertaining Is Part of This Dream Called Cooking.
In her freezer, she had chicken breasts and salmon.  I defrosted some of each and I looked for marinades because she was low on spices and anything for a sauce. I looked for oils, acids (such as citrus– lemon, orange, lime) garlic, and spices. Based on what she had in her house, I went the Mediterranean route with the chicken and the Asian route with the salmon.
I marinated the salmon in dark sesame oil, fresh lime, salt, and crushed red pepper. I marinated it for about 30 minutes because fish does not require long periods of marination.  If you marinate a piece of fish too long, you will lose the wonderful flavor of the fish itself.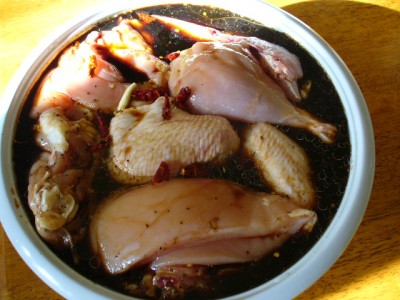 I marinated the chicken in olive oil,  white wine, garlic, salt, and black pepper.
That evening, we sat by the pool and enjoyed wine, cheese and olives while I grilled the chicken. We laughed and reminisced about high school and our lives all the way up to our current ages (which I won't say because one of my friends refuses to let her age out of the bag).  Each word felt bittersweet and as heartfelt as the meal we were about to share.
Cooking for friends is not really about the food. It's about the act of sharing love and learning other ways of preparing and cooking food.
When I said goodbye to the last of the three friends to depart on her flight home, tears rolled down my face as she walked to her departure gate.  Time goes by too quickly. Cherish every moment with those you love and make time to see them — no matter where they live.
Being with those you love is the best part of this life on earth.
While writing this I'm eating almonds, but they don't taste as good because my friends aren't here to enjoy them with me. That's what living your culinary dream is all about — sharing your love of food with other people and seeing them have a great time because of what you've created.
I thought of this story on my smooth flight home to the Oakland, California airport. Thank you Southwest Airlines, you rock.
I'll leave you with the recipe for the chicken I made while in San Diego. It is a recipe that works with the pantry list I gave you. This recipe can be prepared quickly. It is a Mediterranean dish so there are a million different routes you can go when pairing side dishes with it.
Here are some ideas:
Buy some brown basmati rice and cook it with chicken stock and chopped celery, carrot and onion
Pasta is always a beautiful thing but so many of us are watching bad carbohydrates from processed foods.  If you don't care about this, pasta is the bomb when eating it with Mediterranean grilled chicken.  Cook your favorite type of pasta (Orzo is really good) and toss it with fresh oregano, extra virgin olive oil and feta cheese
A simple salad of cucumber, tomato and red onion with a red wine vinaigrette is good or some sauteed broccoli with pine nuts is awesome
Top your chicken with tzaziki.  It's the yogurt " sauce" you find on gyro sandwiches
Buy some pita bread and use the leftover chicken, tzaziki, lettuce and tomato to make a chicken gyro  (wrap it in bib lettuce to eliminate the carbohydrates) or cut the chicken into strips and toss with tahini for a quick chicken schwarma
Mediterranean Grilled Chicken Breast
Serves 4-8 Californians . . . or . . . 2 New Orleanians
4-6 8 oz. boneless skinless chicken breasts
Decent white wine (that you would drink) like chardonnay
Regular olive oil drizzle to coat the chicken
2-3 cloves of garlic, crushed and roughly chopped
Salt
Black Pepper
Marinate chicken for about 3 hours or less but not less than an hour.  You can marinate the chicken longer ( up to 4 hours) but I wouldn't marinate it longer or overnight because it may get mushy.
Turn on outside or stove-top grill to high.   Grill should be really hot.   Place the chicken breasts at 2 o'clock ( picturing the face of a clock ).
Turn heat to medium high.  After chicken has grill marks, turn it ( on the same side) to 4 o'clock.  Turn chicken.  If you close the lid to an outside grill, make sure you are monitoring the temperature of the chicken breast.   There is nothing worse than a chicken that doubles as a shoe sole.
When the internal temperature of the chicken reaches 160 degrees on an instant read meat thermometer, remove it to a cool platter.    The internal temperature of poultry should be 165 degrees but it will continue to cook when it is taken from the heat source.
Until next week, remember what my friend Nancy says about longtime close friends,
 " You can get so much more said with old friends. They know where the bodies are buried already, so you can use shorthand."
To your culinary dreams spent with those you love…
Maria

Enjoy this special 8WomenDream Guest Contributor story submitted by new and experienced big dreamers throughout the world, edited and published to capture a dream perspective from different points of view. Do you have a personal dream story to share with 8WomenDream readers? Click here to learn how to submit dream big articles for consideration.
Note: Articles by Guest Post Contributors may contain affiliate links and may be compensated if you make a purchase after clicking on an affiliate link.