Last updated on January 23rd, 2019 at 10:36 am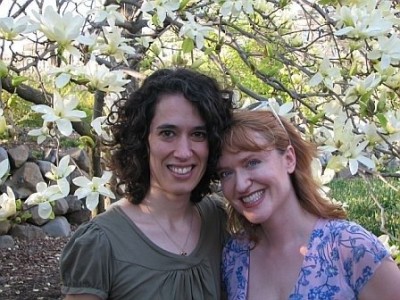 We became BFF's (Best Friends Forever!) when we were both two years old. Last weekend, Maria, my first and oldest friend, and I celebrated the 70th birthdays of her parents, Frank and Juanita, along with other beloved family and friends.
Our parents launched a daycare cooperative called Mudpie when we were toddlers. The families that formed Mudpie are still in touch today, even though "the kids" have grown up and many now have kids of their own.
Mudpie was essentially a bunch of happy hippies coming together in the 1970s to create a childcare experience that would reflect their progressive values. It was parents sharing a dream of collectively raising their children.
Mudpie was a living example of the adage, "It takes a village," as we all were raised by each other's parents, as well as our own. There were so many playdates, dinners and sleepovers at Frank and Juanita's house.
This epic birthday party was a chance to reconnect with people I have known for nearly all of my life. Last weekend was all about finding joy and happiness in lifelong friendships!
Finding Happiness Being Chrissy!
Until I was five years old, everyone called me Chrissy, since my middle name is Christina. I finally decided to claim my birth name, Lisa, when I was in kindergarten.
There was someone else named Christina in my class, so I was no longer unique.  I remember coming home from kindergarten and announcing that I would now be called Lisa.
It was more sophisticated, I thought, at the tender age of five. I remember my brother chasing me around the house yelling "Chrissy! Chrissy! Chrissy!" and I would plug my ears and climb over the furniture, saying, "My name is Lisa!"
It was my first real declaration of independence and the first time I changed my name. Life would bring more name changes and many more dramatic declarations of independence!
To this day, if we watch a movie reel filmed in the Mudpie days, or look at photographs from when I was two to five years old, people will exclaim, "Chrissy!"
That is still the identity of the little, wide-eyed, pigtailed me.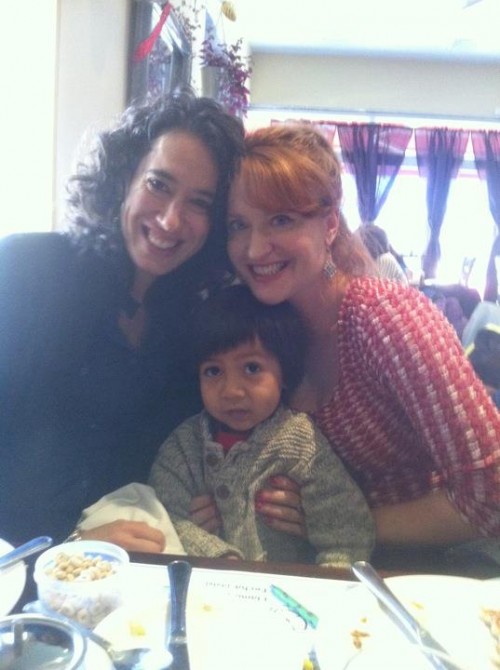 Finding Happiness in Celebrating Good Times!
When you have known someone as long as I have known Frank, Juanita and Maria, there are so many memories and so many good times. Gathered together to celebrate these milestone birthdays, we spent most of our time catching up about what's new now and what is going on in everyone's lives.
Everyone has created lives they enjoy, and so many of my Mudpie cohorts have accomplished incredible things. It's a pleasure celebrating the successes of the people you love who are rocking their lives.
One of the Mudpie "kids" grew up to be a best-selling book author who writes for the New York Times Magazine as as well and who has appeared as a commentator on national TV talk shows. Others are college professors, farm workers dedicated to sustainability, environmental activists, attorneys.
All the "kids" grew up espousing their parents' progressive values, so we are a generation that votes Democrat, is politically active, and is committed to making a positive difference in the world. We watch Rachel Maddow, who is from Northampton, near where I grew up, and voted for President Obama, and in my case attended the 2008 inauguration.
Standing for something bigger than us, working on causes in the community, and doing work that invokes a spirit of giving and making a difference has been the standard for the Mudpie crew. We all want to make a difference in the world, and we all chose our careers and life paths accordingly.
Finding Happiness in Family Traditions!
Over the years, we've celebrated so many birthdays and holidays together. Maria and I used to be delighted to get baby powder, lotion and shampoo for Christmas, when we were about five years old, so we could make "potions."
I used to make the signs for birthday parties, because I am good at making block lettering with magic marker. Juanita usually made the cake, and has a famous (in our circles!) chocolate cake recipe, that she tops with fresh whipped cream.
This time, Maria made her Mom's chocolate cake recipe, and she made it in the shape of a "7" and a "0." It was every bit as delicious as Juanita's cake and made the celebration feel complete, since the chocolate cake is always an essential part of the party!
Of course there was a feast at the party, featuring all kinds of savory and sweet dishes. A long, rectangular dining room table was weighed down with pans of baked ziti, shrimp and cocktail sauce, ceviche, olives, pickles, cheese, grapes, spanakopita, chips, crudite and dip.
The dessert table was also overloaded, with the "70" chocolate cake, a sweet ricotta cake, almond cookies, brownies, double chocolate chip cookies, carrot cake, Napoleons, fruit, figs, apricots and more. I normally don't eat more than a few squares of dark chocolate daily but I sampled the chocolate birthday cake and ricotta cake because it was a very special occasion, and it just seemed right to try it.
It's not every day that people you love celebrate their 70th birthdays! Or that you get to catch up with so many people you love all at once.
I definitely feel privileged to have family and friends who enjoy each other's company so much, and delight in spending time together. Even though we have geographically scattered, there are occasions like this that bring everyone back to Massachusetts, where I grew up, to celebrate.
I am giving thanks now for the gift of lifelong friendships, for friends who are essentially family, and for the opportunity to gather and catch up after years apart on our separate journeys. It is such a gift to have people in your life with whom you can come back together and feel like you can just pick up where you left off.
I am blessed to have some of the world's most loving, wonderful family and friends.
Lisa Powell Graham
Get Happy!
[fbcomments]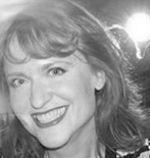 Lisa P. Graham is an inspirational writer, life coach, TED motivational speaker, and globe-trotter whose passion is to help others to find happiness and meaning in their daily lives. A political activist at heart, Lisa would like to empower more women to run for political office as a way to create positive change in the world. You can find her on her website or watch her TEDx speech on YouTube.
Note: Articles by Lisa may contain affiliate links and may be compensated if you make a purchase after clicking on an affiliate link.