Last updated on September 30th, 2012 at 07:40 am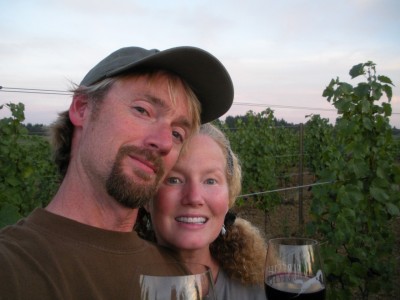 They're calling this one, "The Miracle Harvest", here in Oregon.  It's November, some fruit is still hanging and being picked.  Some of the vines were zapped by frost and frozen pinot has been thawed and crushed.
A few dozen acres of the grapes in Willamette Valley, may, in fact, not be picked at all, due to issues like botrytis, which, if making a late harvest white wine is known as the "noble rot". 
We do not make late harvest and will thus receive considerably less fruit from some of the winery's farmers than in vintages past.
This is just one small challenge my wine making husband faces for this year's harvest.
"I just wanted to be here when things were going well, instead of not."  Was my calm and "glass half full", husband's response at 11:00 a.m., when I finally let go of the anger and called him at the winery.
He was supposed to stay home to spend the morning hours here with us, tackling the loads of paper work that accompanies the tons of grapes received at harvest.  There are contracts, state and federal reporting, weight tags, labor contractor hours to be accounted for and so on.
Some time around 7:45 a.m., however,  my husband received a phone call from his second in command, who had locked the keys in his car after dropping his child off at a school located two towns away from the winery, where grapes were being delivered to the crush pad.
No bacon and eggs for Bryan this morning.
I abhor the term harvest widow, (yes it's a real industry term), but I fully understand where it comes from.  I prefer a different term that shows respect for those who have experienced real and permanent loss of a spouse.  After all, the partners of winemakers are this by choice, hopefully, and there is an end to this challenging season.
This morning, this harvest season found our beautiful relationship and close and loving little family in day 17 of harvest.  At least, I think it is day 17.  I lose track every year after the first Saturday and Sunday are swallowed up in the hopper then de-stemmed and crushed.
"New Normal", is the euphemism that keeps swirling around in my head and best defines my current way of being.
After I took the kids to an early trick-or-treating experience in downtown Corvallis last night, on my own, and while suffering the mid-to-late stages of this nasty virus that's trying to become bronchitis, inclusive of regular nose bleeds,  that I picked up while playing nurse to my little son, who got it from the kitty adoptions last week, which was also mostly me, for his birthday surprise, which was all on me, I admit to not being my kindest most loving self with my husband on this day.
Like an E.R. physician this time of year, the phone calls can begin as early as 4:00 a.m. for my husband, and can be unceasing.
The winery buys some of its fruit from growers who are on the other end of the phone line and who tend their vineyards from as far away as Walla Walla and Ashland, Oregon. This means grape ripeness, (brix/Ph/TA) measurements, can differ a little to a lot in our large state depending on the micro-climates of each region.
Sure, we get to speak of the terrior  and subtle regional interesting facets for the grapes and wine,. but that's really mostly for the marketing/sales departments to get behind.
What concerns my wine crafting husband is not this business aspect of it, though.  It's farming practices, growing practices, harvesting skill and efforts, timing, creativity and courage that dominate the "head space" for my man.
It's an all-encompassing feeling for me, this state of new normal. It's when I am responsible for one hundred percent of the minute to minute living experiences that occur for my children and myself.  A small taste of what it would be like to be a home schooling, little farming, single parent, and all that this implies.
New normal includes lots of surprises, so I don't ever get too comfortable, even after the sun sets.
I tend to making incredible use of my time, day and night, and wait like a child on Christmas Eve for my phone to ring, and answer only if it's my husband, do very little talking myself, and hang on his every word.
This special season is also organic, a living, growing, naturally evolving present state.  Harvest and crush are finite, and when the intense time spent on the pad and in the fermentation and barrel cellars comes to an end for my husband,  then it'll be my turn to go in to work.
Until I do go in to track the fermentations and later top up the barrels, I wait.
I stay busy, I get blue, I sometimes get cranky with the children.  I watch my favorite movies and drink chai while I do the laundry.  I cook and bake, take care of  the outside farming chores and the indoor house work.
I teach my children their lessons, read and sing and tuck them in to sleep, and . . .
I miss my husband.
Shellie

Enjoy this special 8WomenDream Guest Contributor story submitted by new and experienced big dreamers throughout the world, edited and published to capture a dream perspective from different points of view. Do you have a personal dream story to share with 8WomenDream readers? Click here to learn how to submit dream big articles for consideration.
Note: Articles by Guest Post Contributors may contain affiliate links and may be compensated if you make a purchase after clicking on an affiliate link.