Last updated on February 1st, 2012 at 09:32 am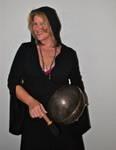 Dreams are free, so free your dreams – Astrid Alquada
I've been so busy with reality, I've forgotten to dream about my dream. It's wild how your dream will bonk you on the head when you're not paying attention.
I drove to Danville, California on Friday night for a Nia-Pedicure- shoe-shopping-girl-talk party. I recognized several chicks from Nia trainings in Portland Oregon and they immediately recognized me as White Chocolate, the wild woman who's performed her raps at Nia trainings.
I always try and down play how awesome it is that I've been invited to do this, how much women love it and how much I love doing it. I also forget to give myself credit for making this part of my dream come true.
Half way through the evening, one of the girls says,
Hey, can you do your Bitch Rap  for us?"

Well," I stammer, "I don't have my music."

Then I hear myself say, "but I can freestyle it for you."
Dreamers please, I love that I know I'm good enough to do this.
So I do, and they love it.
Mama Gena talks a lot about conjuring and Wayne Dyer talks a lot about contemplating. The two C's, very important for dream creating. I'm going to create some dream rituals this week. Please let me know if you have any special ways of putting your dream engine into overdrive.
I'd love to hear about it, so leave me some comments!
Laurie
Laurie has several amazing dreams going on in her life at this time. She left 8 Women Dream in November of 2010 to focus on Club B and her NIA business.


Enjoy this special 8WomenDream Guest Contributor story submitted by new and experienced big dreamers throughout the world, edited and published to capture a dream perspective from different points of view. Do you have a personal dream story to share with 8WomenDream readers? Click here to learn how to submit dream big articles for consideration.
Note: Articles by Guest Post Contributors may contain affiliate links and may be compensated if you make a purchase after clicking on an affiliate link.