Last updated on September 21st, 2022 at 02:27 pm
My dream brain seemed to be getting the best of me this week.  Just as I'd drift off to sleep a voice softly whispered …
Hey. Dream progress on your top blog idea is stalling. And why aren't you done with this dream yet?
Second-guessing yourself is part of the dream process.  Just because I understand this, doesn't make the thoughts any easier to solve. Sometimes you just want a break for, or from, your dream.  Immediately your brain will step right on in and offer up excuses for you to let go.
But instead of letting go, you should
Try something completely new.
Go to the library.
Pack a different lunch.
Drive a different route to work.
Get your day ready the night before.
Buy new perfume.
Buy and read a book you would never normally read.
Take a long drive and get lost.
Wear a new hat.
Drink tea.
Try food from the store you have never tried before.
Listen to different music.
Dance in your kitchen.
Take out the under-wire in all your bras.
Go on a pleasurable bike ride.
Pick flowers.
Get your nails dirty.
See the amazing stuff that is happening in your life.
These are always ways in which you can re-think your life and your dream. Making your dreams come true is a lot of work.  A lot.  Did I say a lot? A lot.
And sometimes I just need to look at my dream differently.
I have fabulous writers who submit stories to 8WD.  I do mean fabulous.
I'm writing.  In fact, I am writing all the time. Didn't I wish for this?  Didn't Toxic Mom Toolkit author Rayne Wolfe say that you must write every day?  Why yes she did Catherine-the-doubter and it has greatly improved your writing, hasn't it?  Isn't that what you dreamed of too?
I am living my dream.
The real problem here is that I want more. I want more for me and more for all who write with me here because we deserve it.  I want this dream to expand. I thought I had dreamed big enough, but as it turns out, I can dream bigger.  This is the sneaky, intoxicating part of dreaming when you stick with it:  You want bigger.
A bigger dream — for me, a bigger blog.
And instead of enjoying this phase of my dream, I am fussing over the blog, worrying about what will make this website better.
I get what my problem is this week: I am living too much in my make-believe dream future instead of seeing the good that is here right now.  I help amazing women visually place their word art here in the form of a dream story. I should be thrilled every single day.
Their stories take my breath away.  I can tell when they are living their dream, down about their dream, avoiding their dream, and running away from their dream.  They are the most fascinating stories I've ever watched.
Eventually, the world will see the work they do too. The second-guessing will have its reward. And I will probably wish to be back here.
So I'm going to go bra-less tomorrow.  Shake things up a little bit.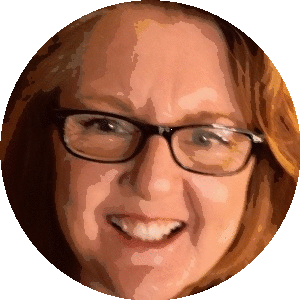 Catherine Hughes is the founder, content director and editor-at-large of 8WomenDream. She is passionate about helping women step out of their own way and strike out into a world waiting for their special talents. She's a published author and a former award-winning mom blogger. Catherine has helped companies both large and small create engaging web content, social media narratives, and unique blogging platforms. She claims to be a redhead, but don't hold that against her.
Note: Articles by Catherine may contain affiliate links and may be compensated if you make a purchase after clicking on an affiliate link.