This week I've put together a video for you as I reflect back on 2013.
The one thing I learned from 2013 was to be thankful for new beginnings. Being open to change helped me realize that I am a lot stronger than I once thought.
Enjoy the video!
Here are 8 quotes on new beginnings for the new year:
1. "No, this is not the beginning of a new chapter in my life; this is the beginning of a new book! That first book is already closed, ended, and tossed into the seas; this new book is newly opened, has just begun! Look, it is the first page! And it is a beautiful one!" ~ C. JoyBell C.
2. "Although no one can go back and make a brand new start, anyone can start from now and make a brand new ending." ~ Carl Bard
3. "I used to dream about escaping my ordinary life, but my life was never ordinary. I had simply failed to notice how extraordinary it was. Likewise, I never imagined that home might be something I would miss." ~ Ransom Riggs
4. "You raze the old to raise the new." ~ Justina Chen
5. "Surrender . . . sacrificing my life or suffering in order to change what needs to be changed." ~ Rick Warren
6. "Realize that if a door closed, it's because what was behind it wasn't meant for you." ~ Mandy Hale
7. "Set fire to the broken pieces; start anew." ~ Lauren DeStefano
8. "Some stories don't have a clear beginning, middle and end. Life is about not knowing, having to change, taking the moment and making the best of it, without knowing what's going to happen next. Delicious ambiguity." ~ Gilda Radner
What have you learned about yourself in 2013?
Let me know in the comments.
Sue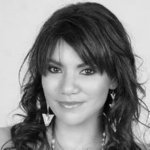 Sue Levy is the founder of the South African Just Pursue It Blog and Inspirational Women Initiative. She's a motivational writer and media designer, who is obsessed with everything inspirational with a hint of geek. She thrives on teaching women how to be brave and take big chances on themselves. You can find Sue on her Twitter page @Sue_Levy.
Note: Articles by Sue may contain affiliate links and may be compensated if you make a purchase after clicking on an affiliate link.