Last updated on December 26th, 2013 at 04:51 pm
As Christmas approached this year, I tried not to let it fill me with dread.
After the past year of health problems, a divorce, and a cross country move I had low expectations. Since my ex-hubby and his family get The Bub this year, I honestly prepared myself for a quiet day hunkered down with two cats and a dog.
Blogging about healing with photography comes from my own struggle to feel whole and happy with my self and body. It doesn't immediately come to mind when thinking about the holidays. But as I thought about this blog, I realized we might need it even more. Holidays can be lonely times and our body image is so intrinsically tied to our moods.
How many holidays have you spent lonely or unhappy?
How many holidays did you think that if you got just the right present, or found the perfect partner, or fell into something wonderful that you'd be happy? It's easy to wait for outside circumstances to coalesce into perfection. But when you're waiting for Happy to find you, it can be taken away as quickly as it is found.
Despite this being the first holiday away from my son, this has been a beautiful Christmas. Even though I certainly wasn't dreaming of a happy Christmas.
What made this year different? Most of all is that I'm surrounded by some awesome people. I've also tried to focus on making this special for my loved ones and less about myself. I offered to wrap presents and about five hours in questioned my sanity. But serving others, working toward something outside of myself made me happy. And I also had help wrapping at the end.
I've been reading Happiness as a Second Language and it's brilliant. I can't help but see how it can apply to happiness with one's body as well. I work to heal with photography but each person must do their own work on their own.
My hope for you this holiday and in the New Year is to find your own Happy. Don't let your happiness wait on outside influences.
You have every right to be happy at this very moment even in the face of heartache.
I had a powerful conversation with my dad recently. He commented on the way my move seemed to tie many things together: My ex and I moved to North Carolina. My ex and I are friends. My sister and her family moved 20 minutes away also, the first time we've been in the same state in 14 years. I have a network of friends and family here. I have love.
He asked what I would have said if I'd dreamed about all this one year ago. I laughed that I would have said he was crazy. But his point was that I am living the dream. The life I have now is something so wonderful I could barely have dreamed of it a year ago as I cried myself to sleep each night. I need to be grateful and in awe of what I've built in a year.
I'm wishing you a beautiful Christmas and a year where your life takes so many gorgeous twists and turns and that you can barely believe it a year from now. What starts as a dream can come true if you want it to.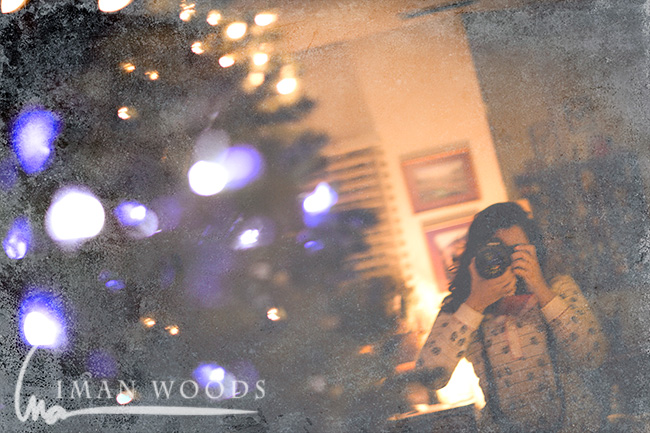 Iman Woods is an American artist who specializes in pin-up photography. Through a unique and therapeutic process, she's spent over a decade in perfecting, Iman helps women undo the damage from a negative self-image and unrealistic beauty industry expectations. She helps women embrace their own style of beauty and see themselves in a new light. You can find her on her website, ImanWoods[dot]com.
Note: Articles by Iman may contain affiliate links and may be compensated if you make a purchase after clicking on an affiliate link.