Last updated on January 15th, 2013 at 11:42 am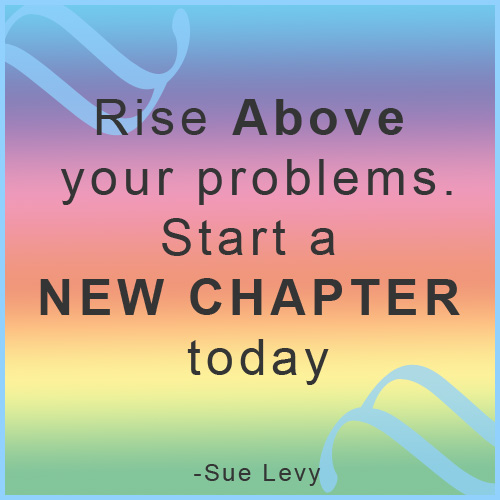 Enough with all this imagining your dreams– with the new year offering me a refreshed sense of myself and a new dedication to making my motivational speaking dream come true, I want to push you to actually do something about your big dream this year.
It's time to get up and make your dream happen.
It's time to quit living in the imaginary world of "dreaming about your dream" and start creating it instead.  A new life awaits you where you rise above what you believe is holding you back from your dream to where you actually begin the necessary steps to do it all — no matter what.
In 2012, I made the conscious decision to let go of a full-time media design career to follow my heart.  I felt the need to begin a public speaking career. It was a bold move, but the consequences of my actions changed my life and taught me about what is important.  It was rewarding to push past my fears and take on a public speaking career.
Originally, I thought no one would want to hear what I had to say, but I just couldn't stop myself from going after this dream.  I did worry until…
I was asked to speak at a ladies event called "I Love Me."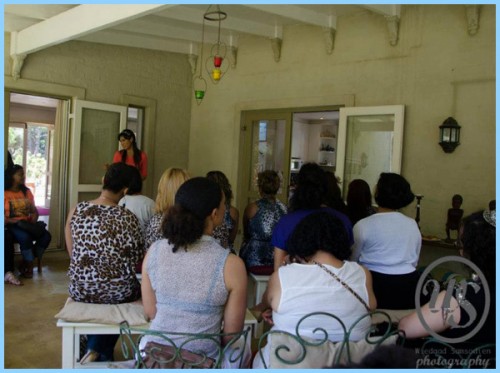 The meeting was held in a home in the beautiful suburb of Bishops Court in Cape Town, South Africa. At first I was very nervous, but I overcame my fears the very minute I recognized the hostess.  She was someone I had met many years ago during my modelling days and she was a clothing designer. She jokingly said, "I almost told you to go join the models upstairs."   Realizing how much we'd changed we both laughed.  It felt like a sign that I was about to give a great talk.
When it was my turn to speak, I just kept a clear mind and believed that I deserved the best from the audience.
The following is a summary of my presentation:
1. Rise Above Lies
We should rise above the negative talk we hear people say.  We are more than what we think, or others say.  Quit believing in the bad, the awful, and the cynical. The "negative people" do not deserve your precious time.
My Advice: 
You can rise above negativity by focusing on your inspired dreams. Ignore what is not true and pursue to live your own truth.

2.  Rise Above Self-doubt
Self-doubt is really the lack of self-confidence. The minute you think you are not worthy of the best in life — BOOM–  there's self-doubt waiting to have a little chat with you. The voices of self doubt are dangerous.  They can harm you emotionally and can be detrimental to your happiness.
My Advice:
Learn to change your language. Turn your "I want" to "I can", "I'll try" to "I will". "I think so, therefore I am confident." Don't allow self doubt to take over your life or put you in situations that don't give you all that you deserve.
3.  Rise Above Negative Influences
Negative influences can be anything from what you watch on TV, to what you read. It can come in the form of a negative family member, colleagues, and even those that have no respect for you as a person.

My Advice:
Overcome negative influences by avoiding the source of it. If it makes you sad, angry or feel down, don't entertain it in your life. Stay away from anything that turns your smile into a frown. Continue to work on your positive thinking on a daily basis.
4.  Rise Above Enemies
We have all been hurt and disappointed in life by the people we've thought loved us and had only our best interests at heart, only to see that all they wanted was to see us fail.  Enemies often show up as the people who feel threatened by what you are trying to accomplish.  They try to injure you emotionally, possibly even physically, in an attempt to steal your sunshine and avoid change.  Do not let anyone steal your sunshine and don't let them stop your big change.
My advice:
Forgive them and move on. Focus on the positive people in your life who have your best interest at heart. No enemy of yours deserves your tears. 
5.  Rise Above Challenges
Challenges are tough.  Each and every single day you are bombarded with unexpected challenges that can throw you off your dream course.  It can be something as simple as college exams, a new job, family issues, or just attempting something new. Typically you want to complain and find a reason to quit or give up — but quitting will only bring bigger problems and depression.
My Advice:
Be brave and meet your challenges.  Understand that you have what it takes to get through it. When it comes to challenges, it's mostly a mental exercise. Program your mind to win battles before you experience them in your physical world. Do not  allow denial and a place of hopelessness to creep into your heart — instead — love yourself enough to believe that you absolutely have what it takes to overcome your challenges.
6.  Rise Above The Negative Mirror
Too many women wake up not liking who they are. They hate what they see in the mirror.  They think that it is perfectly okay to look at their reflection and insult how they think they look. Sound familiar? Why do you allow your mind to do this to yourself and think it's okay?  If you aren't for you, then who is?
My advice:
Compliment yourself more. Make a list of things you absolutely love about who you are. Do you like your eyes?  Your hair?  Your brain?  Decide today that you have the ability to ignore negative voices and look to the possibility that tomorrow brings. You are NOT your past!  You are better than what you think about yourself! There will never be anyone on this earth ever again like you. EVER. AGAIN. EVER.
I ended my speech with this beautiful piece by Bel Claveria Carig Martinez — read it: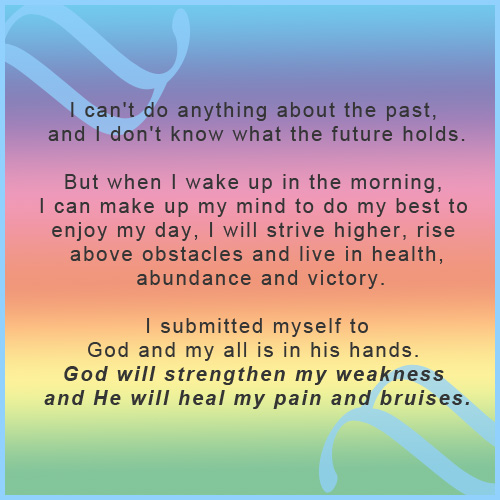 Seeing women touched by my words — giving me hugs and sincere thanks — felt like a piece of decadent chocolate lingering in one's mouth. It's was so good that I didn't want the experience to end. It left me wanting more!
Here is a short clip of my experience:
Be Inspired to rise above it all in this year.  Rise above what is holding you back from physically living your dream instead of dreaming your dream. Choose to do what makes you fell good and push your dream out into the real world.
Life is short –live it–and just pursue it!
Sue

Sue Levy is the founder of the South African Just Pursue It Blog and Inspirational Women Initiative. She's a motivational writer and media designer, who is obsessed with everything inspirational with a hint of geek. She thrives on teaching women how to be brave and take big chances on themselves. You can find Sue on her Twitter page @Sue_Levy.
Note: Articles by Sue may contain affiliate links and 8WD will be compensated if you make a purchase after clicking on an affiliate link.