Last updated on January 23rd, 2019 at 10:40 am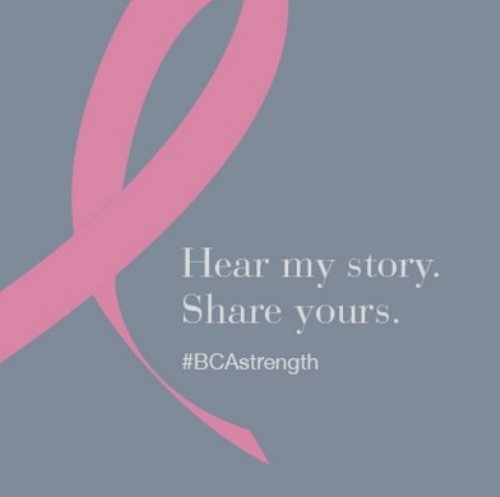 It's Thankful Thursday dreamers!
Today I am grateful for the month of October because October is Breast Cancer Awareness Month, which is an annual campaign to increase awareness of this disease that impacts many of our dreaming sisters.
The history behind this awareness campaign: NBCAM was founded in 1985 as a partnership between the American Cancer Society and the pharmaceutical division of Imperial Chemical Industries. The aim of the NBCAM from the start has been to promote mammography as the most effective weapon in the fight against breast cancer.(source: Wikipedia)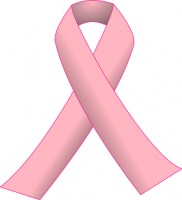 In 1993 Evelyn Lauder, Senior Corporate Vice President of the cosmetic giant, Estée Lauder Companies founded The Breast Cancer Research Foundation (BCA) and established the pink ribbon as its symbol, though this was not the first time the ribbon was used to symbolize breast cancer.
In the fall of 1991, the Susan G. Komen Foundation had handed out pink ribbons to participants in its New York City race for breast cancer survivors.
Today, the BCA Campaign is active in more than 70 countries and has raised more than $53 million to support global research, education and medical services, with nearly $42 million funding 166 BCRF research projects worldwide in the past 20 years.
These funds have directly resulted in significant innovations and improvements in care, from the launch of an early-phase breast cancer vaccine trial to improved ways to assess risk in young girls from families with multiple cases of breast cancer.
The 2014 BCA Campaign unites the global breast cancer community around The Campaign's core mission to defeat breast cancer through education and medical research. This year, The BCA Campaign is committed to raising $5 million to support breast cancer research, education and medical services worldwide by continuing to evolve its focus from enhanced awareness to increased action.
I am grateful to these foundations for bringing attention, education and funding into the breast cancer conversation. Breast cancer is the second leading cause of cancer death in women, exceeded only by lung cancer. The chance that breast cancer will be responsible for a woman's death is about 1 in 36 (about 3%). (Source: cancer.org)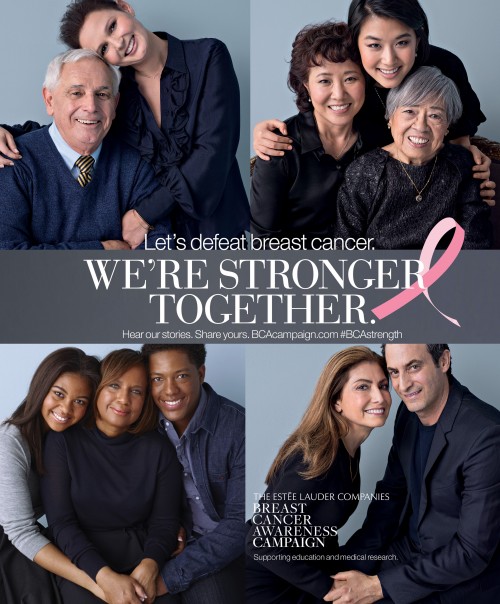 This year, The Estee Lauder Companies' Breast Cancer Awareness (BCA) Campaign is moving in a new direction for its 2014 year-round breast cancer campaign with an uplifting call-to-action, "Hear our stories. Share yours." designed to create a global community of strength and support through digital storytelling.
Expanding upon the theme, "Let's Defeat Breast Cancer. We're Stronger Together.," the 2014 BCA Campaign comes to life through the authentic, inspirational stories of brave women and men who have faced breast cancer, and the loved ones who supported them throughout the experience.
You are invited to visit BCAcampaign.com to hear these powerful stories, find strength in their common experiences, be moved to share your own stories, and join the fight against breast cancer through making a donation to The Breast Cancer Research Foundation® (BCRF).
BCAcampaign.com displays the authentic, personal stories of strength and support designed to empower others to speak openly about their experience and encourage them to share their story.
The website also showcases stories submitted through social media using #BCAstrength. A series of compelling, documentary-style video tributes introduces the call-to-action "Hear our stories. Share yours." through relatable and powerful stories of individuals touched by breast cancer, and the often-overlooked supporters who are also impacted by the disease.
If you have been impacted by breast cancer, you are encouraged to share your story through text, photos and videos as a way to honor support from friends, family members, co-workers, doctors, nurses, caregivers, loved ones—even the kindness of strangers.
Individuals who share their stories on BCAcampaign.com will have the option of being considered for inclusion in The 2015 BCA Campaign, which will continue to use innovative storytelling to convey meaningful messages of gratitude and strength among the global breast cancer community.
Details will be announced in early 2015.
Throughout the year, BCAcampaign.com will continue to spotlight relationships that exemplify how "We're Stronger Together" in an effort to foster a unique, interactive breast cancer support community.
This dynamic, storytelling hub will deliver an ongoing flow of inspirational and educational content year-round, while also encouraging donations in support of BCRF.
William P. Lauder, Executive Chairman of The Estee Lauder Companies stated,
"When my mother first began speaking out about breast cancer, few people were talking about it openly or publicly. She held a strong belief that knowledge is power, and felt a responsibility to speak up and share the stories of women and families whose lives were touched by the disease.

This year's BCA Campaign honors the spirit of knowledge, sharing and taking action, which was such an important part of my mother's life. I know she wants us all to fight just as hard as she did to make sure these stories are heard and lives are saved."
Fabrizio Freda, President and CEO of The Estee Lauder Companies said,
"There is something extraordinarily moving and undeniably universal about the energy that fueled Evelyn Lauder's vision to make breast cancer a thing of the past. There is a determination, a light, a real and personal commitment that is somehow understood in every language.

The experience of breast cancer, whether it happens to you personally or touches someone you love—unites us beyond all measure, and the more I see this in action, the more I feel the strength we all share when we join together."
Elizabeth Hurley, Global Ambassador for The BCA Campaign stated,
"Breast cancer knows no boundaries and does not discriminate, touching everyone in every country around the world. This year's BCA Campaign is an opportunity to bring millions together worldwide – women, men, families, caregivers – empowering them to garner strength from one another.

There really is so much we can learn and gain from talking to each other and from sharing personal stories of strength and support to inspire and help others. Hearing each other's stories and sharing them makes us all stronger, together."
Beginning in October 2014, global activations include:
• Buildings, monuments and landmarks worldwide will be illuminated in glowing pink lights to focus attention on the importance of breast health and early detection.
• In New York, for the first time in history, the iconic Pink Ribbon, co-created by the late Evelyn H. Lauder, will scroll across the mast of the Empire State Building. Additional illuminations include The Eiffel Tower in Paris, The Colosseum in Rome, The Bandra-Worli Sea Link in Mumbai, The Burj Al Arab in Dubai and The Peninsula in Hong Kong, among others.
• On October 1, William P. Lauder, Executive Chairman of The Estee Lauder Companies, will ring The New York Stock Exchange Closing Bell joined by four of the families touched by breast cancer who were featured in the Company's 2014 BCA Campaign.
• New York State Governor Andrew M. Cuomo's office will issue a Special Citation in recognition of The Estee Lauder Companies' Breast Cancer Awareness Campaign and in grateful appreciation of Evelyn H. Lauder and her longstanding devotion to the critical cause of fighting breast cancer.
• New York City Mayor Bill de Blasio will issue a Proclamation declaring October 1 "The Estee Lauder Companies' Breast Cancer Awareness Campaign Day" in New York City.
• Employees around the world will participate in walks, galas, auctions, concerts and other events to benefit BCRF and local breast cancer charities. The Company will also host a variety of workshops, seminars and trainings to raise awareness of breast cancer and early prevention.
For more information on The BCA Campaign:
• Visit www.BCAcampaign.com or
• on Facebook: www.facebook.com/BCAcampaign or
• on Twitter: www.twitter.com/BCAcampaign or
• on Instagram: www.instagram.com/BCAcampaign and
• on YouTube: www.youtube.com/BCAcampaign.
Today I am grateful for breast cancer awareness month as a reminder how precious and valuable life is. Go after your big dream. Take advantage of your health to do something that positively impacts the lives of others.
It's our time, ladies.
Just pursue it!
Sue
[fbcomments]
I am grate ful to the e Lauder company for some of the information used in this article. The Estee Lauder Companies Inc. is one of the world's leading manufacturers and marketers of quality skin care, makeup, fragrance and hair care products. The Company's products are sold in over 150 countries and territories under the following brand names: Estee Lauder, Aramis, Clinique, Prescriptives, Lab Series, Origins, M•A•C, Bobbi Brown, Tommy Hilfiger, Kiton, La Mer, Donna Karan, Aveda, Jo Malone, Bumble and bumble, Darphin, Michael Kors, Flirt!, GoodSkin Labs, Tom Ford, Coach, Ojon, Smashbox, Ermenegildo Zegna, Aerin Beauty, Osiao, Marni and Tory Burch.
I am grateful for NEW YORK, Oct. 1, 2014 /PRNewswire for making this information about Breast Cancer Awareness Month available to content providers.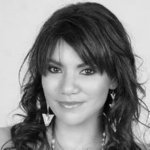 Sue Levy is the founder of the South African Just Pursue It Blog and Inspirational Women Initiative. She's a motivational writer and media designer, who is obsessed with everything inspirational with a hint of geek. She thrives on teaching women how to be brave and take big chances on themselves. You can find Sue on her Twitter page @Sue_Levy.
Note: Articles by Sue may contain affiliate links and may be compensated if you make a purchase after clicking on an affiliate link.