Last updated on January 25th, 2019 at 02:56 pm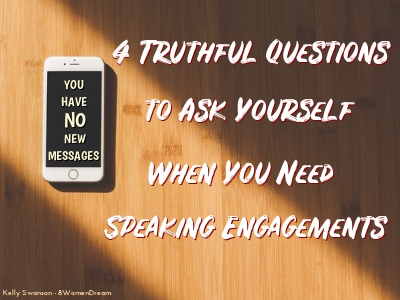 You've officially launched your big dream to be a speaker–you've marketed yourself, you made sales calls, and maybe you've sent back a few proposals–but you don't get speaking engagements.
You sit at your desk wondering how other successful speakers find paid speaking gigs and consistently get booked. I can tell you this: the business of public speaking is very complicated. Or so it would seem.
What I suggest for you to do to get more speaking engagements is actually very simple, it's just not easy to do. Even if the economy has shifted, and the way speakers were booked five years ago isn't the same it is today, or will be tomorrow–I still believe you take the same steps to get booked.
In a business that is very complicated, let me take this moment to make it very simple for you.
4 Truthful Questions to Ask Yourself When You Need Speaker jobs:
1. Do You Have the Type of Speeches Potential Clients Want to Buy?
You may have the most life-changing important speaker message in the world, but this doesn't mean booking agents want to buy it. If what you teach isn't what the audience is looking to hear, you won't get booked to speak.  For example, if your speeches involve personal health, and a potential client wants a speaker who can teach the audience how to sell–you're out.
The key is to find the audiences who are looking for what you are selling. And that's not everybody, or maybe not even anybody. Your job (if you want to get paid to speak) becomes finding a way to make your message fit a potential client's need–not the other way around.
2. Does Your Professional Speaker Website Sell You?
I believe that your professional speaker website is your most valuable selling tool. It is your storefront. It's where you send potential clients to get to know who you are and what you can do. It's where audiences meet you before they ever meet you. It's where you hook a potential booking. And if your website doesn't sell you, bookers will never call you.
Your professional website must do more than show clients what you are selling by way of products and features. Your site must sell the personality of you, the credibility of you, the brand of you, and the message of you. It should make visitors want to know more about you. It should show them why YOU should be the one to be invited to speak over thousands of other speakers. And your website should make your clients feel like they KNOW YOU–not just what you do for a living.
The key is to sell with your website the same way you market yourself when you're on the phone. (Assuming you are good at selling yourself over the phone.) Selling is not about reciting facts, it's about establishing a relationship. It's about listening and getting to know your buyer.  It goes beyond facts to emotions. People buy from people they like. Your website is your first chance to make them like you.
3. Do Potential Clients Know You Are Available?
Availability is where I see most public speakers get stuck. They have a terrific marketable message, a fantastic website, and they wonder why their phone doesn't ring. The business of public speaking is not about waiting for your phone to ring. And if you haven't reached out to tell anyone you're available, then you're waiting for your phone to ring. If you are wondering why you aren't getting business, then I will ask you who you called asking for business today–this week–this month. How many productive contacts did you make? Are you in a constant state of pounding the pavement? Are you networking and selling yourself every day?
The key is to create a list of qualified leads that you are always adding to each week. These are the people you contact on a regular basis. And don't focus on shortcuts–such as expecting a bureau to bring all your business. If you're relentlessly knocking on bureaus' doors, then you're not using your time to your advantage. Sell yourself.
4. Are you an Active Member of the National Speakers Association?
The National Speakers Association is the leading source for community, education and entrepreneurial business knowledge needed to be successful in the speaking profession. The NSA provides its members with opportunities to network and share experience and resources. While some of the speakers listed as members are likely to be competitors in the same niche, speakers still share information, referrals, and guidance. Joining the National Speakers Association provides a new public speaker with events that will help you to learn, to grow, and to share who you are. It will also help make you a more polished public speaker.
The key to joining and being successful at any professional business organization is that you will get out of the experience what you put into it. You have to participate, go to events, join a chapter in your area, and utilize the resources made available to you.
There you have it–four honest questions to ask yourself when you aren't booking speaking engagements. Again, truthfully answering these questions and looking at what you are doing (or not doing) are most certainly not easy, which is why there are too many speakers not getting booked to speak.
But the answer to getting more speaking engagements is still simple. Take the necessary steps to fix any of these truths, and you will get the bookings–assuming you are good at what you do–which is a conversation for another day.
Kelly Swanson
Kelly Swanson is an award-winning storyteller, motivational speaker, published author and TV personality who is passionate about helping women harness the power of their stories to connect, influence, and get the results they dream of accomplishing. Laughing the whole way, Kelly teaches women how to master the art of connection through the power of strategic storytelling. You can find her on The Fashion Hero show airing Fall of 2017 on Amazon Prime or on her website MotivationalSpeakerKellySwanson.com.
Note: Articles by Kelly may contain affiliate links and may be compensated if you make a purchase after clicking on an affiliate link.