Last updated on March 17th, 2014 at 08:21 am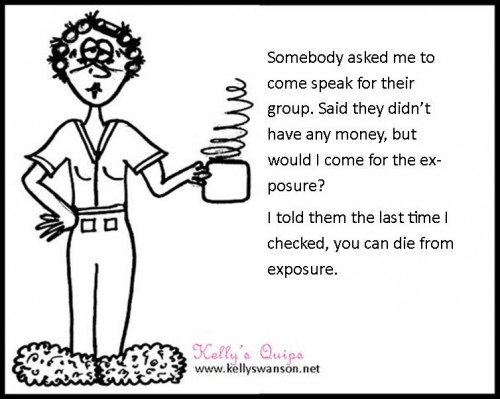 The Struggle Between Understanding Your Value and Giving It Away
It's a common complaint among motivational speakers – being asked to work for free.  It's hard for me to understand since I would never go to my hairdresser and ask her to please do my hair for free in return for the exposure.  I would never thank my plumber for unclogging my drain and offer to pay him with a hot meal and three referrals.  It is quite perplexing to attend a women's conference whose goal is to empower women and show them their worth, but the female speakers aren't paid anything. But that's the way it goes. My cynical side can be angry with these people who want something for nothing. My compassionate side can see that there are people out there who can't afford me, and need me the most. These two sides argue frequently.
We have an event coming up in February at Camp Lejeune for the spouses of marines.  We would love for you to come speak. But we don't have a budget.
The Invitation To Come Speak At Camp Lejeune Marine Base
So that's how the conversation  went when a  lady called me up and invited me to come speak at Camp Lejeune. I'll admit it, I was discouraged – another free job on the calendar. And as most speakers know, a free job ends up costing us money, time, and energy that the client never really sees from where they sit.
I said yes. Why? Because we have a policy in our business to say yes to military and churches whenever we are able. Having a policy about what jobs you will take for free, and what jobs you won't, will help you keep a healthy balance between working and giving.
You Took The Free Job, Now Act Happy About It
I used to take free jobs and then dread every moment leading up to them. But that did nothing to serve me, and only  made me unhappy for a lot longer than I needed to be. So I changed my attitude, and once I took that job, I became determined to make the best of it, and give that audience just as much as I would give any audience.
Never treat a free job with less than your best. Every audience deserves you at your finest. And you never know who is sitting in that audience who can refer you to someone who has a big budget.
I watched a well known speaker once deliver a very mediocre program because it was a free job. That was the only time I ever got to hear her speak. And because it was crap, I never recommended her to any of my clients. And that's a shame, because I had many opportunities to recommend her.
Never waste an opportunity to be brilliant. You never know who's watching.
So I put my very best into preparing for this military spouse event. After all, they deserve some motivation, humor, and hope. It was the least I could do.
Kelly Swanson Hits Camp Lejeune
It was about a four hour drive to Camp Lejeune, and rather than whine at how long I had to drive to get to a free job, I treasured having a quiet car all to myself to think. It was a beautiful time of divine inspiration. I'm thankful for that.
The general and his wife invited me to stay at their house on base. Instead of grumbling about my loss of privacy and the comforts of a hotel room, I chose to be blessed that they would give up their privacy to have me in their home as a guest.  I was a little nervous – wondering if I should bow or curtsy – and wishing I had watched more episodes of NCIS.  (Pathetic, I know.  We won't even talk about the military tribute where I called the marines soldiers.)     If you're marine or army, you already know the two flaws in this paragraph. But I digress.
Girls Night
I arrived the night before the event, and the general's wife had organized a dinner with the other women planning the event. Instead of groaning that I wouldn't get the rest I really needed, I saw this as an opportunity to have some girl time to let my hair down. From the moment the women arrived it was like they had known me their whole lives. We complimented each other's hair and outfits, drank wine, ate a lovely meal, dug into homemade desserts, and sat around the dining room table laughing ourselves silly and sharing stories of life on base as a military wife.  I felt valued. I felt treasured. I felt loved. And I started to feel something else. Proud. Proud of these women who had truly sacrificed in ways you and I will never know, so that their husbands could serve our country. I began to see that the whole family was serving our country. Giving up their family moments so I could have mine. And the whole time we fellowshipped, you could hear the artillery blasts in the background.
And like the Grinch, my heart grew three sizes that night.
Game Day
Turns out that small group of women I had fallen in love with, were only a drop in the bucket. The next day at the event, I met many more women who welcomed me with open arms and bless your hearts. Their gratitude at my being there was expressed over and over and over and over, as one by one, they took me to the side and said how honored they were that I would take time out of my busy schedule to be with them.
Suddenly, it was I who felt honored.
I gave my program which included a tribute to them, and there wasn't a dry eye in the room. They laughed in all the right places, and truly sat at my feet and accepted every single thing I had to give them. It was most definitely a gift well spent. Their standing ovation was worth more than any fee.
Before I left, they presented me with the event poster, that had been signed with messages from as many of the women as they could fit on the poster. Messages of love and encouragement, appreciation and honor. I will treasure that framed poster more than any piece of art I could ever purchase.
Giving Away Your Dream
As I drove home that day, basking in the glory of a truly magical event, I thanked God for those military wives and their families. And I thanked God for that free job, and for giving me a gift that could bring joy to someone who really needs it most. And I asked Him to help me stay humble and remember why I do what I do, and that sometimes, maybe even often, it's not about the money. It's about something bigger. It's about bringing humor and hope, encouragement to the broken, peace to the lost. And you just can't put a price on that.
Kelly Swanson is an award-winning storyteller, motivational speaker, published author and TV personality who is passionate about helping women harness the power of their stories to connect, influence, and get the results they dream of accomplishing. Laughing the whole way, Kelly teaches women how to master the art of connection through the power of strategic storytelling. You can find her on The Fashion Hero show airing Fall of 2017 on Amazon Prime or on her website MotivationalSpeakerKellySwanson.com.
Note: Articles by Kelly may contain affiliate links and may be compensated if you make a purchase after clicking on an affiliate link.