Last updated on January 22nd, 2019 at 01:50 pm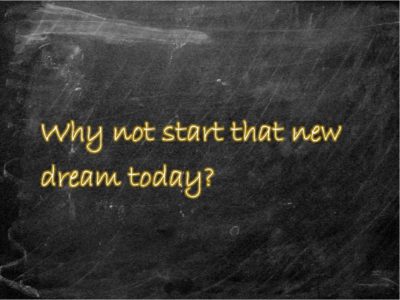 Today is the day I embark on a new dream…as a funny motivational speaker
I haven't ditched the old dream of spreading humor and hope as a funny motivational speaker. I've just added a new piece. A scary piece. And as with any new dream, it brings along a healthy dose of fears. Things like….
What if it's not any good?
What if they don't buy it?
Who am I to do this?
It's going to take me a long time.
What if it's awful and gets bad reviews?
I don't really have the time.
It's not in my business plan.
This is a huge project.
Other people are better at it than me.
What if they laugh and call me a joke?
Those are just a few. Yeah, my inner voice can be a b*#ch sometimes.  And for years she has won this debate. She has made me put down the pen and walk away from this dream in search of things more sensible.
But no more.
Today I banish her. Take away her power.
Today I clutch my pen and declare to the world that I. Will. Do. This.
I am going to write a novel.
Yes, I said it.
I am going to write a novel!
Big deal, you might be saying.
Yes, for me it is.  Because of all those pesky fears. But today my dream is bigger. Today I choose to do this – for me. And nobody else.
Writing brings me great joy. Even the thought of writing a novel makes me smile like a love-sick teenager.
So why not now? Why not today? Why not me?
It's time.
What about you?
Time to start your dream?
Let's jump together.
1….2…….3…………………………………
Going after our dreams is not something we do for them. It's something we do for us."
Kelly Swanson is an award-winning storyteller, motivational speaker, published author and TV personality who is passionate about helping women harness the power of their stories to connect, influence, and get the results they dream of accomplishing. Laughing the whole way, Kelly teaches women how to master the art of connection through the power of strategic storytelling. You can find her on The Fashion Hero show airing Fall of 2017 on Amazon Prime or on her website MotivationalSpeakerKellySwanson.com.
Note: Articles by Kelly may contain affiliate links and may be compensated if you make a purchase after clicking on an affiliate link.