Last updated on July 13th, 2022 at 02:59 pm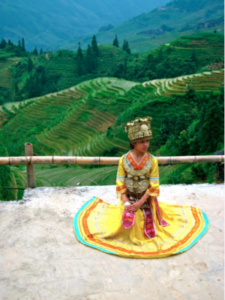 As many times as I dream about any form of world travel, I never really gave much thought to the possibility of teaching English abroad. That is until my baby-boomer mother told me she was inspired by my college friend, Kate, to teach English abroad in China.
"Mom, you have a full-time teaching job at a college, when would you teach English in China?" I said.

"You go over the summer and you actually teach the teachers who teach English," my mom replied.

"Oh, I get it."
Although I was still trying to piece together why someone who never talked about traveling to China or teaching anything but art in her life would want to indulge in two foreign subjects at once.
Sensing my slight skepticism about her travel inquiry, she replied, "Kate did it and she loved it!"
Bingo. She said the magic word to validate her wanderlust … "Kate."
My good friend Kate is many things to be–a college friend, a family friend, a fellow traveler, and wife to one of my oldest friends in my life, Phil. She is someone who always intrigues me and someone who, with her husband, always finds ways to conquer the world–be it Central America, Asia, the Caribbean, or Europe. (I'm pretty sure Kate has way more stamps in her passport than me, and I am a way jealous.) This time around, she combined her teaching talents with her traveling passions to experience the world from a few different angles.
To get the details of Kate's educational adventure of teaching in China, I asked her to fill me in on what inspired her to go, how she liked it, and if she would recommend it to others.
Teaching Abroad in China

Where were you at in your life when you decided to teach English abroad?
I had just finished my first year of teaching art at Holy Trinity School in St. Ann, Missouri. I was looking for summer jobs on Craigslist and I saw the ad for teaching English in China.
What appealed to you about the idea?
I love to travel and meet new people. I thought it would be a great opportunity to be immersed in a culture rather than just being a tourist. I really liked the idea of teaching Chinese English teachers, who were adults rather than children.
Getting a better understanding of the Chinese educational system was also very appealing since I had been learning about it in my master's studies.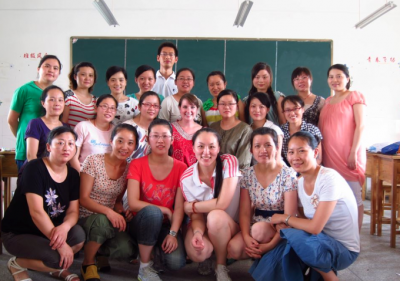 Did the program entail any prerequisites before applying?
Yes, you have to be a teacher or have taught in the past in order to be accepted into the program. Having a teaching certification is a big plus but not a necessity. They are mostly looking for people with experience.
We all know that teaching or traveling abroad for an extended period takes some planning. What was involved in the process before going to China?
There was a lot of planning before leaving. We had to assume that the school and town we were placed in did not have any supplies, so we had to plan out each day carefully and know in advance what supplies would be needed.
I brought two suitcases with me; one filled with my clothes and the other was filled with all of the supplies. All of the supplies I brought with me, I planned on leaving there even if I didn't use them.
You were lucky enough to bring your husband along. Did he teach, as well?
No, we took a pre-tour before teaching which was an option that our leaders offered. It was two weeks of traveling to five different cities and of course stopping at all of the top attractions China has to offer. He went back to the States and I stayed an extra two weeks to teach. I was in China for 1 month. Two weeks of the tour and two weeks of teaching.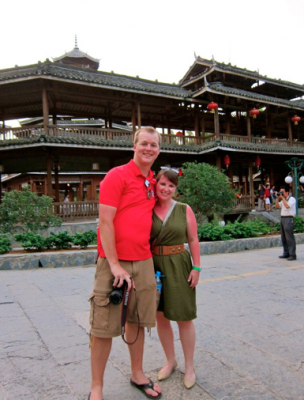 When you were in China, what was your agenda like? Was it set for you, or could you have some flex time?
Our itinerary for teaching was set for us, each teacher was given a mentor/guild from the organization to help with translating, getting around and any other needs we may have had. I taught five days each week for six hours.
I was able to determine our short ten-minute breaks during the day and they gave us an hour and a half for lunch each day.  On the evenings that we were teaching, they gave us free time to explore the city, and then dinner was on our own, which they gave us a set lump sum of cash for when we first arrived.
On our days off, our mentors took us to museums and showed us all the important places in their city. There were some nights when the school officials put on a big dinner for us, which was always very elaborate and intricate.
Where were you located? Did you travel anywhere outside of the town the school was in?
I was located in the town of Huai'an (why an).  It is a fairly large urban city, with a population of about 2.9 million. While I was teaching we did not go outside of the city. Although, all of the teachers started in the city of Nanjing, which is the capital of the Jiangsu province, where we had orientation and were given a tour around the city.
I really enjoyed teaching in this city, the people were very proud of their city. The other American teachers and I would get stares everywhere we went since foreigners are not common there.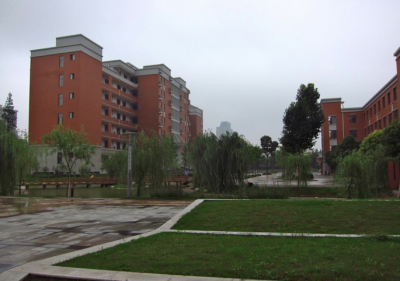 What were the highlights of your teaching experience?
That is really hard to pinpoint, but I really enjoyed getting to know the Chinese teachers that I taught.  We had a lot of fun each day and they worked very hard. Every day we started out with a song, and since the teachers I taught with were elementary educators, we sang children's songs.
Teaching a group of adults the hokey pokey and the chicken dance was a very silly and fun time.
We also would play board-racing games against other classes and (of course) my class won every time.  Teaching idioms was also very funny for me because they are such a cultural way and using expression and the teachers would understand English but in a very literal way.
So there were lots of funny questions and I definitely struggled with explaining the meanings behind them. We shared lots of fun times as a class and by the end of the two weeks, which flew by, we all felt a lot closer and it became hard to say goodbye.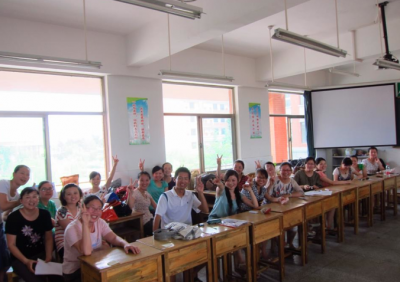 What was the most challenging part of it all?
The most challenging part of it all was communication. I feel very confident about playing charades now. I would have to write down pretty much everything I said or at least the key words and then they would often use a translating device to understand what I was saying.
 I constantly had to remind myself to speak very slowly and to come up with ways to say the same thing differently.
The students would often struggle with oral communication but they were always able to express themselves in the written form very well. I did have to change some parts of my lessons or find something else to do based on their communication abilities.
Showing pictures, creating art, and singing songs were key ways I used to help communicate with them, which made for an entertaining and enjoyable time.
Why would you recommend that people teach English abroad?
It is an experience like non-other, and a great way to understand how that culture works. Also, you are placed in cities that you otherwise wouldn't go to as a tourist, which is another great way to be immersed in a culture.
Teaching is a great way to make friends abroad and I hope that I will be able to keep in touch with my students for years to come. There are challenges in teaching abroad but the reward is much greater. Interacting with different people on a regular basis helps develop your communication skills and turn you into an independent and highly adaptable individual in the workforce.
I feel that it was so much more of a learning experience for me than it was teaching.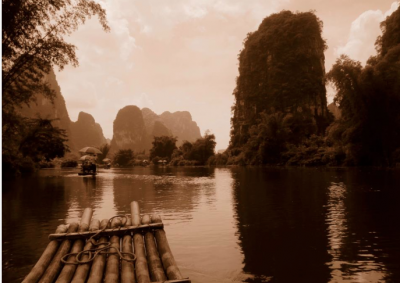 I know you studied abroad in college. How was this time back in the world different?
It is hard to compare the two since it was such a completely different experience. I'm not sure if it was because the cultures were completely different or just being the teacher versus a student.
When studying abroad I was much younger and going to school and exploring different countries was a lot more carefree. When you are teaching, you are put to work. Yes, we had time to explore the city we were placed in, but with your schedule set for you, it doesn't really allow for too much time off.
This is why I went over 2 weeks ahead of time to explore China. Granted by doing this I can't say I made money this summer but walking on The Great Wall, seeing the Terra Cotta Warriors, and eating all sorts of odd creatures is a priceless experience.
We all have those people in our life who run in similar circles, yet blaze the trails outside of the lines. They reassure us of our dreams. If they can do it, so can we. And, even though they may not realize it, they inspire us to follow similar paths. Kate is that person to me.
Katie Eigel
Katie Eigel is a self-proclaimed Wine-Geek-In-Training who spends her days writing for various wine and travel publications.

Enjoy this special 8WomenDream Guest Contributor story submitted by new and experienced big dreamers throughout the world, edited and published to capture a dream perspective from different points of view. Do you have a personal dream story to share with 8WomenDream readers? Click here to learn how to submit dream big articles for consideration.
Note: Articles by Guest Post Contributors may contain affiliate links and may be compensated if you make a purchase after clicking on an affiliate link.