Last updated on October 25th, 2014 at 07:51 pm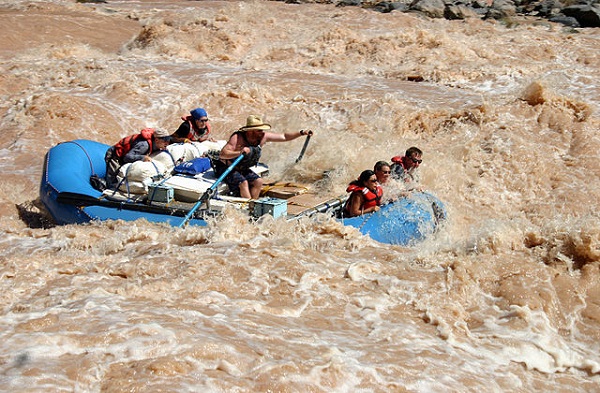 There is nothing better than free travel. It's the ultimate perfect travel experience and one of the best ways to do this is to sign up for travel contests that offer you a trip from your travel bucket list.
For many U.S. travel dreamers, the 7 Wonders of the World are at the top of their bucket list and the one place every travel dreamer lives to experience is the U.S. Grand Canyon in Arizona.
And guess what?
The Grand Canyon Brewing Company has teamed up with Grand Canyon Expeditions for the trip of a lifetime sweepstakes. Through July 1, 2014 travel dreamers, thrill-seekers and beer lovers will have a chance to enter to win an 8 day rafting trip on August 5-12, 2014 with the Grand Canyon Brewing Company team.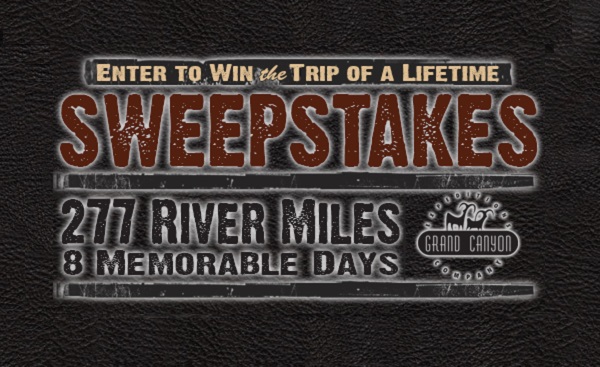 You did notice the number 8, right?
The white water raft trip will take you through 277 miles of roaring rapids on an amazing 8 day journey down the Colorado River. The awe-inspiring spectacle that is the Grand Canyon is breathtaking and like no other experience in the world, as revealed in past 8 Women Dreamer, Katie Eigel's Havasupai Falls: A Grand Canyon Travel Dream story.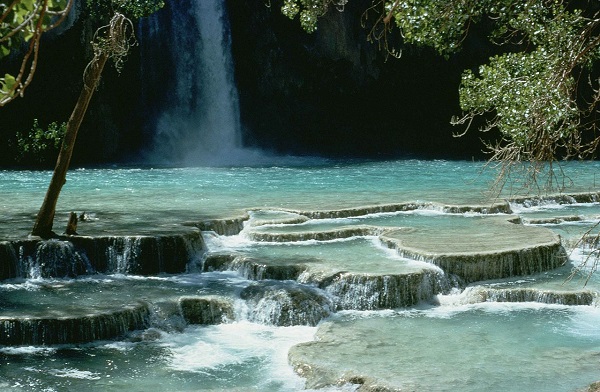 Winners of this sweepstakes will have the opportunity to reconnect with nature and make new beer drinking friends while rafting through one of the 7 Wonders of the World.
28 rafting trip winners will embark on their journey together and alongside the guys that own and operate the Grand Canyon Brewing Company.
"I'm stoked about this giveaway and I can't wait to be river rafting, enjoying good times and getting to know all of the winners!" said John Peasley, owner of the Grand Canyon Brewing Company.
OK, travel dreamers, here are ways you can enter:
• Fill out entry form at www.freerivertrip.com
• Text "Rivertrip" to 82257
• Fill out tear pad entry form at participating retail locations
• Scan QR code on coasters at participating locations
• Contest ends July 1, 2014
Enter today.  What are you waiting for?
Free perfect travel experiences don't come along everyday.
And if rafting down the Grand Canyon isn't your ideal way to see more of the world, go to Sweepstakes Advantage Travel Sweepstakes list and find a contest that appeals to you and your travel bucket list.
Happy world wandering,
Natasha
Visit the Grand Canyon Brewing Company on their Facebook Page: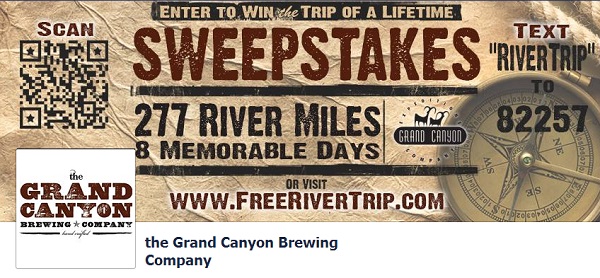 Overview of  SweekstakesTerms: Open to legal residents of the 50 United States including the District of Columbia who are at least 21 years of age at the time of entry. Not open to employees, children or other immediate family members of those employed with The Grand Canyon Brewing Company, Grand Canyon Rafting Expeditions Company, Crescent Crown Distribution or HDE Agency and any affiliate organizations to this list. The Grand Canyon Brewing trip will be August 5-12, 2014. Offer valid for these trip dates only. Not redeemable for other dates or trips. For complete details, visit www.freerivertrip.com.
Natasha von Geldern is a travel writer, editor, and blogger who is passionate about making the pages of the atlas real by traveling the world. She is a contributor to Travel Wire Asia, Wild Junket Magazine, Yahoo! Total Travel, and Travelbite. You can find her on her travel website and blog, WorldWanderingKiwi.
Note: Articles by Natasha may contain affiliate links and may be compensated if you make a purchase after clicking on an affiliate link.