Last updated on January 22nd, 2019 at 02:08 pm
Happy Mother's Day!
For many of us, entering midlife means being pushed into a whole different lane of travel. It's the surreal experience of having not just children, but grandchildren as well. When I became a grandma a year and a half ago, it was a beautiful, amazing, and life-changing experience. The time from then to now has flown by and I'm struck by something new. Just as my children's childhoods seemed to move at warp speed, so will (is) the life of my granddaughter.
I'm more aware than ever that I've just a short time to speak goodness and kindness into her, and to influence, enjoy, and love on her.
All of this has me thinking; what do mothers really want for Mother's Day? It changes with the years.
Age 0-1   Mama just wants to snuggle with her baby.
Age 1       Mama wants to smell like something besides pee, poo, or throw up.
Age 2       Mama wants to look down at her wardrobe and be free of mystery stains.
Age 3       Mama wants to paint all ten fingernails in one sitting.
Age 4       Mama wants a cleaner that takes crayon out of sofa fabric.
Age 5       Mama wants to un-memorize, Green Eggs and Ham.
Age 6       Mama wants an assistant to answer all questions that start with; Why, How, and What.
Age 7       Mama wants a Saturday free from soccer practice and piano recitals.
Age 8       Mama wants to just let her little one watch TV all day and all night without guilt.
Age 9       Mama wants less sleep-overs and more sleep-ins.
Age 10     Mama wants an auto-sifter for good friends and bad.
Age 11      Mama wants a day – just one – free from friend drama.
Age 12      Mama wants her child to bathe happily before body odor peels the paint off the walls.
Age 13      Mama wants stock in soda and pizza.
Age 14      Mama wants to go back to when her child believed everything she said.
Age 15      Mama wants that one boyfriend/girlfriend to move to Siberia.
Age 16      Mama wants to not have to gasp, cover her eyes, and slam on the air-break, when her baby is driving.
Age 17       Mama wants her child home three hours before curfew.
Age 18+    Mama just wants to snuggle with her baby once more.
My children are 20, 26, and 29. And they're still all my babies. They always will be. And now that there's a new generation; a new granddaughter, niece, daughter – in the family, something amazing has happened. Instead of my love being divided by one more portion, it's the opposite – it's multiplied. But I know that's impossible for my kids to understand, until they've raised their own children to adulthood. Like all of the young mothers out there, my daughter is just trying to get through one more day.
But here's something to think about as one day melts into the next.
To the young moms out there; time passes quickly. Before you know it, your children will be grown and gone. The diapers, the sleepless nights, the endless slumber parties, the worry and fret – they'll all fade away. So, enjoy the special moments now; they're too soon gone.
Don't you roll your eyes at me!
And yes, I'm fully aware you are rolling your eyes right now. You're thinking this old lady doesn't know a thing. She doesn't remember how hard it is, how aggravating. But that's the thing – I do remember. We all do.
Here's one thing I can predict right now and know with certainty it will come true. In 10, 20, or 30 years, you'll be saying the same thing to a new generation of moms. You'll tell them that time goes by too fast, and to hug their babies while they can. And you know what? They'll roll their eyes at you too. Maybe that's why being a grandma is so wonderful. Being aware of something doesn't make it more true. But it does change how you respond to it.
Take a little time this Mother's Day to capture a moment; not with your camera or smartphone. Stop and watch your little girl twirling around in her new dress and promise you'll never forget this precious moment. Watch your little boy as he giggles, and runs after bubbles in the breeze – promise to remember this forever. And then sit back and relax; you're doing just fine, Mama.
Happy Mother's Day!
Karen Fisher-Alaniz
Starting Over at Mid-life
[fbcomments]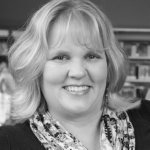 Karen Alaniz is a writer, published author, and a home renovation expert now that she's remodeled an old farmhouse by herself. She strives to help women who are scared it may be too late to start over after a certain age and she encourages empty-nest women to invent a new, prosperous and full life–just like she has done. You can read more about Karen on her Amazon Author page.
Note: Articles by Karen may contain affiliate links and may be compensated if you make a purchase after clicking on an affiliate link.