Last updated on July 25th, 2012 at 09:48 pm
Did I still want to become the first female elected mayor of Troy, New York?
When we last left off in Part I of this post, I was reevaluating my long-time dream. The universe had led me back to Troy, New York from San Francisco, to rebuild my house after a fire.
I spent a year getting the house put back together, and decided it was time to talk to the Democrats again. There would be an election that year, in 2009, and I wanted to see what my options might be.
I met with the head of the party for Rensselaer County. He indicated that there were no open City Council seat, that other candidates had already lobbied the Dems for those. There were however open County Legislature seats.
I decided to go through the endorsements process, knowing I'd have until June to decide. I got the endorsements of the Democrats and the Working Families parties. I talked to a number of people in the city and county to get their advice.
Almost everyone I talked to tried to talk me out of running for the county seat. What I really wanted was the city council seat, anyways, yet the Democrats had asked me not to primary the other candidates.
Following Everyone Else's Advice.
I ultimately decided not to run for county legislature, and also decided not to primary the other city council candidates, and to be a "good party player" instead.
Other avenues were opening up in my life. I spoke my story out loud at a Take Back the Night rally for victims of sexual assault for the first time, joined 8womendream, committed to writing my book, hired a writing coach.
It felt like the universe was aligning things for me, in a new direction. I was open to it.
I worked on my book, completing the first draft in October 2010. I was ecstatic! Still so much work left to do on the manuscript, but I'd written 476 pages, which felt like a miracle to me. I was exhilarated.
I started leading workhops that year as well on "Creating Your Happiest Life" and taking on individual coaching clients. This felt like the new direction — coaching, teaching, writing.
One More Window of Opportunity.
In 2011 there would be another election cycle, this time with both city council and mayoral seats open. I spent January of that year teaching in India with my Buddhist spiritual teacher, Nithya Shanti, which was another dream come true. I had been invited back to teach at the School of Inspired Leadership (SOIL) in Gurgaon, India and knew I might be teaching there again next January.
The direction my life was moving in felt good and I didn't feel like I could commit to being in Troy the following January, when the inaugural ceremonies would take place. So, once again, although there was a city council seat open this time in my district, and I could have run, I said no.
My instincts told me that I could make even more of an impact through my books, coaching and teaching than through the government work. And, I felt that I might feel too confined, unable to spread my wings, if I wasn't able to travel or pursue other opportunities for a few years due to the government work.
I also knew that I wanted to have a family and wasn't sure that running for office in my 40s (I turned 40 last year, much to my own shock and amazement!) was the best idea. I figured I could postpone that for later, when my kids were older.
A Dream Deferred.
Now, months later, in March 2012, I suddenly felt pangs of regret over the "road not taken." It hit me viscerally, and I wondered if I'd done the "right thing."
Since my mind, despite years and years of self-development work, neurolinguistic reprogramming and spiritual teachings, still sometimes likes to torture me, it created a scenario in which I could have somehow primaried the city council candidate in 2009, won, and then run for mayor in 2011, won and be doing that work now.
That is certainly a possible permutation in what could have happened, in the past. Likely or unlikely, who knows, and in my mind, who cares, since I am someone who loves to "do the impossible."
I started asking myself: Did I miss the great opportunity of a lifetime? Now one logically would say, and with accuracy, that I certainly can still run in the future.
Since I want to have a family, I might not choose to do in for another ten years, and yet, it's doable. I can certainly apply my energy and passion for transformation in the urban arena in other ways. And, I've begun to come up with new ideas to do just that, including coaching women elected officials to help support them in these challenging roles.
Since there is no going back, I'll never know what could have happened if I had tried. So now I am just making peace with what is and making sure I feel excited about my next steps moving forward.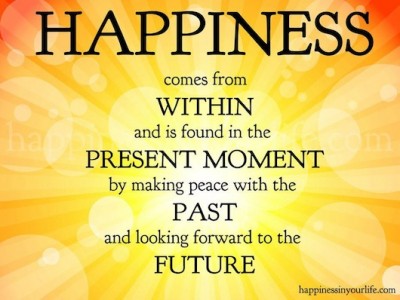 How to Make Peace with the Past –
1. I have always done the best I could with the knowledge, wisdom and level of awareness I had at any given moment.
With this in mind, how can I punish myself for the decisions I've made? I truly feel that I did my best to discern what would create my happiest future, with the most possibility for service and giving back.
2. No one is perfect, and there is no such thing as "one" perfect destiny or path.
I don't believe that life works that way. We learn and grow from our mistakes, and making mistakes is just part of the path.
3. Sometimes we just need a wake-up call!
A feeling of regret can linger and cause us suffering, or we can use it to examine what we want to create next in our lives. If I still feel called to public service, I can figure out a way to make this happen in my life, or find other ways to channel that energy.
4. The universe is unfolding as it should.
I do believe that we are somehow always where we need to be to evolve, learn and live our highest purpose. I believe that grace is infinite and we can't ever truly "fall off the path." There are always new opportunities to create, grow and love, from where we are.
Of course, I also am reminded that life is NOW, life is short, and that when we feel a powerful calling in a certain direction, sometimes it may be worth it to throw caution to the wind and just go for it and do the impossible, no matter what anyone else says.
If I'd tried, could I have become Troy's first female, swing dancing, belly dancing, Buddhist, tattooed mayor? Possibly! Could I still in the future? The answer is still – possibly.
Much more importantly – could I have made a difference for my city? Possibly! And can I still? Of course.
For now, I need to examine for myself what will truly make me feel the most fulfilled, bring me the most joy, and allow me to feel like I am giving my gifts back on this planet in the biggest way.
I am grateful for the opportunity to do some soul-searching. Life is too short and precious to let it slip away.
I commit to doing whatever I need to do to create my best possible life, from here. I commit to never saying no to my dreams, just because others don't believe. Only I can know what's truly right for me.
I commit to saying YES to life. Life, I'm yours ~ use me for good in the world.
Lisa
Lisa Graham is an inspirational writer, life coach, motivational speaker, and globe-trotter whose passion is to help others to find happiness and meaning their daily lives. A political activist at heart, Lisa would like to empower more women to run for political office as a way to create positive change in the world. You can find her on the Madam President Project or watch her TEDx speech on YouTube.
Note: Articles by Lisa may contain affiliate links and 8WD will be compensated if you make a purchase after clicking on an affiliate link.