Last updated on January 23rd, 2019 at 10:40 am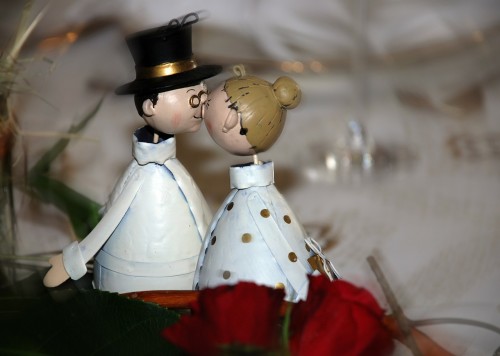 Unicorns, pink tulle, camping on a farm at the foot of a mountain, dancing under paper lanterns, and sipping champagne from a fountain – what a wedding celebration!
Last weekend, my parents, sister Margaret and brother Shanti traveled across the country to Portland, Oregon for a fun bohemian wedding for my cousin Jenny. It's easy to find happiness in witnessing the joy of others, and this couple was over-the-moon in love, and expressed it in a total Pacific Northwest, hippie, wacky, wild and entertaining way.
The wedding actually took place on Trout Lake, which is in Washington State, about an hour and a half drive from Portland. My family and I stayed with my dad's brother Michael and his wonderful wife Brenda in Portland the first night, and then drove out to the wedding the next morning.
The wedding site featured views of Mt. Adams in the distance. It was breathtaking land, and an ideal location for a fun, spirited, nontraditional, and magical wedding.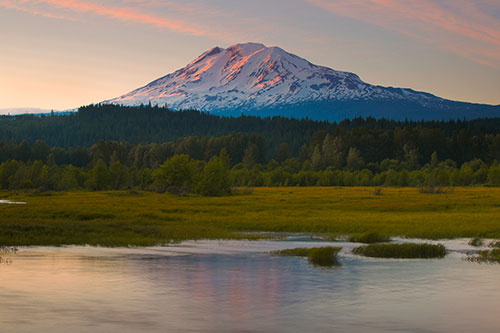 The farm featured a giant barn and several sub-buildings. It's apparently owned by a couple in their sixties who still maintain their own gardens, and take care of the land themselves.
The inside of the barn was strung with orange and yellow paper lanterns, ready for a night of dancing under the moon. The rest of the site had been decorated by the talented wedding planner, with help from bride and groom's friends.
Highlights of the decorations included several ceramic unicorns, which seemed to perfectly capture the spirit of this couple, who clearly believe in the magic of the universe, and bring so much joy into the lives of those around them.
Many of the guests were camping out in tents along the edge of the tree line, making a weekend of it, and celebrating into the wee hours with the deliriously happy couple.
Favorite Wedding Party Details! 
There were three long swings, big enough for adults to swing on (and we did!) and also a favorite stopping place of the kids.
Under a tent near the swings there was a champagne fountain, with all different flavors for the champagne in all different colors; favorites included the pink strawberry and purple-hued blueberry champagne.
The trees were decorated with silver hoops, that looked like something aerialists would use – I half-expected a circus-style dancer to emerge at some point for a performance above the hors d'oeuvres table.
Later, Jenny's wedding planner and friends spread blankets under tents, Turkish style, so everyone could recline and picnic on blankets and pillows. We got to relax on a blanket with the highly in demand bride and groom and catch up, before they circulated again to chat with all the friends who had come to share this magical weekend with them.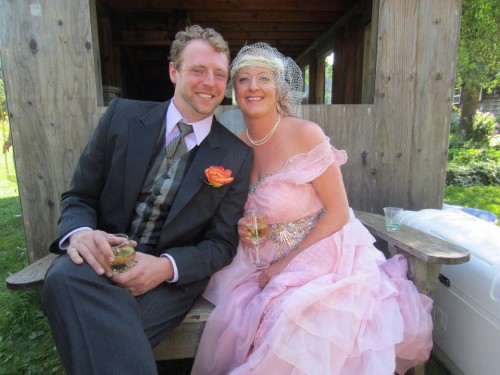 Vows That Made Us All Cry
It's so beautiful when couples write their own wedding vows, and this wonderful couple did just that.
These two met at the country fair. Daniel said he knew within 24 hours: I choose you. Jenny was his girl.
Jenny said that she knew right away when she met him that she loved being around him and that she felt as though she had known him before. She talked about how he loves her and accepts her sometimes wild past completely, believes in her completely, is there for her completely.
My cousin Jenny is tattooed, beautiful, a total free spirit, a photographer who is working as a caterer right now while building out her photography business. Almost all of the wedding guests who got up to give toasts talked about her "sparkle" – the light she brings to the world.
Her new husband, Daniel, is the grounded one. He's studying to be an electrician right now, to help provide a solid future for the couple and their future family.
He is more of the planner, and she is the more wildly spontaneous one. Together, they make a strong and happy team.
His dad described Daniel as the flagpole, and Jenny as the flag. Without a flag, a flagpole is nothing – no beauty, no ornamentation – and without a flagpole, a flag can't fly.
Family and friends gave spontaneous, love-filled toasts to both of them, and we all cried. You can just feel it when the love is real, and they were positively beaming and radiating love.
Every one who toasted Jenny remembered what she was wearing the first time they met her – every single one of her Portland friends talked about this – and how incredibly fabulous she was. She had hit it off instantly with many of her friends, from the first moment they met,  and so many showed up to share their love with her at this event to celebrate her forever love.
Unique Wedding Style!
Jenny's dress was a pink vintage number with a skirt that was shorter in the front, showing off her fabulous legs, with a pink tulle train. It was off the shoulders, showing off her tattooed shoulder and curvy figure.
She started the ceremony in sparkly gold platform heels, then kicked them off to stand in bare feet on the grass.
Everything about her outfit was fabulous, as was the gay couple that walked her down the aisle to "give her away."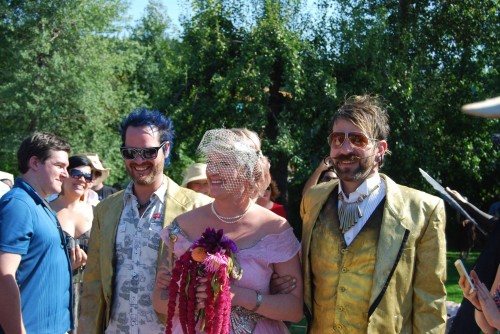 Sid and Joe, who I met while in the potluck line later during the day, wore long gold sparkly tuxedo coats, and sparkly black pants. This wedding was set to over-the-top fabulous.
Jenny and Daniel are a total example of a couple in love that complement each other perfectly, as all of their family and friends announced in their toasts. Clearly, these two adore each other and are adored by everyone around them.
It is a wonderful treat to witness true love. It is a privilege to be there to celebrate the most important day in someone's life so far.
I felt so lucky to be a part of the celebrations. Congratulations to Jenny and Daniel for a magical wedding, and here's to a long, happy, healthy lifetime to come for you both!
Lisa Powell Graham
Get Happy!
[fbcomments]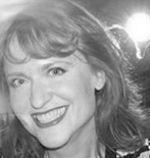 Lisa P. Graham is an inspirational writer, life coach, TED motivational speaker, and globe-trotter whose passion is to help others to find happiness and meaning in their daily lives. A political activist at heart, Lisa would like to empower more women to run for political office as a way to create positive change in the world. You can find her on her website or watch her TEDx speech on YouTube.
Note: Articles by Lisa may contain affiliate links and may be compensated if you make a purchase after clicking on an affiliate link.