Last updated on August 31st, 2012 at 05:15 pm
This year, as summer is waning, I feel like a schoolgirl again, like it's time for something big to happen, feeling that sense of excited nervousness, belly full of butterflies.
I think it's time this fall to work through the last round of edits before I finally send my book proposal off to agents. I think it's time to actualize other important dreams as well, and to have more fun than ever in this School of Life which is Planet Earth.
For right now, I'm enjoying the sunshine, the easy pace of relaxed weekends, and the sense that while things will ramp up again soon, for now I can just breathe and enjoy the languorous pace of these last summer days.
Today I've been reflecting on some of my favorite summertime memories, and wanted to invite you to think back to your favorites during this sunny season, synonymous with vacation and time for relaxation for so many…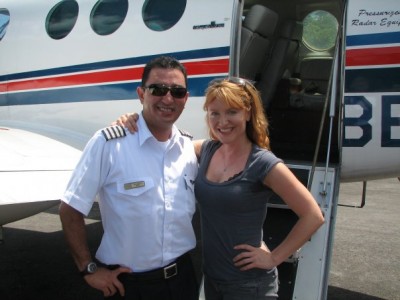 Summer Adventures!
Summertime has been a magical season of travels and adventures for me for years since college, when I spent six weeks in Russia with Georgia, my best friend from Princeton.
We lived near Izmailovsky Park in Moscow in the home of a Russian high school history teacher. Every night, Leda would invite over former students of hers, young men 18, 19, 20, 21 years old, who were thrilled to hang out with a couple of young American girls.
We'd stay up all night most nights, with Leda strumming her guitar and singing Russian songs in her seductively husky voice, which unfortunately had been cultivated by smoking multiple packs of cigarettes a day for years.
We'd drink vodka and amaretto, and there seemed to be a direct correlation between my level of drunkness and my ability to speak and understand Russian. Suddenly I'd understand the jokes people were telling, laugh out loud, and the group would all look at me – how did she possibly understand that?
To this day, one of my favorite "party tricks" is to recite a Russian tongue-twister that they teach to kids in grade school.
 Barcelona Baby!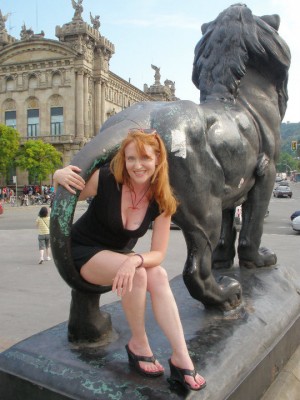 We'd decided to host our own photo shoot posing by the tall white columns, like something out of the Acropolis, playing with the shadows and light and the grand pillars. Emily and I took turns, leaning up against the columns, pouting or smiling, serious then joyful, just having fun posing and pretending to be models.
We were at the perimeter of the Farmers' Market at La Rambla in Barcelona, Spain, one of my favorite cities and a fabulous place to spend a few weeks in the summertime. That trip, back in 2010, is one of my favorite summer memories…
Em and I wandered the city together, feasting on tapas and wine at a round table set on the sidewalk in front of one of Gaudi's architecturally extraordinary buildings, with curving facades composed of mosaics in rich colors.
We hung out by the waterfront, befriending some handsome Spaniards while sipping Spanish red wines on a restaurant on a yacht, nibbling on sauteed mushrooms, olives, cheeses.
We posed sitting on the tail of a stone tiger in front of some of the waterfront monuments.
Then it was off to San Sebastian next to spend time with family in the north of Spain…
We were fortunate enough to see Spain win the World Cup, and I danced in the streets and clubs of San Sebastian with Australians, South Africans, and of course Spaniards all night long… I spent time sunning myself on the long, white curving stretch of beach near the downtown district, and let myself take advantage of the fun opportunity to sunbathe topless, since you can do that on European beaches (it's not a big deal there, as it would be in the U.S., and it's freeing and fun!).
Viva Cuba!
Summertime to me also brings back the memory of sudden torrential warm rains that pour down from the sky and then five minutes later, are over… In Havana, Cuba, these flash-storms were the norm, and just about every day my ex-husband and I would have to duck under a shelter or the edge of a building somewhere, or just get soaked and air-dry in the sun.
My ex-husband and I had decided, back in 2000, to study Cuban salsa dancing, and we went to the source, spending four weeks in Havana and Vinales, Cuba.
We'd corresponded with a salsa dance instructor based in Colorado who'd been traveling back and forth to Cuba for years. He gave us the name of an instructor there.
We naively asked, "Do we email her? Or call her?"
Nope, he said, just go find her house when you get to Cuba and knock on her door and ask for lessons. Since we offered to pay $20 per hour which was equivalent to more than one month's salary for many Cubans at the time, all the dancers we asked to teach us immediately said yes.
We'd typically take lessons for two hours a day, practice for another two hours a day, and then spend time exploring the streets of Cuba. We are both redheads who burn almost instantaneously in the sun, so we weren't your typical lie-on-tie-beach-all-day island tourists.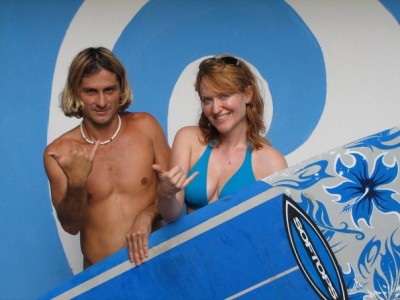 First Surfing Adventure!
When I say that I have "surfed," I really mean that I managed to stand up on a surfboard in about one to two feet of water, riding the white crest of the foam into the shore.
My first time surfing took place on a trip to Nosara, Costa Rica with family in 2009. We were staying in an adorable and colorful adobe house, complete with a pool and hammock, and within easy walking distance of the beaches.
I rented a board and got a few tips from a handsome blond surf instructor named Juan, then practiced getting into a standing position on the board on the sand (first lie down, pop up to your knees, then stand!).
I was deliriously happy when I could ride the waves a few feet… That to me felt like a major victory!
For me, summer adventures are all about learning, playing, growing, exploring.
I've been considering going skydiving over Labor Day weekend to celebrate making some big leaps in my life. Stay tuned… That's not a definite plan yet, and I will keep you posted if I make the jump!
Summer Loving! 
I'd love to hear from you other dreamers: What are your favorite summer memories? And what are you doing to celebrate the end of this glorious summer?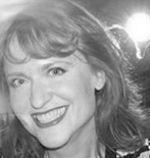 Lisa P. Graham is an inspirational writer, life coach, TED motivational speaker, and globe-trotter whose passion is to help others to find happiness and meaning in their daily lives. A political activist at heart, Lisa would like to empower more women to run for political office as a way to create positive change in the world. You can find her on her website or watch her TEDx speech on YouTube.
Note: Articles by Lisa may contain affiliate links and may be compensated if you make a purchase after clicking on an affiliate link.