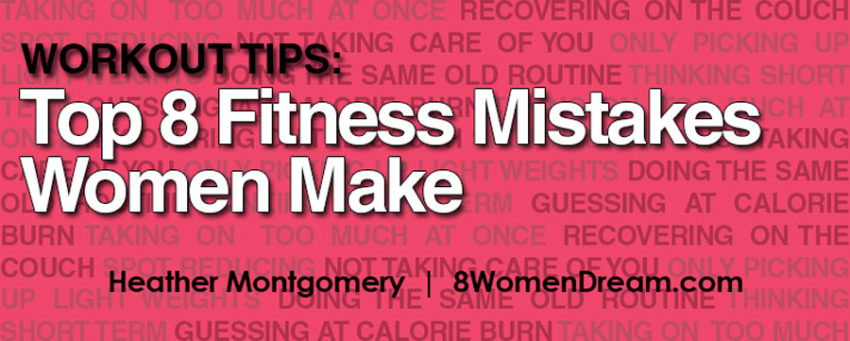 I have a simple goal as your fitness dreamer. Share my fitness journey, workout tips and inspire you to get fit.
The more I talk to women who are using workout tips to add fitness to their daily routine, the more I realize we are all making mistakes. Some of these mistakes are little and easy to correct, and a few are dangerous enough to derail our fitness goals.
Top 8 Fitness Mistakes Women Make
1. Taking on too much at once
Ready to run farther? Pick up heavier weights? Start eating healthy? Great! Pick one at a time. Adding too many new changes to your workout routine can add frustration or potential injury. That's the stuff that could derail your fitness goals.
2. Using the couch as recovery time
You wake up in the morning too sore to brush your teeth. Most of us have felt this after starting a new workout routine. This is a sign that you used your muscles. Go for a walk around the block a few times, up and down the stairs, and stretch out warm muscles.
A little movement will loosen up tight muscles and give them the message that you will be doing this more often. Need more information? My post on active recovery gets you on the move again.
3. Spot reducing
You will see so many changes in your body with workout tips that include whole body toning. Will your thighs jiggle less? Yes. Will your muffin top go away? Sure!
These side effects of fitness will most likely show up as a package deal. Focusing only on one body part may lead to over-training. If you need more convincing, I have a whole post related to the myths of spot reducing.
4. Not taking care of you
Stretching and foam rolling aren't just ideas for your after workout tips. The reason you want to incorporate them into your fitness plan is the benefits they bring to the table. Reducing soreness and potential injuries.
Here's a foam rolling routine all set for you to start today!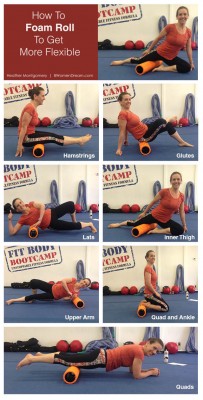 5. Only picking up light weights
Weight training will keep you walking upright when you are 80. There's too many benefits for any women to avoid these workout tips today. I know I will be repeating myself.
Heavy weights builds muscle to burn fat.
You will not look like a body builder unless you train like a body builder. Working with weights for your fitness level will build muscle and skeletal strength.
This is just the tip of the iceberg for the benefits, so check out my post on Top 10 Reasons to Strength Train for more.
6. Doing the same old routine
Do you have your fitness class memorized? Are your trips to the gym set like clockwork? Mixing it up is one of the workout tips I want you to remember.
Planning and scheduling your fitness is the only way most of us make time to get it done. That doesn't mean you have to perform the same workout every week, waiting for boredom to creep in.
Choose fitness that mixes a few things up. Keep your core fitness goals as your primary workouts, and try something new to keep it fresh. You never know when you might find that workout that becomes a passion. That's when your fitness becomes a lifestyle change you look forward to doing.
7. Short term thinking
Workout tips can lead you down the path of believing the "In just one week!" claims that splash every fitness magazine cover. Here's one of my favorite fitness quotes:
It took more than a day to put it on. It will take more than a day to take it off.
Your health, your fitness, is a long term goal. There is no end to the process. Improving your life long term is my hope for you, fellow dreamer. Just like any amazing goal in life, you will discover milestones that mark your path. I haven't run into the big sign that declares my fitness "DONE" forever.
8. Guessing at calorie burn
Overestimating the calorie burn of any workout is a dangerous trap. Guessing won't put your workout to work for you. Using tools to track your fitness efforts is the best option short of living in a science lab. There are several tools out there that track how much you are moving.
I've been a Fitbit user for over two years and having feedback is what kept my goals on track to losing over 80 pounds.
My workout tip to you – Can you avoid these fitness mistakes this week?
What's your story? We all fall into the trap of ignoring workout tips that will make your life easier.
I want you to get healthy and fit but I can't ready your mind. You have to tell me in the comments… how can I help?
Go get your fit on – Heather
[fbcomments]

Heather Montgomery is a fitness writer, triathlete, and serial entrepreneur who is devoted to sharing what she has learned about becoming a triathlete after age 40. She uses her Metabolic Training Certification to help other women struggling to get fit in mid-life. She lives and trains in Santa Rosa, California, the new home of the Ironman triathlon. You can find her biking the Sonoma County wine trails.
Note: Articles by Heather may contain affiliate links and will be compensated if you make a purchase after clicking on an affiliate link.