Last updated on January 23rd, 2019 at 10:36 am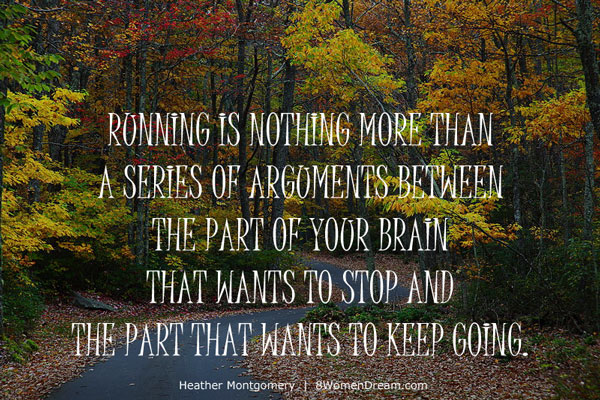 Hey fitness dreamers, it's fall! This is the start of the holiday season and the toughest part of the year for sticking to fitness goals.
Any runner will tell you that any time spent on the treadmill is pure hell. The days are getting darker heading into fall and we are losing the precious daylight we need to work out.
If you have been relying on walking, jogging or running in the great outdoors for your fitness, using a treadmill does not have to be a boring grind.
Treadmill workouts don't have to be boring.
Anyone who enjoys an outdoor run or walk in the fall crisp air may not ever be thrilled with a "dreadmill" workout. There's not a lot of excitement in getting no where, fasts.
Running in the real world gets you out of your head, teaches you about yourself , and lets you experience the joys of taking in nature. Granted some of the outdoor experience includes avoiding running through dog poop, but most of it is an experience you can't replicate on a giant black plastic and metal machine.
Just because the weather, air temperature, or pure darkness has driven you indoors to the treadmill, it can still be an amazing workout.
Want to practice your sprints? Speed that sucker up! Ready to get up that tough hill? Ramp up the incline.
Fitness intervals add spice to any workout.
I am a huge fan of interval training, or HIIT. High Intensity Interval Training gets our blood pumping faster and challenges our bodies more than picking one pace and sticking with it for the duration of a workout.
Interval training is that thing that you are either already doing and totally loving it, or see other people doing it and wonder why they are crazy. Why in the world would you take a nice running pace and kick it up to sprinting for a minute?
Because it works.
Mixing up the speed, incline, running angle, or all of the above can really kick up your dream fitness results. This workout that I found beautifully designed on Visul.ly, has an intense twist on interval training. Not only does this workout offer variations on speed and incline, but has your heart pumping with a starter of butt kicks.
Not sure what those are? Think exaggerated run where your heels are trying to connect with your butt, hence the name.
The walking sideways may take practice. Treadmills have a tendency to make even super coordinated people feel like their two-left feet got up and walked out. Please practice this at a really low speed, and hang on to the bars for this one.
Treadmill workouts with interval training to kill the boredom.

Heather Montgomery is a fitness writer, triathlete, and serial entrepreneur who is devoted to sharing what she has learned about becoming a triathlete after age 40. She uses her Metabolic Training Certification to help other women struggling to get fit in mid-life. She lives and trains in Santa Rosa, California, the new home of the Ironman triathlon. You can find her biking the Sonoma County wine trails.
Note: Articles by Heather may contain affiliate links and will be compensated if you make a purchase after clicking on an affiliate link.