Last updated on January 22nd, 2019 at 01:58 pm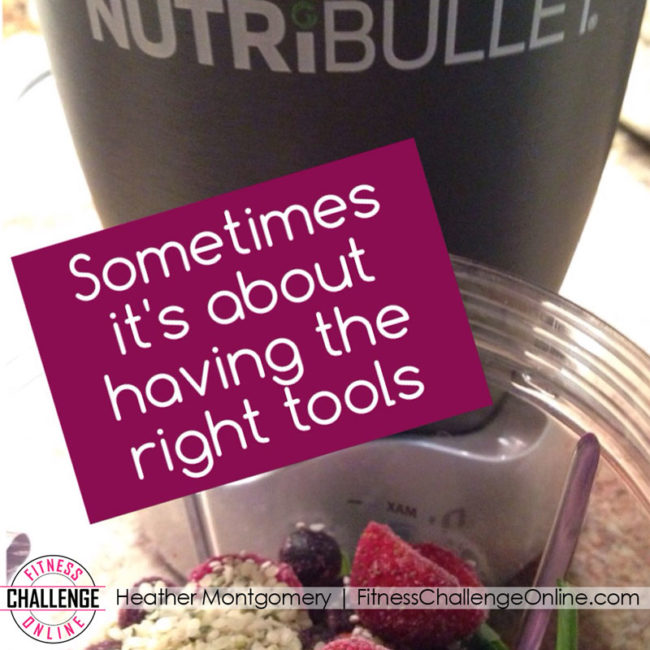 I held out as long as I could. I researched the Nutribullet a while back and heard all the chatter of those who had already picked one up.
I had to answer the question 'Why would I buy this when I have a perfectly good full size blender". It seems like another tool that would clutter up the counter. I had already been using my blender for protein shakes, so why pick up anything else?
Peer pressure and more information did the trick.
I had dropped by a friends house to pick her up for a night out and saw a Nutribullet on the counter.
"Do you really need that if you already have a blender?" I asked, even though it looks great in her super tidy kitchen.
"This thing has literally saved my life! I wouldn't have improved my health so quickly without it." She shared, while opening a cabinet to show her collection of accompanying mixing cups.
After she shared her story of needing to add healthy vitamin rich options to her diet for health related issues, I started asking around. One friend has been using it for years from baby food to protein shakes. Another had borrowed one from their mom for so long they finally had to give it back.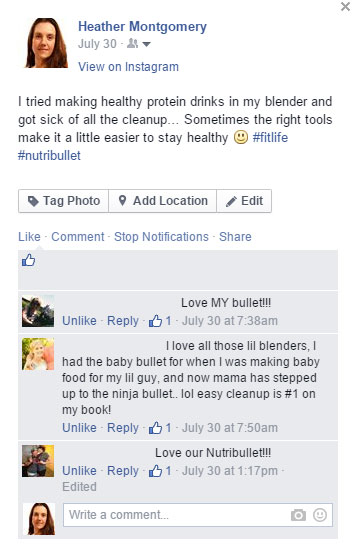 That's one of the stories that I keep hearing from everyone I talk to about the NutriBullet. The other top reason is cleanup. Let me tell you that I can relate to both.
Tools don't fix health issues, but they can make it easier to work on them.
The "right tool for the right job" when using the NutriBullet is making my life much easier. Here's my protein shake process when I used my full size blender.
Grab everything
Load up with ice, protein, greens, frozen fruit, coconut milk, and extras
Pour the mostly liquefied, semi-chunky shake into travel mug
Spend 7 minutes pulling apart the blender and cleaning every nook and cranny
This same process with the Nutribullet:
Grab everything
Load up with ice, protein, greens, frozen fruit, coconut milk, and extras
Pop a lid on the totally smooth liquefied shake
Spend 30 seconds washing off the Nutribullet blades
Super easy clean up happens to be one of my favorite things, but I've got a list as to why my full size blender is now buried on a shelf.
Please read the instructions. This is super easy to use, but this is not a typical blender and it is definitely not a juicer. You have to get the basics of how to use it, and then go crazy trying recipes from there.
Do I buy into the "extraction" claims? It's blending up to the finest degree and that's perfect for me. I've thrown the basics at it and am thrilled when everything get liquefied with no leftover weird chunks.
Their recipe plans are a little too specific for my healthy skepticism. Try the recipes from every section and you've got a plethora of vitamins and minerals on your side. My focus is on protein, so the all fruit focused NutriBlasts. A "Blast" is their version of a shake recipe.
1. Super easy to use
It it easy, and that is not something I take lightly. The time and energy I put into meal planning means I have to streamline prepping all the food I eat. No special settings, speeds or thinking required. Chop up your favorites, toss in with a liquid of your choice (pay attention to the fill line!) and let it rip!
TIP: If you are like me and you pack in the greens, give the NutriBullet a little shake before blending it up.
2. Keeping it clean
I have made a mess with my blender. Half asleep assembly has made a few morning concoctions end up leaking onto the counter, or in the worst case, splattered on the cabinets. All user error of course! When you have a simpler interaction with your tools, the chance of my screw ups go down to nil.
3. Save some space
Blenders aren't that big, but the NutriBullet is streamlined. Don't get me wrong, there is a lot of room for all the goodies you want to put in your "Blast". I just appreciate that it is such a small tool that I can put to use for my own healthy living goals.
4. Fiber does you good!
Juicing takes away the fiber in the process, so you are getting a bonus with the NutriBullet. All the nutrients you would get from juicing with the bonus of keeping the fiber in the shake.
5. Portable enough to take with you
I haven't tried this yet, but it really could be packed up and taken with you. Better yet, the cup is already prepped for travel. Screw on whatever lid makes your life easier. Handles, flip tops, and easy covers means you can take it to work, or take the whole works with you on your next business trip.
6. Quick time saver
I'll say it again, easy means quick. Simple design, simple to use, and simple to bring in to your everyday food plan.
7. Durable strength
For such a small profile, the base is heavy and with a little shake before blending, even the packed greens get completely liquefied. I haven't put a lot of hard veggies in at once yet, but the power of the motor is working for what I'm throwing in it.
8. The price is right
The value for this power packed Nutribullet is under $100 and is one of the best values for adding healthier plant-based nutrition into your meal plan. It is a great solution if you are looking for a cheap, convenient option to eat better.
Buying a NutriBullet no longer a consideration for me
Yes, this is like a blender, and it breaks down every veggie you can throw at it, but take a second and read the directions. Give it a once over to get the basics.
Are you ready to consider buying a NutriBullet?
Heather Montgomery
Go get your fit on
[fbcomments]

Heather Montgomery is a fitness writer, triathlete, and serial entrepreneur who is devoted to sharing what she has learned about becoming a triathlete after age 40. She uses her Metabolic Training Certification to help other women struggling to get fit in mid-life. She lives and trains in Santa Rosa, California, the new home of the Ironman triathlon. You can find her biking the Sonoma County wine trails.
Note: Articles by Heather may contain affiliate links and will be compensated if you make a purchase after clicking on an affiliate link.