Last updated on April 2nd, 2012 at 12:51 pm

Is it wrong that the first thing that comes to mind over the holiday, when the business is closed, is this exciting thought:
Yeah! I get to work on my own website projects!
My family thinks I'm nuts, and lately I am agreeing with them. There are stacks of books that help launch our off hours ventures: 4-Hour Workweek and The Other 8 Hours to name just a few.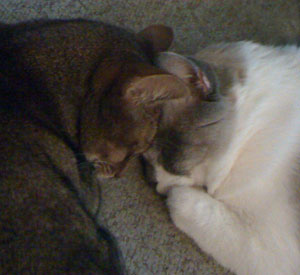 The entrepreneurial role is to always be launching, which equates to always be preparing to launch. Which may be why am I wishing I was one of my cats. That sleeping 20+ hours a day sounds pretty good about now.
How often do you push yourself past when you should take a break? How much do you think your stress gets in the way of your success?
We all need to realize that taking time to relax is necessary. Staying at our peak, or just staying sane, requires taking our well-being seriously. I can honestly say that my well-being is something I take for granted daily.
1. Take a mini-break
Relax any way you can, for any length of time. Did you know that studies show that simply tensing your muscles and letting them relax is a great way to decompress? Here's how you can try this yourself. Find a quiet place to lie down flat and rest your palms on your stomach.
Close your eyes, breath deep, and tense every muscle in your body, head to toe for a second. I've personally tried this sitting at my desk. Not as effective, but it will help clear the mind.
2. Put relaxation on the agenda
15 minutes a day. That's all it can take to let yourself reflect and have downtime. You can regret not taking advantage of an opportunity but if you don't let yourself process and get clarity you won't be able to recognize your success. Let go of your stress and you will be able to decide the best step.
3. Get inspired by your frustration
It is really easy to get caught up in a situation and let your frustration run wild. If the situation is out of your control your aggravation can only impact your ability to miss seeing opportunity. Relax, calm down, and see the possibilities. How can your frustration fuel your success?
4. Not so important things get NO
What do you put on your to-do list? I know you just ran through it in your head. Now take a closer look at what your intuition tells you can get kicked off the list. Your overall success is dependent on your saying NO to an opportunity that isn't the right fit. People will appreciate your honesty.
How can you truly relax? Be true to yourself! Pay attention to your physical and emotional symptoms of stress. My physical symptom recently was grinding off half a crown. If that's not a clue to de-stress, I'm not sure what is. As for my emotional symptoms I typically find it gets harder to stay focused.
Taking those breaks, letting yourself relax, can make the difference in having the energy for your next venture.
How are you planning to relax with your dreams over the holiday?
Tell me your plans and I'll check in and make sure you stick to it!
~ Heather
Heather's dream is to have multiple streams of income, starting with launching an e-commerce website that showcases her couture jewelry, which are crafted by her. You can find Heather online at For Your Adornment; Etsy.com; and Twitter And Beyond Dot Com. She also teaches Social Media tactics for business, besides being CEO of her own web design company. Heather's post day is Friday.

Heather Montgomery is a fitness writer, triathlete, and serial entrepreneur who is devoted to sharing what she has learned about becoming a triathlete after age 40. She uses her Metabolic Training Certification to help other women struggling to get fit in mid-life. She lives and trains in Santa Rosa, California, the new home of the Ironman triathlon. You can find her biking the Sonoma County wine trails.
Note: Articles by Heather may contain affiliate links and will be compensated if you make a purchase after clicking on an affiliate link.