Last updated on January 22nd, 2019 at 02:56 pm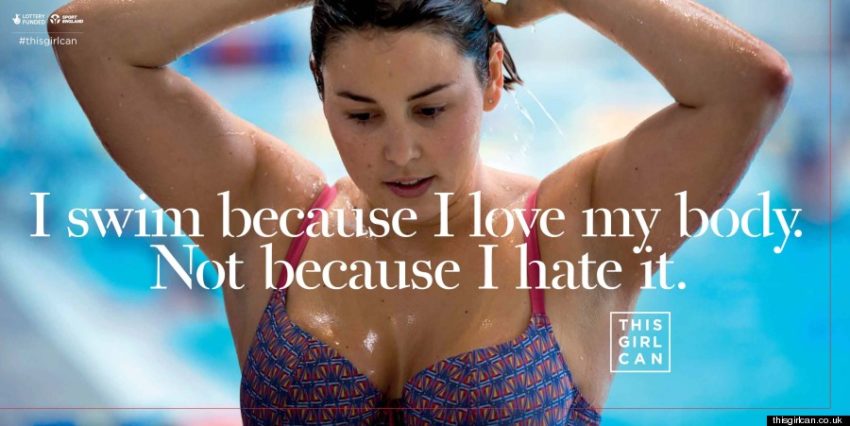 Your fitness dreamer had an inspiration epiphany this week.
There are so many inspiration videos for fitness out there. Very few make me smile, laugh and want to get up and dance.
This Girl Can is a national campaign developed by Sport England and a wide range of partnership organisations. It's a celebration of active women up and down the country who are doing their thing no matter how well they do it, how they look or even how red their face gets.
Watching the video for the first time I could see myself
The video is set to one of my favorite workout songs – "Get Ur Freak On" by Missy Elliott – so that caught my ear immediately. The kick butt beat of a song that you really can't NOT move to.
As I watched, I saw my own fitness challenge in every clip. The fear of anyone seeing my cellulite, seeing my booty in spandex. These are thoughts that kept me from starting my fitness journey.
Looking back I can remember those thoughts of fear stopping me daily. Now I know the energy I get from keeping your groove on is so much greater than any strangers potential judgment on how much my hips swayed when I ran.
That's what I love about this campaign – letting the judgment go.
Every time we dreamers step out and try something new, we have fear. That is just part of the process. As they say, if it was easy, everyone would be doing it.
But it does stop so many. It stopped me from walking outside until I "lost a few more pounds". It stops me even now from wearing sleeveless workout tops. Some of this is my own personal inner-judge-voice I work on quieting every day.
A lot of it was from my fear of judgment.
Fear of judgement is stopping many of us from taking part in exercise.
But as thousands of women up and down the country are proving, it really doesn't have to.
How many of your friends can you see in this video?
I could not help but smile with the first girl dives in the pool. As a swimmer, I know the silence and solitude you get from a swim workout clears your head faster than any other workout.
I've been in fitness classes with friends when I've witnessed that look of joy and confidence through the dripping sweat. There is elation beyond the endorphin rush, that moment you see someone realize what they just accomplished. That awareness of pride that they did it. It lights up their eyes every time.
My reaction to this video is nothing but empowerment and strength. Another reason to not give up on my own fitness, and continue to encourage anyone who is ready to find what makes them want to move.
Not all reaction to This Girl Can is positive.
Which unfortunately I have come to expect. There was backlash for the Dove "Real Beauty" campaign. There are online arguments about what words should to describe any healthy woman's shape.
One large new organization had an article that says the campaign and video focuses to much on sex. I don't see it, but it's sad to see any negative feedback on a campaign that truly has one message.
It's your body. Move however makes you happy and be healthy.
When viewing the comments on YouTube my IQ dropped 50 points just reading them. Online trolls will do what they do, no matter the topic, but I had to stop scrolling after just a few minutes.
Sometimes keeping positive online takes a thick skin.
What's your take? Are you on board with the message of This Girl Can?
I got nothing but jazzed up positive energy from watching this fitness inspiration video. Not everyone has the same opinion so take a look for yourself and let me know what you think in the comments.
Then go have fun getting your fit on!
– Heather Montgomery
[fbcomments]

Heather Montgomery is a fitness writer, triathlete, and serial entrepreneur who is devoted to sharing what she has learned about becoming a triathlete after age 40. She uses her Metabolic Training Certification to help other women struggling to get fit in mid-life. She lives and trains in Santa Rosa, California, the new home of the Ironman triathlon. You can find her biking the Sonoma County wine trails.
Note: Articles by Heather may contain affiliate links and will be compensated if you make a purchase after clicking on an affiliate link.